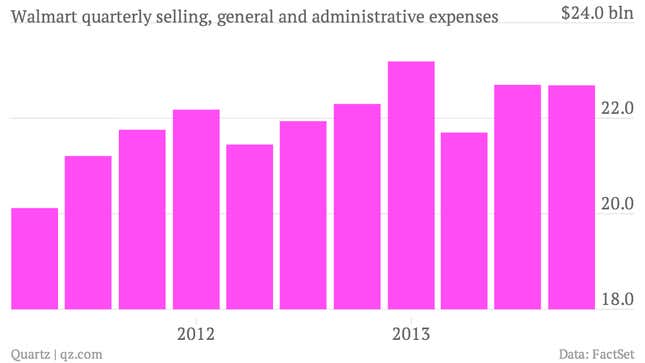 The numbers: Quite decent. Walmart reported net income for the third quarter of $3.7 billion, or $1.14 per share, a 6.5% increase on last year, and ahead of Wall St estimates of $1.11. Total revenue was $115.7 billion, up 1.7%. But shares have sunk by about 2% in pre-market trading as the company's forecast for the December quarter, which includes the crucial US Christmas and Thanksgiving sales periods, underwhelmed analysts. It expects Q4 earnings to range between $1.50 and $1.60 per share ( Wall St was looking for $1.69, according to FactSet). That will bring full-year earnings to somewhere between $5.01 and $5.11 per share, below Wall St consensus for $5.19. (Update: Walmart says that its earnings guidance for the would be about $0.10 higher if it were not for charges related to closing stores in China and Brazil, and developments in India).

What's interesting: The low forecast for the holiday period is a concern for the US economy, given that it's the biggest consumer and seller of many of the nation's largest consumer brands. And it's all the more galling given that the company says it has "developed our best holiday plan ever" and is  "committed to being the number one retail destination." There are three mentions in the company's earnings release of its "aggressive" plans to target the key trading period.
The takeaway:  Despite Walmart's efforts to internationalize itself, quarterly results reinforce the fact that this remains a US business. Sales at its US stores and its wholesale club, Sam's Club, accounted for about 88% of the company's top line. And while US sales only edged up 2.4%, profits were up 5.8%. Although the company doesn't break down its expenses by country, this implies further cuts to its US cost base. While investors love its ruthlessly efficient supply chain, America's largest employer has come in for criticism for its wages and benefits, amid claims that many of its workers live below the poverty line. Numbers like this may add fuel to the fire.