Winter Storm Bruce is bringing heavy snowfall to the central Plains region in the US, hitting some areas with whiteout or near-whiteout conditions. Chicago and Kansas City are under blizzard warning. And the wintry weather is seriously affecting post-Thanksgiving travel on one of the busiest travel weekends of the year in the US. Over 1,000 flights have been canceled and over 3,200 more delayed due to the weather conditions.
Affected airports include O'Hare and Midway in Chicago–where up to a foot of snow is expected–and Kansas City International Airport. Numerous airports outside the region were also impacted by related flight delays and cancellations, including New York City's LaGuardia and John F. Kennedy, scuttling the plans of tens of thousands of people headed home after the holiday.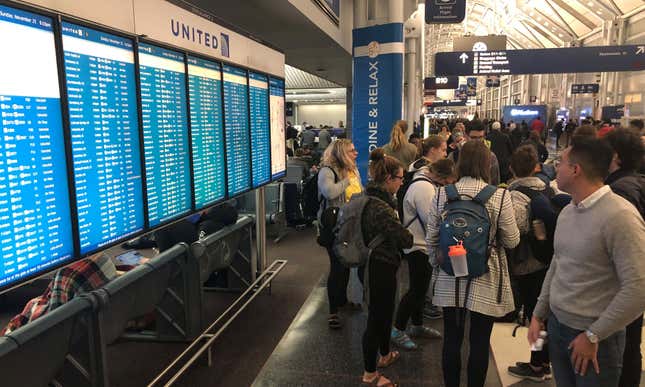 Travelers and residents in areas where snow is falling heavily are being advised to be careful in dangerous conditions wrought by the storm, such as reduced visibility, strong winds, and possible power outages.
It's not clear yet how this will affect carriers financially, but a spate of canceled flights like this typically costs airlines millions of dollars in passenger refunds and other costs associated with rescheduling and rerouting.