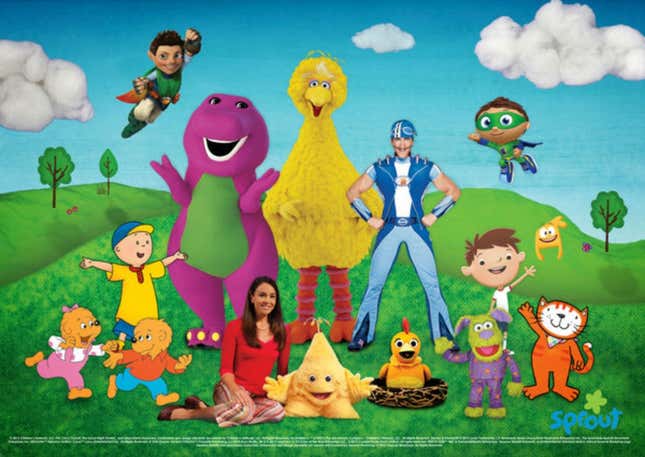 Running a kids network isn't child's play. The age 2-5 demographic has become hotly contested in recent years by Disney and Nickelodeon, but now NBCUniversal has its eye on the ratings crown as well.
Yesterday, NBCUniversal Cable Entertainment acquired the 24-hour preschool network Sprout, buying out its remaining partners, PBS and HIT Television Ventures, for an undisclosed sum. "We see enormous potential in Sprout, and we are committed to our investment in the kids and family arena," said Bonnie Hammer, chairman of NBCUniversal Cable Entertainment.
The "enormous potential" Hammer refers to is in one key area: mobile apps, which are increasingly becoming the preferred method of viewing for the preschool audience targeted by Sprout. More than half of households with children now own a tablet, up 40% from last year. A new study by Common Sense Media found that the average amount of time children spend using mobile devices has tripled since 2011, from 5 to 15 minutes, while Amazon says 65% of the most-replayed shows on its Prime Instant Video streaming service, which can be viewed via tablets, are programs for kids.
While Sprout reaches 60 million homes and boasts 1.5 billion on-demand views since its 2005 launch, its app numbers are less impressive. Sprout's app, launched in March 2012, has been downloaded 1.5 million times. Meanwhile, the Watch Disney Junior app, which Disney debuted in June 2012, has already been downloaded 5 million times, generating more than 650 million video views. Nickelodeon, which introduced a new app for its flagship network in February,plans to roll out a Nick Jr. app for preschoolers next spring.
"We have been been amazed at how quickly kids have embraced this new technology," Nancy Kanter, executive vice president and general manager of Disney Junior Worldwide, told The New York Times last month. "We're talking billions of minutes spent watching." Given Sprout's robust lineup—with top kids shows like Sesame Street, The Wiggles, and Barney—its paltry app presence represents an untapped market for NBCUniversal, which has spent the past year beefing up its mobile app offerings for NBC, USA, and Syfy.
The company will need to move swiftly to catch up with Disney, which is aggressively targeting its mobile audience by premiering its newest show, Sheriff Callie's West West, on its Watch Disney Junior app Nov. 24, several months before it airs on the Disney Channel and Disney Junior networks. Otherwise, Sprout will continue to wither in the mobile realm.