Investors, it seems, are just as divided about gun control as American society is. On the one hand, the share prices of America's biggest listed gunmakers have been soaring in the past few months.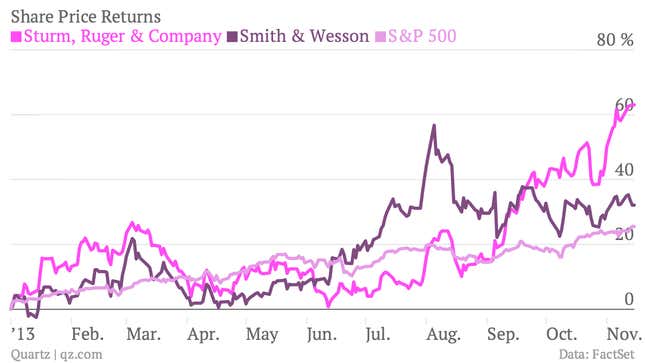 On the other hand, short-selling of these companies' stocks is also reaching new peaks, a sign that the markets expect them to fall soon. (Short-selling is when an investor borrows shares and sells them on the open market, hoping they will decline and can be bought back at a lower price for a profit.) The cost of borrowing Sturm, Ruger & Company and Smith & Wesson shares is at their highest level in at least a year, as is the number of shares sold short for each company, according to Sungard Astec Analytics.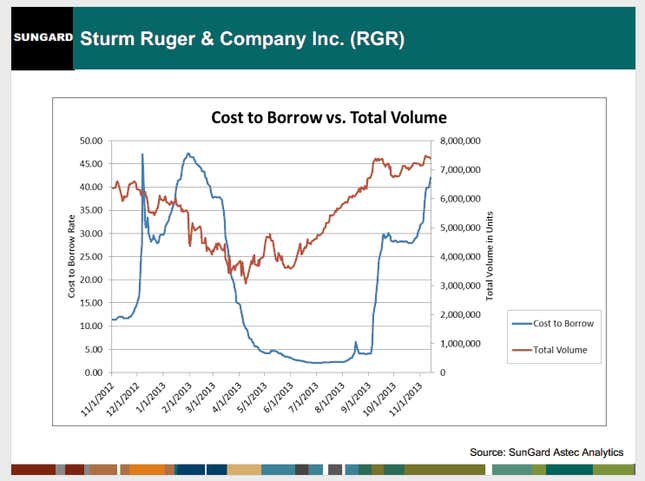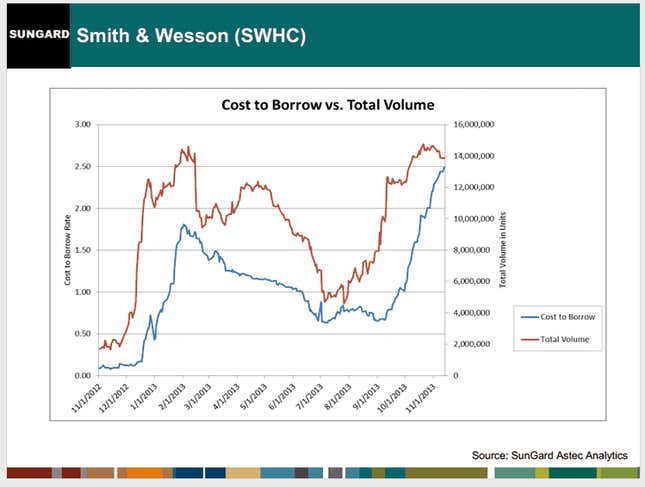 The Financial Times earlier this week explained the dynamics at play here. After last December's killing of 20 young children in Newtown, Connecticut, Americans rushed to arm themselves amid concerns that gun control would get stricter. But that never transpired, and hope that it ever will is rapidly evaporating. Now some short sellers are betting that panic buying of firearms will die down, leading to lower industry sales.
But Dougherty and Company analyst Andrea James isn't so sure that the short-sellers are right. She argues that demographic shifts are pushing more Americans toward gun ownership: Households headed by women and single parents are growing, according to census data, and self-defense remains a much stronger motivator for gun purchases than concerns that guns might become harder to buy.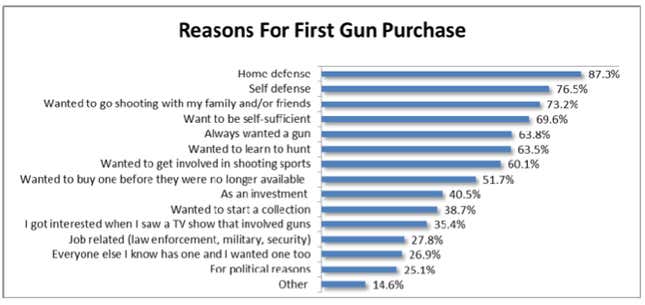 And moreover, the overwhelming bulk of guns sold in America remain handguns, not the assault weapons that were outlawed between 1994 and 2004 and are most likely to be banned again if there is any change in the law.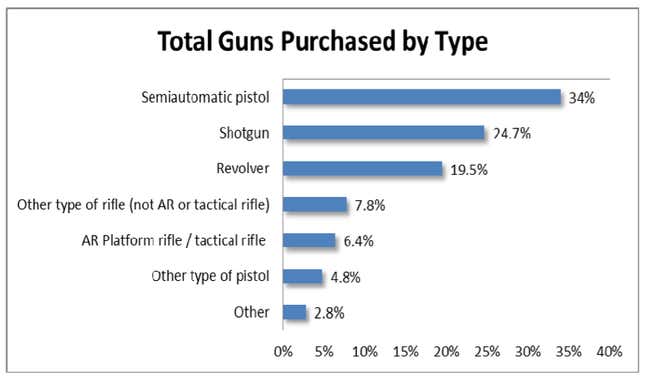 "There's two things going on, you've got this sort of fear that someone's going to take away my gun. That's one side of it. But more broadly, gun ownership in the US is becoming the norm," James tells Quartz. If she's right, that's good news for the gun companies and their investors, bad news for the short-sellers, and a sobering reality check for anyone in favor of gun control.