A data breach. Executive misconduct. A failed product launch. While the circumstances may vary, 68% of the more than 1,200 senior global leaders and executives we surveyed agree that every organization will eventually be impacted by a crisis. Yet, this doesn't need to spell disaster. In fact, leaders that understand how to successfully navigate a crisis can emerge stronger and improve strategy implementation—a sentiment echoed by 75% of our respondents.
During a crisis, a leader may try to control the situation using normal operating procedures. However, our research suggest that maintaining the status quo is not a viable option. In the face of a crisis, 93% of respondents entered "Crisis Mode," or a deliberate break from the organization's traditional ways of working. Acting in a deliberate Crisis Mode ensures each crisis situation is clearly differentiated from business as usual, and necessary strategic changes follow suit.  
Crisis Mode, however, is not a permanent solution. Only 19% of respondents believe it can be sustained longer than one quarter.
In partnership with Quartz Insights, we connected with leaders that have experienced crisis to identify actionable ways executives can use a crisis as an opportunity to improve strategy design and implementation capabilities.
Here are the traits most commonly shared by the leaders who emerged successfully from a crisis. Echoing Brightline Guiding Principles, these traits serve as proven lessons for any organization looking to strengthen strategy implementation.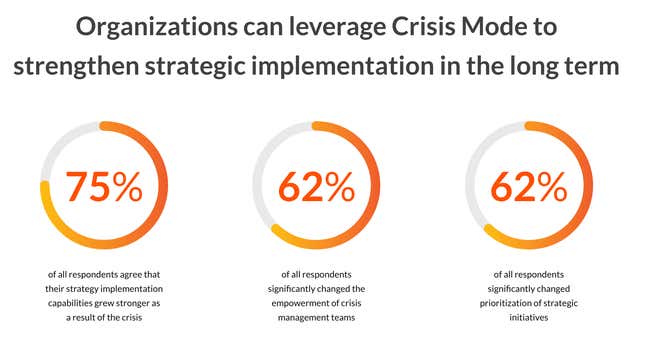 Knowing when to pivot based on priorities
Effective crisis management requires swiftly assessing the situation, shifting priorities and altering team structure without fear of abandoning standard operational procedures. Every process must be re-examined during Crisis Mode and successful leaders have shown an ability to avoid loyalty to particular priorities or protocols. In fact, 91% of respondents who reported post-crisis strategy implementation growth made changes to their prioritization of strategic initiatives, and 88% changed their team's priorities and dedication to initiatives. When it comes to improving strategy implementation, there's a good lesson here: The most effective leaders made strategic decisions rapidly while remaining prepared to quickly correct course, re-prioritize, and remove roadblocks as necessary.
Promoting team engagement and effective cross-business cooperation
"A good leader helps guide the conversation and will recognize the different perspectives that particular teams or employees can contribute." This quote from a global hotel chain senior director exemplifies the need to inspire and assign the right people when designing a strategy. In our study, 88% of respondents who reported post-crisis strategy implementation growth made changes to internal communication, and 89% focused on empowering a crisis team. As noted in our People Manifesto, leaders have a natural tendency to believe that they must always be in charge to be valued; however, an effective leader understands there is also a time and place to follow. This is clear when crisis strikes: Leaders must raise up the junior employees they believe will be capable and committed in crisis and inspire them to cultivate a teamwork mentality.
Minimizing process to improve operational speed
Whether changing approval processes or shifting responsibilities from specific leaders to junior employees, decision-making and execution must be expedited when crisis strikes. Many of our respondents shared examples of decisions, that once took days or weeks, being executed in minutes during Crisis Mode. These changes in speed had lasting strategy implementation implications for 90% of survey respondents that grew stronger after a crisis. By minimizing bureaucracy, leaders can better prioritize work, ensure accountability, and limit process that slows operational speed during normal working conditions.
Aligning on a shared vision through effective communication
Openly communicating context behind a strategy instills a sense of value and ownership, which builds positive culture and increases overall productivity. 89% of respondents agreed that crisis resolution strategies were more successful when they were communicated widely across the organization. It's important to always keep employees in the loop, proactively offering updates on new strategies and business developments. Similar to what was uncovered in our People Manifesto, in times of crisis, culture and strategy are, more than ever, intertwined. With effective communication, leaders can develop a culture built around a shared vision that moves in lockstep with a dynamic strategy that adapts to meet the crisis at hand.  
Leaders can significantly benefit from recognizing and adopting the leadership, team, and organizational structures of Crisis Mode. While no leader would ever wish for a crisis, when properly prepared, these situations can bring out the best in employees, unearth improvements in processes, and reveal new business opportunities, all of which can—and should—influence post-crisis strategy design and implementation.
This article was produced on behalf of The Brightline Initiative by Quartz Creative and not by the Quartz Editorial staff.