If you have money weighing down your pockets, here's an unusual investment proposition: a Chinese company that makes brick and hauls waste is diversifying into the famously opaque Old Masters market, and selling shares in some of the most valuable pieces of fine art available. For a small sum, you may soon be able to own a small piece (or maybe more, depending on the depths of your pockets) of a $75 million painting the company says is by Michelangelo—via 7.5 million shares of the company offered at $10 apiece.
Until a few months ago, Yulong Eco-Materials Ltd. was a producer of fly-ash bricks, concrete, and other building materials, based in Pingdingshan, China, and incorporated in the Cayman Islands. In recent months, however, tremendous changes have been afoot: The company is now controlled by a US entrepreneur, Daniel McKinney, who sold off many of its Chinese assets and moved the company to New York. McKinney, who now owns over 90% of the company's shares, also gave it a new name and a business strategy. Millennium Fine Art, as the company is now known, plans to issue stock to buy works of fine art, with a specific interest in Old Masters.
As McKinney tells it, the story isn't as unusual as it might seem: Yulong was struggling, so it brought him on as an advisor in May. At first, he told Quartz, he was just helping out with ongoing regulatory issues—the company had been threatened with delisting by Nasdaq for failing to submit filings. But after the founder resigned, the Yulong family wanted to buy back the physical assets used in brick manufacturing. While board members were happy to sell, they didn't want the business to vanish—in China, it's easier to restructure a company than start a new one—so the executives scrambled to find a new business plan, McKinney says.
"By happenstance," McKinney says, he had the solution to Yulong's problems, in the form of  the world's largest sapphire. McKinney proposed Yulong buy the stone, nicknamed the "Millennium Sapphire," from a syndicate that happens to be controlled by McKinney, thereby transforming the business from one that sold bricks into one that sold objets d'art.
Pivot to sapphires
McKinney has a long history in Asian business, having spent decades in industries like real estate and mining. He spent 17 years running Asia Properties, Inc., a nebulous company variously involved in enterprises as varied as selling beachfront properties in Phuket, Thailand, and gold mining in Quebec. He is a Chinese speaker and regionally "known by my reputation," he says.
McKinney first acquired the sapphire in 1998, via a syndicate he assembled to finance the acquisition. Uncut, it was 90,000 carats (or almost 40 pounds), and roughly the size of an American football; later, Italian designer Alessio Boschi, then a few years out of Rome's Academy of Costume and Fashion, carved more than 134 historical figures into the stone, eventually jettisoning around a third of its total mass. Its precise worth isn't exactly clear: In 2013, reports suggested the McKinney consortium was hoping for an offer of $180 million, while its website asserts a more measured $100 million.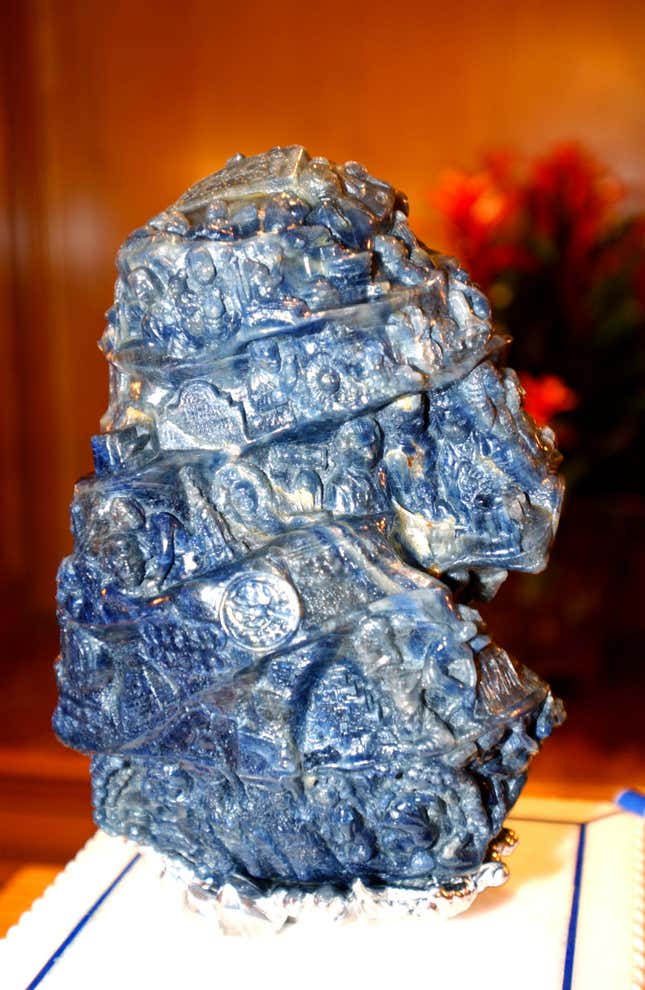 In August, Yulong Eco-Materials agreed to acquire the gem from McKinney's group for $50 million in restricted stock, according to the Wall Street Journal (paywall). The company, which then had a market cap of $3.3 million, issued 25 million new shares at $2 each to finance the transaction. According to McKinney, the sale solved the Yulong directors' problems by giving them not only an asset, but a new direction.
As the majority shareholder, McKinney became a company director. The firm's CEO, Hoi Ming Chan, also serves as the company's COO, secretary, and president.
According to its new business plan, drawn up by McKinney some years earlier, Millennium Fine Art will securitize other treasures and fine art, then ride each work like a racehorse. If all goes to plan, already big-ticket items will become still more valuable via publicity-gaining world tours, as well as by charging museums and production companies to feature them in films or exhibitions along the way. The artworks will produce revenue, but also become more famous and even more valuable, in the process.
For the first time ever, McKinney says, "the opportunity of shared ownership" of masterpieces is available to "anyone with a brokerage account." And masterpieces are actually quite a conservative bet, McKinney said in a press release last month. "While the various stock, oil and other commodity markets ride the rollercoaster, fine art just keeps appreciating." Incredibly, however, "no one has ever done it before," he added.
His timing, at least, seems good: The market for fine art is in a place of tremendous growth, and investors are eager to dip into their purses. One recent UBS survey of art collectors with more than $5 million in investible assets suggested that many were increasingly comfortable buying art online—and even, as 58% of those surveyed reported, works they had not seen personally. Whether that enthusiasm will extend to owning shares of a single artwork, however, remains to be seen.
Origin story
The next step is acquiring more and more masterpieces—starting with the Michelangelo painting. But while McKinney describes it as "likely one of the most important works in the world," there's no mention of it in the historical record, and many dealers in the business of Old Masters have apparently never heard of it. The company alleges that it comes from a "direct descendant" of the Medici family (they don't specify which Medici family—there are several), which allegedly kept it in its private collection since the 16th century.
That direct descendant, Ridgway Mitchell Smith, was introduced to the company via an agent McKinney describes as a grandchild of a Sotheby's founder. Speaking to Quartz, Smith calls his art dealing a "hobby," separate to his other work as a consultant. (His LinkedIn page describes him as a trained acupuncturist and former apprentice to a psychic ashiatsu healer based in California, as well as a former semi-pro football player.) His wider collection, he says, includes Vatican-certified holy relics and an artwork by Leonardo da Vinci.
This particular painting looks nothing like Michelangelo's most famous works, like the Sistine Chapel ceiling. Instead, it's a simple pieta composition in muddy colors, lacking the artist's trademark physicality and tension. It looks old—the paper is yellowed and a little mottled—and it bears the artist's name, but a quick glance wouldn't necessarily lead you to assume it was the work of genius.
McKinney acknowledges a market "rife with frauds," but says Millennium is in the process of "very expensive due diligence." (He would not reveal who is authenticating the painting.) His own connection with Old Masters, other than studying them "40 years ago," is predominantly personal. "I've always had a fascination with art," he says. "I'm an artist myself—that's really been something that has fascinated me all these years."
Art-world insiders have expressed concerns about the viability of these plans—and of the Michelangelo painting. Art advisor Todd Levin, from the Levin Art Group, warned against wading into the murky waters of the Old Masters market. An already small pond is slowly desiccating, he says, as more and more great works vanish into museum collections. But even while demand goes up, and supply goes down, it's a complex and impenetrable world, wary of outsiders and hard to infiltrate.
"Truly great, fully vetted, authentic works" do sell—and fast—but they're as rare as hen's teeth, Levin says. The $450 million Da Vinci sold to the Louvre in Abu Dhabi last year is one especially high-profile example of an extremely expensive work with a questionable lineage. Based on the quality of the work, Levin fears Yulong's Michelangelo may be of even more dubious origin.
McKinney says he's primed for disappointment. In the early 1980s, he helped set up Hong Kong's Gem and Jewelry Fair, later supplying art galleries in the southern United States with jade or malachite carvings in the shape of horses or longhorn steers. (His business partner and mentor, he says, was John Connally, the former Texas governor wounded in the assassination of John F. Kennedy.) When it came to high-end gems, McKinney says he would assume that the item on offer was "synthetic or a fraud," until proven otherwise. When it comes to art, he'll be applying the same scruples.
Anyway, if it isn't the real McCoy, McKinney says, there are others ready at hand. In early November, he announced ongoing "discussions" to buy "several significant art masterpieces including two masterpieces by Leonardo da Vinci, two masterpieces by Michelangelo, a Van Gogh, Raphael, and a work by Caravaggio." There are now hundreds of others in the pipeline, he says. "The list has gone exponential," he said.
Initially, at least, investors seem cautiously—very cautiously—interested. Pivots of this sort for businesses are uncommon, but not completely unheard of: Business collaboration company Slack started out in online games, while Nintendo experimented with playing cards, taxi services, a television channel, and "love hotels" before making it in the toy and then video game market. Hasbro Industries, of the beloved Mr Potato Head toy, began as a textile dealer and later manufacturer. Since news of the strategy change broke, Millennium's stock soared by a few hundred percent, although it's settled back down again.
But McKinney's big plans just got a lot more challenging. The company was previously listed on Nasdaq, but had been threatened with exclusion from the exchange after repeated filing noncompliance, making it much harder to sell off those 7.5 million shares. Following the hearing on Thursday (Dec. 13), the threats became a reality: Yulong Eco-Materials was delisted from Nasdaq, sending its stock price plunging. The fine art of disrupting fine art now looks more formidable than ever.
Update: This story has been updated to reflect the outcome of the Dec. 13 hearing.