This post has been updated with details of the launch. 
In what was bound to be an especially dramatic morning commute, three astronauts bound for the International Space Station successfully launched into space on Monday (Dec. 3), lifting off from the Baikonur cosmodrome in Kazakhstan. Expedition 58 marks the Soyuz rocket's first crewed mission since an issue with a booster caused a dramatic failed launch in October, which both men on board survived.
How to watch the launch
Expedition 58 took off at 6:31am US eastern time today (Dec. 3). You can watch video of the launch from NASA below.
Outer space on social media
NASA has a very strong social media game. In addition to extensive photo galleries on Flickr which provide behind-the-scenes insight into what the space agency is up to terrestrially, as well as in outer space, you can follow the Twitter feeds @NASA, @NASA_Astronauts, and @ISS_CASIS for updates on the expedition.
What happened to the last manned Soyuz expedition?
Russian cosmonaut Aleksey Ovchinin and American astronaut Nick Hague were forced to abort a few minutes into their Oct. 11 flight when one of the detachable boosters carrying their rocket crashed into the vehicle in the process of separating from it (you can watch footage of the incident here). An automatic abort system released their capsule from the rocket—the first time the launch escape system had been used since 1983, Quartz reporter Tim Fernholz writes. The astronauts landed safely 34 minutes later. "It was a mission failure, but it was as successful of a failure as you can possibly have," said NASA administrator Jim Bridenstine.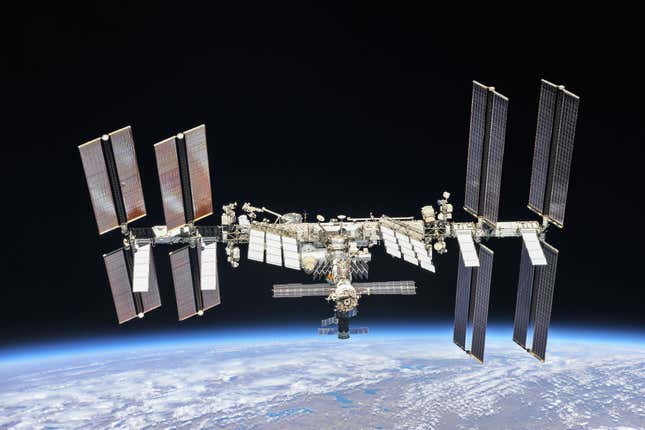 Who is headed to the ISS now?
An international crew of three is headed to the ISS for the next six months. Russian cosmonaut Oleg Kononenko has already spent more than 500 days on the ISS to date, while American Anne McClain and Canadian David Saint-Jacques are making their first trip.