In 2017, many months before its merger with Uber made it Southeast Asia's biggest ride-hailing app, Grab realized it had a "rendezvous" problem.
Although the volume of rides was nearly doubling every month, far too many of Grab's customers were getting lost trying to find their cabs, leaving drivers flustered and frustrated.
In Singapore, where Grab is headquartered, users might often walk up to 80 meters (260 feet) to find their ride. In other cities, such as Yangon, they might have had to trudge 300 meters.
The rendezvous distance—the distance customers typically walk to get to their taxis—had to be brought down, and fast, in part to support Grab's frenetic expansion. From just 34 cities in 2017, the six-year-old company currently operates in 235 cities across eight countries, offering transportation, food delivery, payments and logistics services. The company says its app has been downloaded 125 million times.
So, Ajay Bulusu, a former Googler who joined Grab in August 2017, began putting together a dedicated team to fix its mapping operations.
"We started off by just trying to improve pick-up and drop-off experiences," he said. But his team quickly realized that they had a much larger challenge involving accuracy and coverage, since swathes of the region weren't adequately mapped. "Both the problems were being flagged all through the region," Bulusu added.
Eighteen months on, Grab's 250-strong mapping team—of which 100 are based in India—has reviewed nearly a million kilometers (620,000 miles) of roads across 20 cities in Southeast Asia. By next year, the plan is to dive into 100 cities, and scrutinize close to 4 million kilometers of roads.
"When you're the market leader, users come to expect a certain standard of service," said Jun Wakabayashi, an analyst at AppWorks, a Taipei-based startup accelerator. "…maps are a core part of ride sharing, and if bugs, lags, and/or delays consistently create enough friction, eventually drivers and riders alike will get frustrated, neglect the switching costs, and jump at the opportunity of an alternative, when it does arrive."
Little green dots
It wasn't that vendors, or Grab, didn't have maps. The issue, instead, was with the level of detail available. "Let's say Changi Airport is available on the market but Changi Airport Terminal 1, Door 1, Basement 1 is not available on the market today," explained Bulusu, now the regional head of map operations at Grab.
To solve the problem, Grab decided to identify points of interest (PoI), and used everything from machine learning and customer driver feedback, to satellite imagery and physical vetting of some high-frequency locations to find the right spots.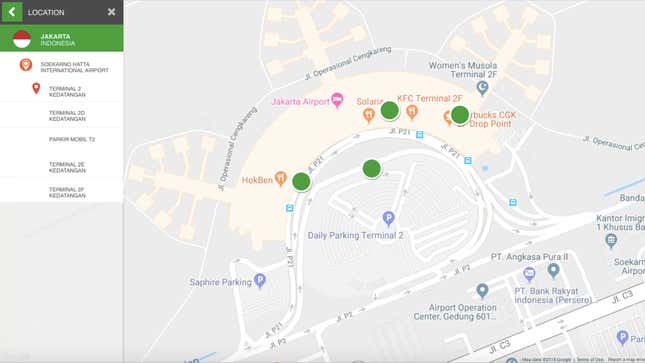 The impact of precise pickup points, which show up as green dots on the Grab app, is already tangible. The average rendezvous distance in Singapore is down to 30 meters. In Yangon, it's now only 70 meters. "So just adding various pickup points and making things more accurate on the ground has helped our business a lot," Bulusu added.
The entire process has been aided by Grab's users and drivers, who have been consistently providing feedback on dodgy green dots through the app. Between October 2017 and January 2018 alone, the ride-hailing service received 50,000 inputs from drivers—such as info about difficult-to-access pickup spots or better routes to them—across five countries. Grab's passengers pitched in with another 1,900, leading to a total of 2,000 map updates.
On an average, every quarter, Grab reviews between 3,000 and 5,000 instances of passenger feedback, and up to 100,000 inputs from drivers.
Indonesia mapped from India
Grab has also had lots of help from Yantisa Akhadi.
Akhadi is the country manager of the Humanitarian OpenStreetMap Team (HOT), a global non-profit, in Indonesia, where he leads 40 staffers and more than 4,000 volunteers.
Much of his work is focused on refining maps for disaster management in Indonesia, a sprawling archipelago of 17,000 islands that is home to Southeast Asia's largest population, nearly 270 million. But Akhadi has also been helping Grab improve its maps in the ride-hailing service's largest market.
Akhadi works in tandem with Grab's remote mapping team, which, somewhat appropriately, works remotely works out of India. So if there's an unmapped five-kilometer stretch of road, the remote mapping team will potentially use a combination of satellite imagery and GPS data from Grab taxis to add it to their database. Then, to confirm the name of the road or ascertain other attributes—is it a one-way street? Are there any traffic restrictions?—Akhadi and HOT volunteers will be roped in.
"Road network maps are very important for logistics distribution, for emergency assistance, so that people can determine the best route to get into an area," Akhadi said. "The collaboration with Grab is really improving this… and the data is applicable not only for Grab business but it will be also useful for the local governments."
Together, Grab and HOT have closely scrutinized streets in 15 of Indonesia's biggest cities to create a map database that potentially gives the Singaporean firm a critical edge over its biggest regional rival, Go-Jek.
Based in Jakarta, Go-Jek is Indonesia's first tech unicorn and touts itself as an super-app straddling transportation, food delivery, logistics, payment, and daily services. It currently runs the country's most popular digital wallet, alongside the world's largest online food delivery operation outside of China, according to Wakabayashi. And although Go-Jek is now expanding elsewhere in Southeast Asia, attempting to challenge Grab's dominant position, the biggest fight will ensue on its home turf, which accounts for 40% of the region's population.

"Indonesia is the crown jewel of Southeast Asia," said Wakabayashi.
Indonesia currently contributes some 37% of the combined GDP of Southeast Asian nations. By 2025, as the region's internet economy swells to $240 billion, the Indonesian market alone is expected to grow to $100 billion.
"If you're talking about ride hailing/online food delivery specifically, Indonesia will likely comprise half of the regional market by 2025," Wakabayashi added. "Just given the sheer scale of the country, Indonesia serves of critical importance for a company like Grab who's looking to consolidate its foothold all across the region."