There's a good chance that you use Gmail, Outlook, Hotmail, or Yahoo (yikes) as an email provider. The largest of these offerings by far is Google, which claimed 1 billion monthly users in 2016.
But free email accounts aren't really free. Google sells space on your various screens to the highest bidder. That's the price you pay for "free email." And in order for it to effectively target advertisements, Google needs access to all the information that piles up in your inbox—making it a desirable target for phishers or hackers, or anyone who wants to get your personal information for their own gain.
This liability of having your data on someone else's servers, as well as being targeted for advertising, are the main reasons why hardware startup Helm thinks you should spend $500 on its personal server. Right now, the server can only host your email and calendar, but the company says that it will support file storage soon. The device comes with a year's subscription to the company's service, which stores encrypted backups of your email, but it will cost $99 a year after that.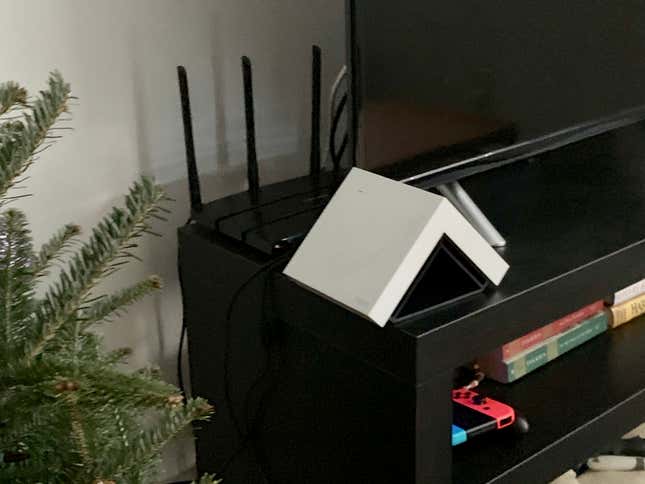 Helm loaned Quartz a unit to try out, and the process was simple and easy. You plug the server into the wall and your router, and then follow the directions on the mobile app. The app walks you through buying a domain (yourname.com), so you can have a custom email address on it. (The review unit was pre-configured to a test domain, however.) You can import your old emails, and set your email addresses to forward your emails to your new address. The whole process took about 20 minutes to set up, and then about 24 hours for a few thousand emails to import into my Helm device. The app pushed a notification saying my old emails were ready for me when it was done.
Every part of the product that is currently available works as it's supposed to. Emails that I sent from Helm were delivered efficiently and didn't go into the recipient's spam folder. Helm also makes the process of setting up a personal email server as easy as it could possibly be, given the complications around email for the average user. When adding your email to a new app or device, Helm generates a new, unique password and displays it alongside all the information the email app might need.
Helm is pricey at $500, and after the initial investment, you have to pay $99 a year to keep it running. But email is arguably one of the most important things we do online. So if you're willing to spend $1,000 on a phone, is it crazy to spend $500 on an email server? This is a personal equation. Right now, we don't have a good metric to tell us how much the "free" email services we use actually costs, so it's nearly impossible to say if Helm is a good investment.
But let's try. Analysts estimate that Google earns about $7 a month in revenue for each user, which means $84 a year in advertising from your email. If you've used Gmail for six years, you've been worth about $500 to Google. If you have multiple accounts that you use regularly, it could be even more.
What's more, Helm likely won't cost $500 forever—and if the idea catches on, competition will surely offer something similar for cheaper. So should you buy a Helm now? It's simply a question of how much you think your data is really worth.