Juha Aarnisalo set out to be a banker. Before long, though, he was drawn to the family business. His father, Raimo, opened an antiquarian bookstore in Helsinki in the early 1970s, called Kulku-Katti ("Stray Cat"). When Juha took over the operation in its current location in 1986, on the edge of the now trendy Kallio neighborhood, he called it Kulku-Katin Poika ("Son of Stray Cat").
Over time, Aarnisalo the younger, who is now 54, dropped the books, magazines, and other offerings, leaving just comic books. Today, the cozy shop is packed with tens of thousands of comics, mostly in Finnish, from the earliest days of the industry through to the latest titles.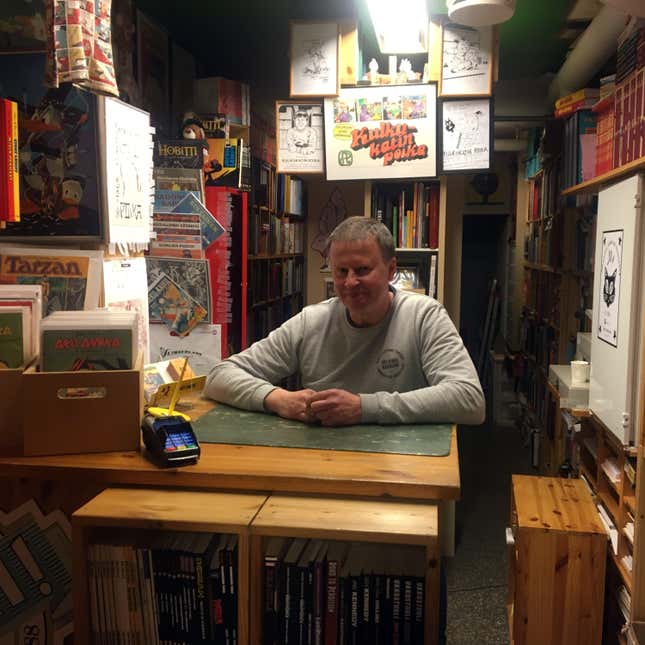 Although he started a Facebook page for his shop five years ago, everything else about Kulku-Katin Poika is old-school. Aarnisalo doesn't sell anything online, but he's happy to order comics for customers if they call, email, or message him on Facebook (where he responds very quickly).
The heyday of comic books may be past, but after more than 30 years in the business Aarnisalo—the shop's only employee—is confident in his long-established ways of working. Sales have generally been trending down, but he reckons comic books, like vinyl records, have an underlying staying power that will persist as pop culture goes digital.
The interview has been edited and condensed for clarity. Help with translation provided by Minna Tuuli.
In terms of technology, what's the big thing you know today that you wished you knew when you started?
Technology hasn't affected my way of business. I'm selling comics in a traditional way, even though I advertise on Facebook and post on the site every now and then.
Which tech giant has had the biggest impact on your business?
When I get new comics and special collections, I write about it on Facebook. I don't have an online store, but I can do mail order.
From a technology standpoint, what can't you do that you think you should be able to?
When I started I used the phone [points to his landline]. It was very cheap: €200 (about $228) per year. Now, the same [points to his mobile, the credit-card terminal, and other electronics] is €200 every month.
From my point of view, technology has taken more than given.
Has technology changed anything about how you manage your company's money in last five years?
It's very expensive. Everyone wants their slice of the cake.
What's the newest competitive threat?
Online stores are competitors, but this is a special shop. Here, you get better service. You can buy comics online, but you can't really thumb through them.
What app on your phone do you find most useful for work?
Facebook Messenger. Also WhatsApp, but that's mainly for friends and family.
Can you imagine using bitcoin or incorporating the blockchain in your business?
No. [He picks up some vintage comics, and incredulously makes a gesture that suggests exchanging one of these treasures for crypto would be a bad trade.]