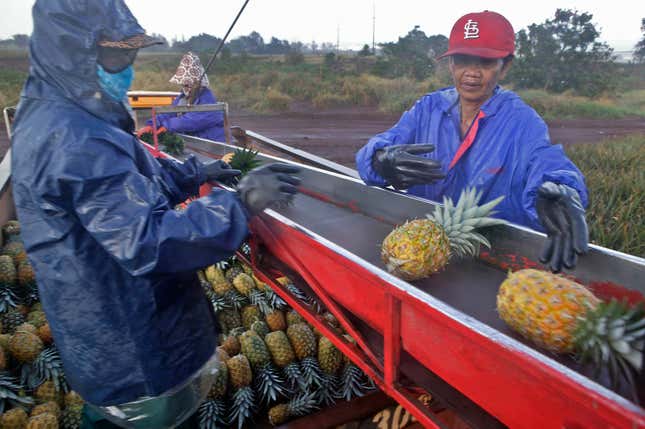 It seems that Thailand and Hawaii have more in common than just being tourist paradises. Thailand is trying to get itself removed from the US human trafficking watch list, where it risks heavy sanctions if it doesn't clean up its act. And American fruit giant Del Monte has just agreed to pay $1.2 million to a group of migrant workers—who are, ironically, Thais—in Hawaii, over some of the very same practices that have bedeviled Thailand.
Technically, the federal lawsuit against Del Monte and five other pineapple growers, along with a Beverly Hills-based recruitment agency, is for discrimination, not human trafficking. The US Equal Employment Opportunity Commission accused the companies of stripping Thai workers of their passports, denying them pay, charging them hefty recruitment fees, and harassing and retaliating against those who complained. But similar techniques are used on trafficked workers around the world.
Del Monte, which did not admit any wrongdoing, and four other growers have settled in the case. The case continues against recruiter Global Horizons and the now-defunct Maui Pineapple Farms. Criminal charges against Global Horizons were dropped last year due to a lack of evidence.
Thailand has had trouble prosecuting human trafficking, which is especially rife in the seafood industry. Migrants from Cambodia, Laos, and Myanmar are often subject to abuses like forced and child labor and debt bondage. As a result, Thailand has been the "tier two" watch list for the US Trafficking in Persons Report for three years in a row. Under US law, it faces an automatic downgrade to tier three—defined as "countries whose governments do not fully comply with the minimum standards and are not making significant efforts to do so"—unless it shows significant improvements.
The Del Monte case highlights the different ways that the US and Thai justice systems handle human trafficking. The United States offers temporary visas to allegedly trafficked workers while their legal cases proceed. Thailand offers no such protection; the victims have to live as undocumented immigrants in displaced-person camps for many years while their cases wind their way through the Thai courts.
Protecting trafficked workers clearly makes it easier to take on those who exploit them, even when there are no criminal charges involved, as in the Del Monte case. "I don't have to worry or be stressful or live in fear anymore," said Theim Chaiyajit, one of the Thai immigrants who will benefit from the Del Monte settlement, in an interview with the Los Angeles Times. "I want to encourage others who experienced what I experienced to not be afraid and to seek help from the EEOC."