Maria Butina, a Russian graduate student in the US, is expected to plead guilty this week to charges related to being a spy for the Kremlin, which could reveal closer ties between Donald Trump's 2016 presidential campaign, Russia, and the National Rifle Association.
Butina, 30, was charged in July with with illegally acting as a secret Russian agent on US soil by the US Department of Justice. She originally pleaded "not guilty" and has been jailed in Alexandria, Virginia pending trial. Her lawyers filed a "change of plea" request today (Dec. 10) requesting a hearing as soon as tomorrow.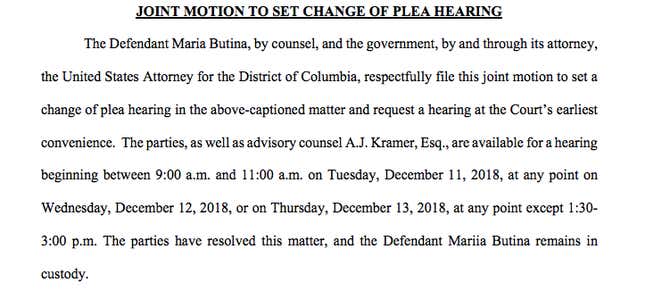 Butina worked with "a senior Russian official" believed to be Alexander Torshin, former deputy governor of Russia's Central Bank while on a student visa in the US, prosecuotors alleged in July, and attempted to infiltrate an unnamed US gun-rights groups. A May 2018 report from Democrats on the Senate Judiciary Committee alleged the Kremlin "used the National Rifle Association as a means of accessing and assisting Mr. Trump and his campaign," via Butina and Torshin, who was hit by US sanctions for his actions.
Butina was photographed with numerous NRA officials, attended meetings and conferences, and received a plaque from a former NRA president—all of which she documented on social media, as The Trace recounts. At a 2014 NRA convention, she tweeted about the "rare privilege" of being invited to ring the gun group's replica of the Liberty Bell.
The FBI is investigating whether Torshin illegally funneled money to the NRA to help Trump's campaign, McClatchy has reported.  The NRA and its affiliates spent over $31 million in ads to boost Trump during the 2016 election, more than it spent on any other politician, as Quartz has reported.
The Butina investigation—not part of special counsel Robert Mueller's investigation into links between the Trump campaign and Russia—is being conducted by the national security division of the Justice Department.
In 2015, Butina asked Trump publicly at the Nevada Freedom Festival about US sanctions on Russia. "I don't think you'd need the sanctions," Trump said, because he'd get along with Russian president Vladimir Putin so well.
Butina is expected to plead guilty to acting as a foreign agent on US soil without notifying the US attorney general, a charge that carries a 10-year prison sentence. Her plea will be closely watched to see if it includes other information about who she worked for and why, and whether money moved directly between the Kremlin and the NRA, House Democrats say.