—Dec. 6, 2018—
Like most fighters, the best boxer in the world is somewhat superstitious. "I always put my gloves the right side first," Vasiliy Lomachenko tells me. "Sometimes, when my father would make a mistake and put the left one first, we have to take everything off and do everything again from the beginning."
An hour earlier, Lomachenko had been sitting in the back of Madison Square Garden in New York waiting to be weighed, fiddling with prayer beards and discussing expensive watches with his friends. All the fighters from the card were there, along with their trainers, managers, families and hangers-on. The room smelled faintly of drugstore deodorant. Less than 10 feet away from Lomachenko sat his opponent, Jose Pedraza, also a world champion with the toughest assignment in boxing—beat the Ukrainian The Ring, ESPN, CBS Boxing, and World Boxing News rate as the best pound-for-pound fighter in the world.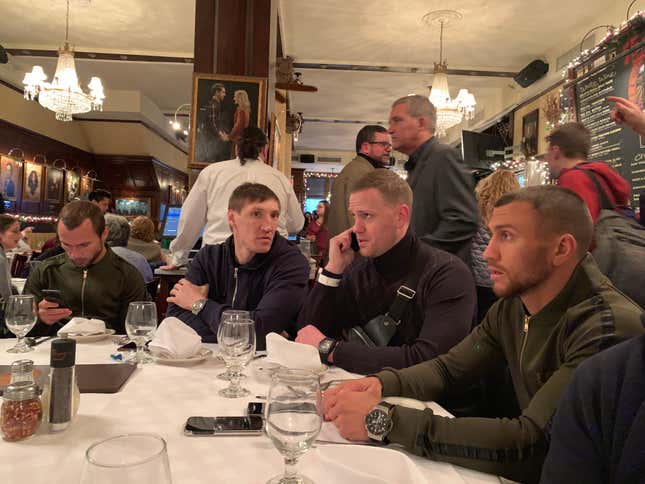 But now, Lomachenko is more concerned with tradition than with unifying the lightweight division. As soon as the weigh-in is done, Lomachenko and his whole team rushed the 10 blocks up Seventh Avenue in the freezing cold to eat at their favorite restaurant, an old-school Italian red-sauce joint just off Times Square.
For boxers, who spend half their lives cutting weight, the first bite post-weigh-in is the first proper meal they've had in months. (Fighters who are naturally bigger can balloon up as soon as they get some decent food; many onlookers suggested Pedraza put on 20 to 25 pounds in that single day before he fought Lomachenko after the weigh-in.) Found by Lomachenko's manager, Egis Klimas, this restaurant is now where they come before every fight in New York. (This is their third fight in a row at the Garden.) "After the weigh-in, it's become our tradition," Lomachenko says. "I like the atmosphere, I like this restaurant. All my friends come to support me."
But the restaurant's usual manager isn't there and rather than have one big table, Lomachenko's large party has been split into three. Lomachenko is not happy. This was not how it was supposed to be. As Lomachenko stomps around, making sure that everyone has a seat, the actor Saïd Taghmaoui comes over and says he can leave if that helps. Smiling, Lomachenko tells him to stay and turns to the waitress to order the usual: a seafood pasta, penne with meatballs, and chicken parmesan, all served family style. "I miss pasta," Lomachenko says.
The odd celebrity aside, most people here are old friends and family. One childhood acquaintance never smiles once and spends the entire meal playing a terrifying game called Sniper 3D Assassin. Everyone at the table laughs and jokes in Russian. There is only one woman at Lomachenko's table, Klemis's wife.
Taghmaoui, who co-starred in Wonder Woman and was supposed to be the next Bond villain, was skipping a film festival in Morocco to be here. He had been at Lomachenko's training camp in California, witnessing his unusual training techniques firsthand; walking upside down on his hands, punching a ball elastically attached his head, catching playing cards thrown in the air, even juggling.  "When they train, they train. When they run, they run. When they eat, they eat," Taghmaoui tells me. "Everything is focus. And they're not afraid of silence." The training also includes mental games—a battery of memory and math tests once reserved for Soviet fighter pilots, administered by his psychologist.
All of which contributed to a style that has been described as entering the Matrix, where Lomachenko looks as if he is fighting at a completely different speed to everyone else. Dozens of admiring YouTube compilations attest to his skills. "I train differently because my father knows a lot of things about boxing. He's a genius, " says Lomachenko, whose father Anatoly Lomachenko—lovingly referred to as "Papachenko"—sits directly across the table at the Italian joint from the son and who is particularly enjoying the crustaceans among the seafood pasta with the psychologist. "That's why I'm different from other boxers."
The elder Lomachenko—who doesn't do interviews—first put the gloves on his son when he was four. He had his first scrap at six—against an eight-year-old. "It's not usual. All little kids fight with the same age, the same size," Lomachenko says. "I fought with a guy was bigger than me. All my competition was with bigger guys." He thinks his father was trying to teach him the importance of a good defense. Anatoly even made young Vasiliy study Ukrainian national dance lessons—not ballet as is often reported—to get his feet quicker. The son has a large tattoo of his father on his belly, underneath the word "Victory."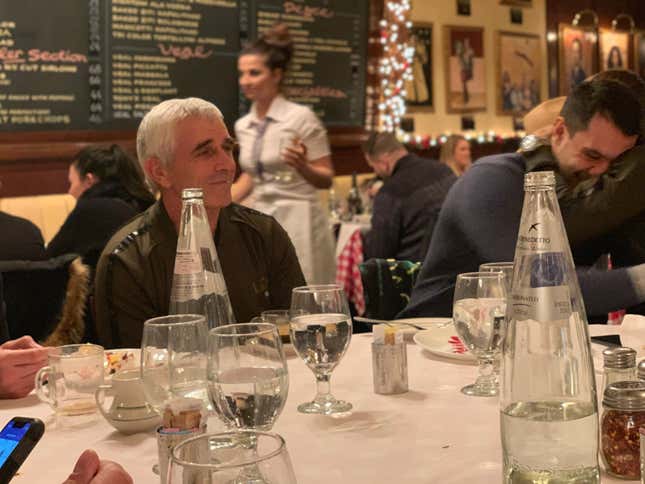 The result is a fighter with an amateur career of 396 fights, one defeat (back in 2007, avenged twice), and two Olympic gold medals—back to back in Beijing and London. The only comparable fighter might be Cuba's Guillermo Rigondeaux, who also won two gold medals in a 463-12 amateur career. Lomachenko and Rigondeaux finally met this time last year in New York in what boxer-turned-commentator Roy Jones Jr. called the "the best professional fight that has ever been made." Rigondeaux didn't come out at the end of round six, his first loss in 14 years. He was the fourth consecutive opponent to quit on his stool against Lomachenko.
"My matchmakers have this game they play, it's like fantasy boxing," says Todd DuBoef, the stepson of legendary promoter Bob Arum and president of Arum's company, Top Rank, which launched the careers of Floyd Mayweather and Oscar de la Hoya. "They way they think about it, you gotta go back in time and ask who is better than him at the same point in his career. Take Floyd. They would say that Lomachenko's body of work after 11, 12 fights is arguably greater."
Despite all those credentials, he can still walk down the street unrecognized and fight in front of 5,000 fans in the smaller theater at the Garden. Meanwhile, Saúl "Canelo" Álvarez will sell out 20,000 seats in the main arena of the same venue exactly a week later against a no-name opponent in the first fight of a $365-million deal that makes him the highest-paid sportsman in the world.
Lomachenko remains a boxer's boxer. A pugilist for the cognoscenti. Even now as a professional and making millions a fight, he knows what he has achieved. "You can't compare anything to gold medals because that was my childhood dream," Lomachenko says. "The first gold medal was the biggest achievement in my life." So what does he want to prove now? "I want to prove my father is the best coach in the world," he says. "I want to prove that I'm the best pound-for-pound boxer in the world."
First, there is the small matter of dessert. After much searching of the menus, Lomachenko finds what he is looking for: Italian cheesecake and an assortment of ice creams. Yet when they arrive, he's full after a few bites. It's  common for boxers to fight at heavier weights over time. Lomachenko started his career at atomweight (under 105lbs) in 2004; a couple of hours ago, he weighed in today at 134.4lbs. The meal is over and is paid for in cash. There are hugs and laughter before a return to the hotel room.
The next night, there would be a final tradition before the ringwalk. In the dressing room, when it is time, everyone who is there must sit. "We even ask the inspector to sit down," Klemis said. Time stops for a moment. Enough for Lomachenko to think about all he has done to reach this point and what he has to do to go even farther. Lomachenko would then step out and easily defeat Pedraza over 12 rounds, including an 11th where Lomachenko landed 42 punches practically uninterrupted.
The top comment on ESPN's YouTube page showing the highlights would later say: "I'm surprised Lomachenko didn't teleport behind him."