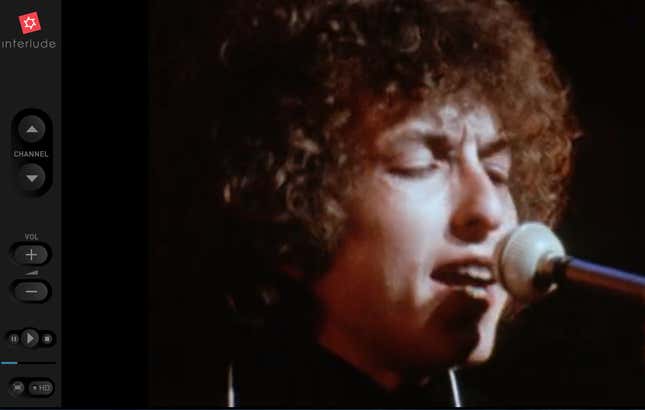 The internet practically burst into applause on Tuesday with the launch of an interactive video for Bob Dylan's "Like a Rolling Stone," which lets viewers flip between channels on a virtual TV to watch a celebrity-studded group of lip-synchers. But it's the only latest in a string of attention-grabbing videos from Interlude, a Tel Aviv-based start-up that is run by Israeli musician and self-professed tech geek Yoni Bloch.
When he started Interlude, Bloch was already a well-established guitarist and singer in Israel, where he made a series of interesting videos using methods like stop motion animation:
Interlude—which scored a $15 million round of funding earlier this year from venture capital firms including Intel Capital, Sequoia Capital, and Google Chairman Eric Schmit's Innovation Endeavors—made its name with "choose your own adventure" web videos that let users navigate through a decision tree of plot choices, winning awards for innovation from MTV and Intel. A video on Bloch's own site, for example, prompts viewers to guide him through a house party, handing off a set of headphones to different guests.
The company also offers tools to let users create their own interactive videos, but the company's real business opportunity—and likely the selling the point for its recent venture capital round—is its ability to work with advertisers. The company's website carries examples of work for Madewell, Subaru, MAC, Goldfish, and Shell. After all, Bob Dylan may have been accused of selling out when he went electric with "Like a Rolling Stone," but for an ambitious start-up, that's no insult at all.