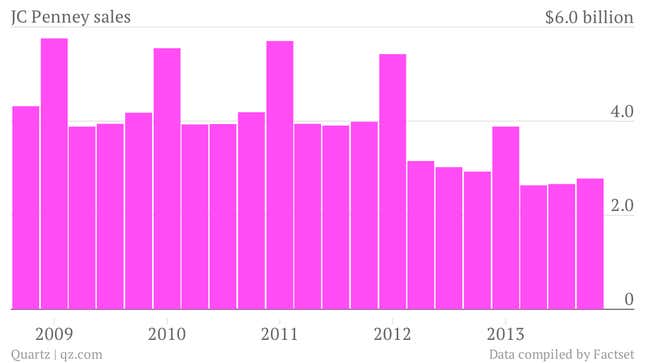 The numbers: It was a pretty dismal third quarter for the struggling department store retailer: revenue fell 5% to $2.8 billion and net loss nearly quadrupled to $489 million. At $1.94 per share, this was much deeper than the loss of $1.74 per share Wall Street was expecting. Shares are surging after the company talked up its outlook for the fourth quarter, saying it was "encouraged" by trading so far in November and that its turnaround is on track. But don't be fooled: questions about the viability of the business remain very real.
The takeaway:  The vultures have been circling JC Penney for months now. And from the beleaguered company's quarterly results this morning one thing is abundantly clear: The upcoming holiday shopping period will be critical in its quest to escape a death spiral. JC Penney burned through nearly $900 million during the quarter, and its debt load now stands at $5.2 billion. The company says it expects to grow same-store sales and expand its margins during the quarter—the latter particularly encouraging as retailers often discount aggressively during the holiday period to lure customers into their stores.
What's interesting:  It's pretty clear, if it wasn't already, that JC Penney is paying for bad business decisions of the past. For starters, other companies in the sector don't appear to have the same problems: Macy's, for one, is managing to grow sales and keep Wall Street impressed, despite the challenging economic environment. And JC Penney's CEO Mike Ullman revealed that the sharp decline in gross margins during the quarter (to 29.5% of sales from 32.5% a year ago) was largely driven by a fire-sale of  products that simply didn't appeal to its customers.