Spain dominates in many areas: men's soccer, youth unemployment, and as a new study from Euromonitor International points out, consumption of low alcohol and non-alcoholic beer.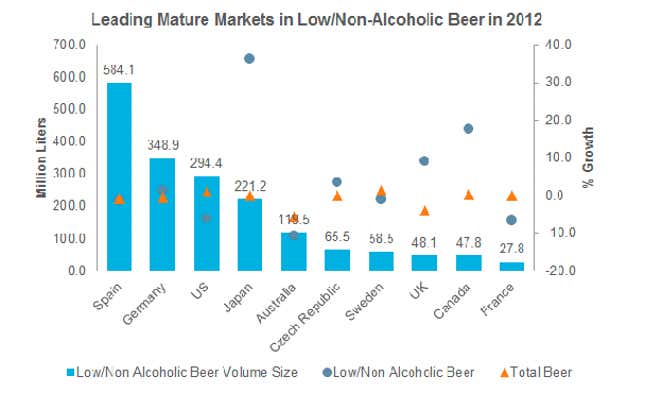 Oddly, the fun-loving wine-centric country has pulled out ahead of traditional beer drinking nations like Germany, the Czech Republic and the UK when it comes to alcohol-free ale. Spain is even beating the Middle East, where alcohol consumption can be socially unacceptable and in some cases illegal.
One reason could be Spain's relatively strict drunk driving laws. But as Euromonitor points out, growth rates in the consumption of low and alcohol-free beer were actually rising at a faster pace before the laws were introduced in 2007. The social culture in Spain, where consuming alcohol may have more to do with mingling than getting drunk, is another possible driver. Spain's aversion to alcohol could also tie into health fads; the Spanish are forking over more cash for organic and health foods despite the country's worsening economy.
And yet, those healthy impulses haven't stopped Spaniards from smoking. The country continues to have the highest percentage of cigarette smokers aged 15 and above in the developed world, according to the most recent data from the OECD (2011).