On Nov. 6, believers and non-believers couldn't help but be moved by images from the Vatican. At the conclusion of Pope Francis' public address, a man approached the pontiff.  The pilgrim's skin was carpeted in tumors from the non-contagious but horrific disease, neurofibromatosis Type 1, also called NF1.  The pope went on to bless the man and then compassionately cradle him with their hands touching. The photos went viral.
What doesn't appear in most media coverage is the first frame of the sequence: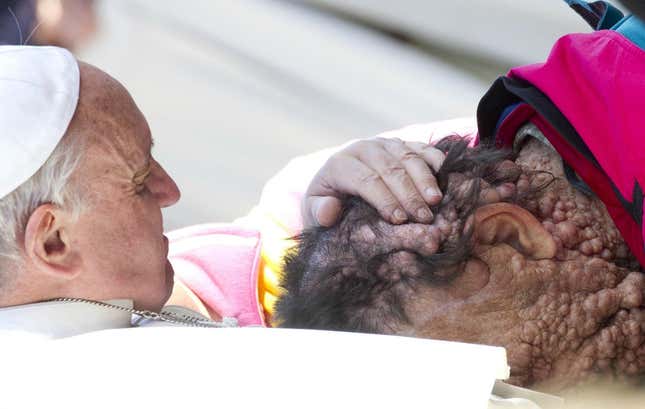 As the disfigured man approaches, note how the pope recoils. But for me, a doctor who works in a clinic for NF1 patients, it's that scene which renders the pope's ultimate response heroic. Initially, instinctively, the pope's response to a sight which Western society considers aesthetically off-putting was repulsion. But his quick triumph over ingrained, social custom (demonstrated in the next frames) can ultimately serve to inspire us and to rethink our aesthetic sensibilities.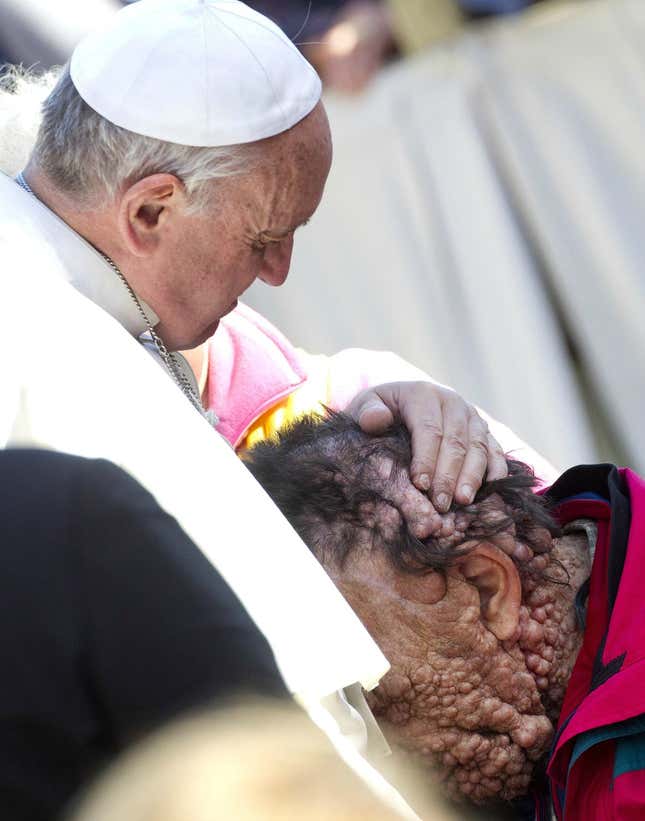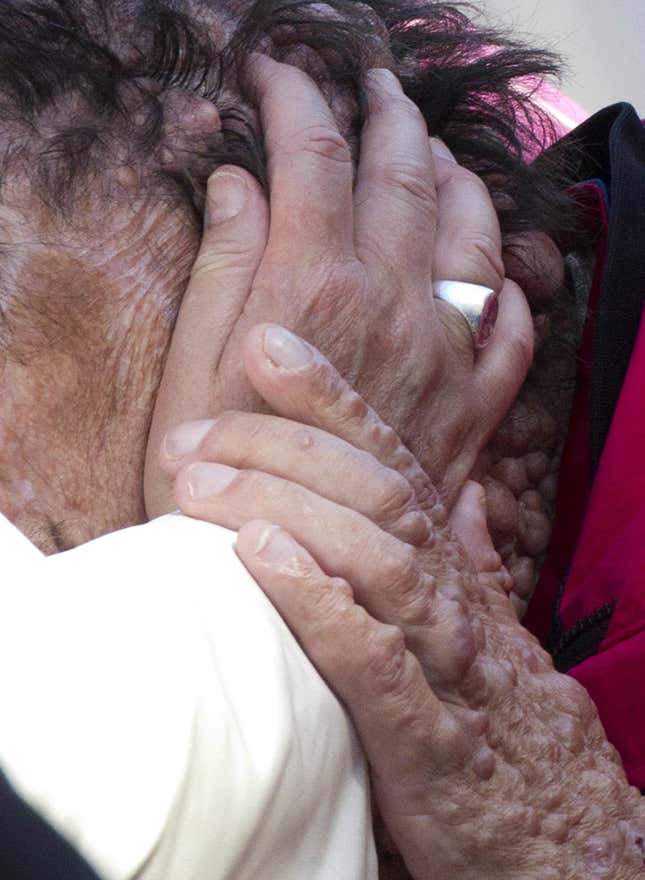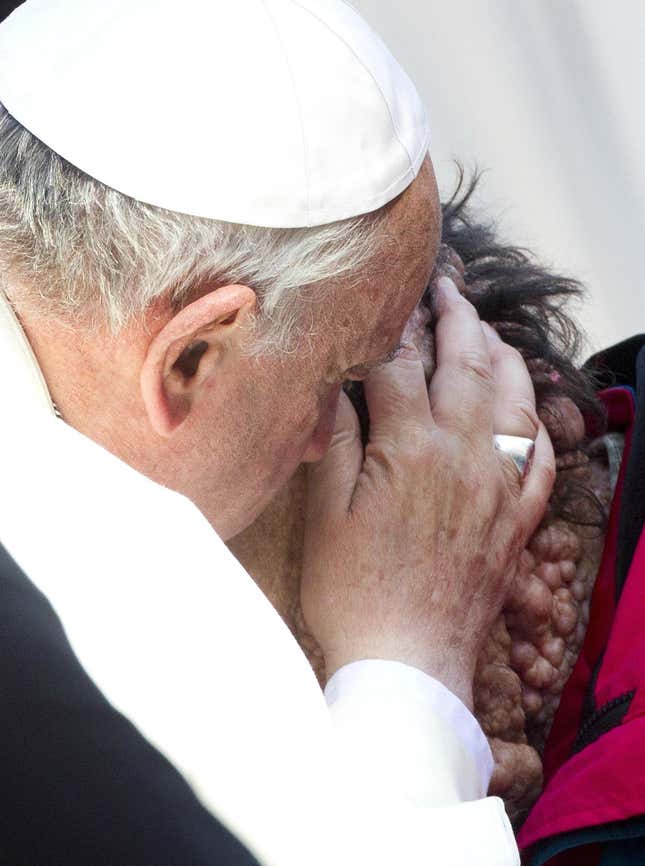 Ugliness is not an absolute condition but a socially sanctioned attribute. The problem with consigning something to that far, negative end of the spectrum is that ugliness can incite stigma. Art historian H.W. Janson says that modern definitions of beauty took root in the masters of the High Renaissance. In 1486, Botticelli's painting of The Birth of Venus established a standard of features. Perpetuated over time by illustrators, marketers, members of the media, the standard—of flawless skin, golden locks, bodies at once buxom and taut—has served as a basis for Western ideals of beauty and, conversely, ugliness.
Because our aesthetic standards are arbitrary, our definitions of beauty have shifted slightly, over time, to encompass, for example, anorexic-appearing fashion models with little resemblance to the shapeliness of Botticelli's Goddess of Beauty. There is one vital point in that dynamic: the arbitrary—including our ideas of what is beautiful, ugly, visually acceptable, or socially stigmatizing—can change. And each of us can contribute to that change.
An understanding of neurofibromatosis might, too, help. Friedrich von Recklinghausen initially described the syndrome in 1882. (Although the illness is no longer designated officially as "von Recklinghausen's disease," various experts still call themselves "Recklingologists.") The NF1 gene appears to be a "tumor suppressor" gene and protects human cells from turning cancerous. When the NF1 gene is missing or mutated, cells that were previously held in check by the body's immune system can morph into tumors, especially of the nervous system and nerve tissue.
Some NF1 sufferers develop nerve tumors ("neurofibromas") that protrude as growths or "bumps" on the skin. Others have flat spots that look like coffee stains (café-au-lait lesions). In addition to visible tumors, some people grow internal masses which, although unseen, can have devastating results. The most frequently diagnosed tumors associated with NF1 include cancers that affect vision (optic glioma), blood pressure (pheochromocytoma), or blood cells (leukemia).  Although NF1 patients who live beyond five decades often have near-normal life expectancy, if tumors arise prior to age 50, then NF1 patients' lives are shortened by eight to 15 years.
The hospital where I work, Tel Aviv Medical Center, serves as our nation's center for NF1 patients from Israel as well as others countries. In my informal conversations with many of our NF1 patients, I find negative bias and stigma to be a sadly recurring theme.
Take 37-year-old Tova, whom I interviewed recently. She points to her neck, "Can you imagine my shame and fear when I'm dating a man who sees all of these bumps but probably hasn't considered that even more lurk under my clothes?!" She challenged me to envision life with even mundane trips to the supermarket or post office inducing stress from stares and derision. "The greatest invention for people suffering from this curse," she says wryly, "is online shopping."
With the expertise available at our medical center, our hospital constructed a modern neurofibromatosis clinic. The facility happens to sit next door to the department of ambulatory pediatric medicine, and the two units share a waiting room.  Within days of the ribbon-cutting ceremony two years ago parents began to complain about it being insensitive, if not cruel, to expose their little ones to a "parade of monsters."
Rather than placating parents, our administrators launched a campaign to educate.  "To my pleasant surprise," one deputy told me. "Mommies and daddies have proved to be teachable." And children who did not harbor preconceived notions are not being taught to create hurtful equations of "neurofibromatosis" with "scary."
With successful cloning of the NF1 gene in 1990, an exciting era of basic, NF1 research was launched.  But despite a pipeline of intriguing pharmaceutical possibilities, we still have no cure or even satisfactory treatment for the consequences of NF1 disease.  Advances in cosmetic surgery, speech therapy, and other interventions improve life quality for NF1 patients.  Yet, until effective medicines emerge from rigorous clinical trials, the burden will continue to fall on all of us to create a caring community for NF1 patients, as for anyone with the misfortune to fall outside the capricious construct of socially acceptable appearance.
If, as Tova indicated, NF1 is a curse, then Pope Francis has offered blessing and acceptance as an appropriate antidote. Inspired by the noble display of a kindhearted, benevolent pope, perhaps the rest of us can expand our social perspectives to allow personal depth to triumph over differences and superficial appearance.