Donald Trump could be spending up to 16 days at Mar-a-Lago over the holidays, an alert issued by the Federal Aviation Administration indicates. If he spends the full time there, it will be the US president's longest stay at the Florida members-only resort Trump owns since he took office in January 2017.  
The FAA alert, which was first reported by the Palm Beach Post, warns pilots to steer clear of the airspace over Trump's South Florida club between Dec. 21 and Jan. 6. Those dates coincide with when Trump is expected to travel to Mar-a-Lago for Christmas and New Year's, according to people briefed on his schedule.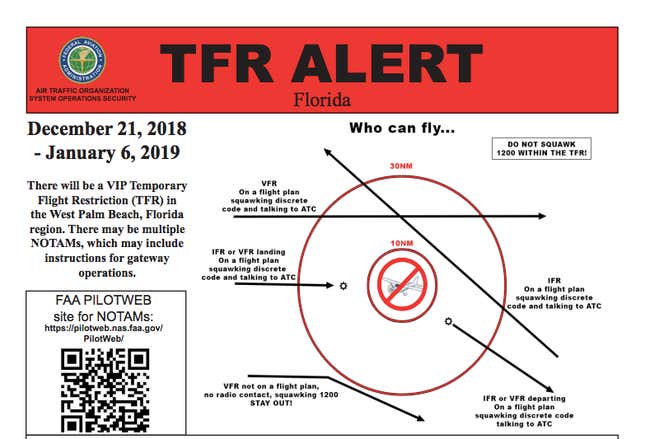 Last year, Trump went to Mar-a-Lago from Dec. 22 to January 1 and hosted a New Year's party there; a Trump spokesman told the South Florida Sun-Sentinel that more than 800 people attended, including actor Sylvester Stallone. 
Trump was a vocal critic of his predecessor Barack Obama's vacations to his home state of Hawaii over Christmas, and particularly the amount of time that Secret Service members were forced to spend away from their families for the holidays.
The US government spends hundreds of thousands of dollars a day to protect the president when he's not in the White House. Some of those costs, which are borne by the US taxpayer, are paid directly to Trump's resorts when he stays there, meaning that his property collects money when he visits.
For example, the Secret Service paid $63,000 to Mar-a-Lago over several months in 2017, CNN reported, citing federal documents, most of that for hotel bills. In other instances, nearby companies benefit when Trump travels, like a West Palm Beach golf cart rental company that could earn as much as $93,000 between now and June from the US government, according to federal spending records. 
Under the Trump administration, the Secret Service provides 24-hour protection to 42 people, 18 of whom are members of the Trump family. Under president Obama, there were 31 full-time protectees. Congress passed a special bill at the end of 2017 to increase Secret Service overtime caps to accommodate the Trump family.
Air Force One, the specially equipped Boeing 747 jet that the president travels on most often, costs $142,380 per hour to operate, including fuel, onboard supplies, and engine and aircraft maintenance, the US Air Force told Quartz. 
Taxpayers spent more than $6 million to fly Trump to Mar-a-Lago in 2017, not including the cost of Secret Service protection, the Wall Street Journal reported last year. A Washington Post analysis determined the Coast Guard spent roughly $6.6 million guarding the waters near Mar-a-Lago during Trump's first five visits there.
A Secret Service spokesperson says that, "For operational security reasons, the Secret Service cannot discuss specifically nor in general terms the means, methods, resources, costs, or numbers we utilize to carry out our protective responsibilities."
This article was updated to include QZ reporting on the president's schedule.