The year 2018 has seen amazing works of journalism, from exposes of how Facebook used our data (paywall), to uncovering remotely the spread of detention camps (paywall) for Muslims in China, to the battle for the future of affirmative action in America, to how a massacre in Myanmar unfolded, among many others. But from Annapolis to Istanbul, it also was a time of savage attacks on journalists.
This year, more than 250 journalists were imprisoned globally according to the Committee to Protect Journalists, and 34 were murdered in retaliation for their work—more than double the number who faced deadly reprisal for their work in 2017. Counting those killed covering conflict or on other dangerous assignments, 54 journalists died this year. The year also saw journalists face other kinds of obstruction from governments, from having press access yanked, to having their visas denied. That state of attack is why Time magazine recognized a group of four journalists for its 2018 Person of the Year, in a cover story titled "The guardians and the war for truth."
Journalists were threatened in nations long known to be deadly for journalists, and in countries where the defense of a free press is a foundational value—since taking office, US president Donald Trump has referred to the media as "fake news" at least 288 times on Twitter. In August, he said he was providing a "great service" by calling out "fake news" for being "the enemy of the people."
Here's a look at some of the journalists who in 2018 lost their lives or faced other retaliation for trying to bring people information that some would rather not have out there.
Killed, Feb. 21: Jan Kuciak, investigative journalist, Slovakia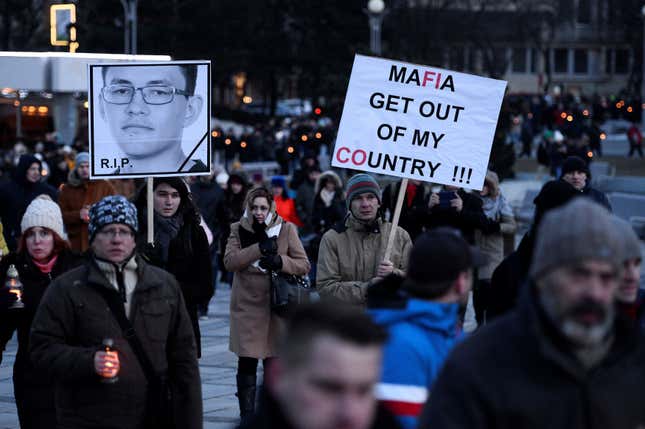 Jan Kuciak, 27, an editor with the investigative team of the Slovak online news portal Aktuality, a joint venture by German media group Axel Springer and Swiss media house Ringier, and his fiancée were shot dead in their home in February. 
Before his death, Kuciak was collaborating with the Organized Crime and Corruption Reporting Project (OCCRP), a global investigative journalism nonprofit that began in Sarajevo, focusing on Slovak connections with the Italian crime syndicate 'Ndrangheta, and the alleged embezzling of European Union funds. His last published story, on Feb. 9, was about possible tax evasion related to a luxury apartment complex.

Kuciak was the first reporter to be targeted and killed in Slovakia since the country, part of the former Czechoslovakia, became an independent nation in 1993, according to the OCCRP. The killings led to mass protests, and the resignation less than a month later of Slovakia's prime minister Robert Fico, whose assistant's ties to powerful businessmen were among the things Kuciak was looking into. Slovakian police announced in September that they had detained eight suspects, and eventually charged three with murder.

Kuciak's death followed the killing of investigative reporter Daphne Caruana Galizia in Malta just months earlier. Later in the year Europe saw yet another killing of a journalist, when Viktoria Marinova, a 30-year-old Bulgarian TV investigative journalist, was raped and murdered on Oct. 6, 2018.
Killed, April 30: Mahram Durani and 9 others, Afghanistan
Radio journalist Mahram Durani, 28, was one of nine journalists murdered in a suicide bomb set to go off after an earlier deadly explosion in Kabul brought a slew of journalists to the scene to report on it. The twin explosions killed nearly 30.
Durani had been preparing to begin a new job as a producer for a weekly women's program on Radio Azadi, the Afghan branch of the US government's Radio Free Europe/Radio Liberty's services (azadi means freedom). Before that, she worked as an anchor for news outlets across Afghanistan while pursuing her studies in Islamic Law at Kabul University.
A photographer from AFP, a camera man for news network TOLOnews, and others from Radio Azadi were also among the dead. The bombing became known as the "deadliest day in Afghan media history" according to the Afghanistan Federation of Journalists. The shooting of a journalist elsewhere in the country the same day brought the total journalists killed there that day to 10.
Killed, June 28: 5 Capital Gazette journalists, United States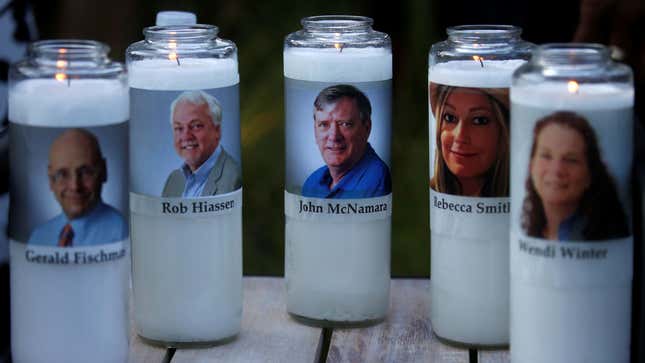 Annapolis-based newspaper The Capital Gazette lost five of its journalists in a shooting by a man who long held a grudge against the paper. The victims included Wendi Winters, 65, a community correspondent, John McNamara, 56, a sports writer who covered high school and college professional sports, Rob Hiassen, 59, an editor and columnist for the newspaper, Gerald Fischman, 61, editorial page editor, and Rebecca Smith, 34, a sales assistant.
Their deaths made the US the fourth-deadliest country for journalists in 2018 after Mexico, where nine journalists were killed this year.
Jarrod Warren Ramos, the shooter, had previously sued the paper, upset over a 2011 column it published about Ramos's Facebook harassment of a high school classmate.
After the shooting, the paper published an open letter thanking its community for an outpouring of support, but also noting there were those who emailed the newsroom to celebrate the killing of journalists. The paper said it wouldn't waver from its mission:
We believe in reporting the news.

Our community has rallied around us to show they understand who we are, and that we are not the enemy of the people. We are your neighbors, your friends. We are you.

You might not always like what we write, or the photos we shoot or the videos we produce. You may not agree with our definition of what a story is or is not.
Most days we suspect most of you will.
Detained, Aug. 5: Shahidul Alam, photographer, Bangladesh
More than 20 police officers descended on the home of award-winning photographer Shahidul Alam, 63, late one Sunday to arrest him for allegedly making "false" statements on Facebook and to Al-Jazeera. Alam had made comments critical of the government during major student protests that grew out of demonstrations after two teens were mowed down by a bus.
He was arrested under internet laws that critics say prime minister Sheikh Hasina has used to stifle dissent in recent months, ahead of national elections that took place on Sunday (Dec. 30) that saw her re-elected.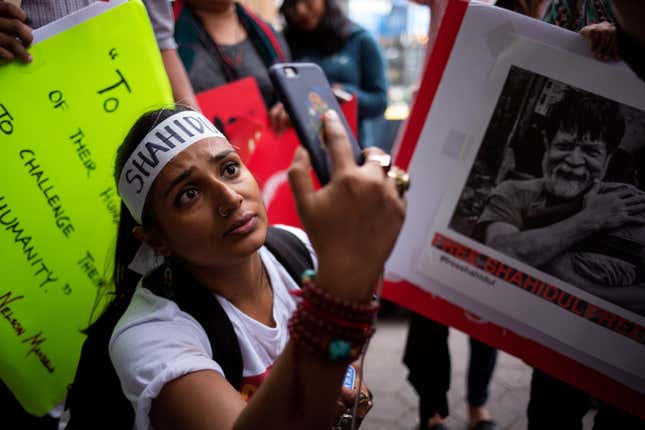 Alam, who manages a gallery and also founded an institute that trains photographers, has chronicled developments in Bangladesh in pictures taken over decades, was released in November on bail as the case against him proceeds. He faces up to 14 years in prison if convicted.
Sentenced, Sept. 3: Wa Lone and Kyaw Soe Oo, Reuters reporters, Myanmar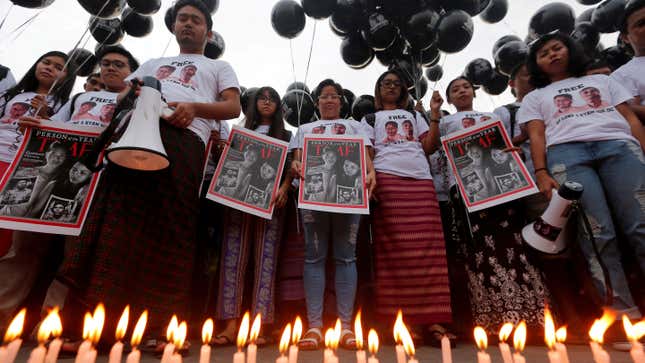 Wa Lone, 32, and Kyaw Soe Oo, 28, two Reuters journalists, were arrested on December 12, 2017, in the course of reporting on the massacre of 10 Rohingya men in the village of Inn Din in Myanmar's western state of Rakhine. More than half a million of the Rohingya Muslim minority have fled to Bangladesh since August 2017, and have told accounts of mass killings and rape.
Before becoming a Reuters reporter, Wa Lone, the child of rice farmers, cleaned and cooked in a monastery. After a stint at the Myanmar Times, where he covered the country's historic 2015 elections and met his wife Pan Ei Mon, he joined Reuters in 2016. Outside of work, he published a children's book in Burmese and English about the environment, and is also part of a project to produce books to promote tolerance between the country's different ethnic groups. The couple's first child, a girl, was born during his trial.
Family and friends say that Kyaw Soe Oo was a poet before becoming a journalist. It was the conflict taking place in Rakhine that drew him into journalism. He is married to Chit Su Win, with whom he has a four-year-old daughter.
In September, both journalists were found guilty under the country's colonial-era law official secrets act, and sentenced to 7 years imprisonment for violating this law, despite a police officer unexpectedly testifying in their favor that the men were given papers as part of a setup. A police officer had insisted the reporters meet him at a restaurant and handed them documents just minutes before they were arrested.
Their sentences are only three years shorter than those given to the soldiers who carried out the massacre they were investigating at the time of their arrest—that story was published while they were in jail awaiting trial.
"What I want to say to the government is: you can put us in jail, but do not close the eyes and ears of the people," said Kyaw Soe Oo after his sentencing.
Killed, Oct. 2: Jamal Khashoggi, Saudi journalist, Turkey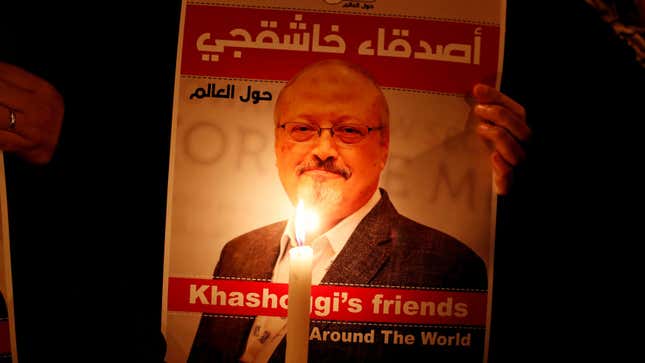 In the first week of October, Turkey stunned the world by announcing that Jamal Khashoggi, 59, a prominent Saudi Arabian journalist, had disappeared from a Saudi consulate in Istanbul and was believed to have been murdered.
Soon Turkey revealed more gruesome details, telling other governments that it had audio and video recordings that showed Khashoggi was tortured for several minutes and dismembered. Increasingly, signs pointed to the involvement of Saudi crown prince Mohammed bin Salman, who has been hailed by some in the west as a reform-minded visionary, but has cracked down sharply on activists and potential opponents.

The Saudi government initially claimed that Khashoggi had left the consulate, which he had visited to get papers for his upcoming marriage, then said that he was accidentally killed in a "fist fight." Finally it opened its own investigation. The CIA, meanwhile, has concluded that the crown prince ordered the murder. (Trump's stance on bin Salman and the killing of Khashoggi, a US resident? "Maybe he did and maybe he didn't.")

Khashoggi was no activist—he was a member of the country's elite and had close ties to the royal family, at one point serving as media adviser for Prince Turki al-Faisal. Yet in 2017 he left Saudi Arabia after he was barred from writing or making public appearances by the royal family after he criticized Trump's foreign policy.
"We never had freedom of the press in Saudi Arabia… but also we were never ordered or told to impose certain ideas. This is new," he told the Columbia Journalism Review just months before his death.
He began writing a column for the Washington Post, politely calling for bin Salman to encourage "public debate and discussion by relaxing his grip on the country's media," and offering suggestions for how to renew the country—yet even this mild-mannered criticism cost him his life.
Arrested, Dec. 3: Maria Ressa, CEO of news website Rappler, Philippines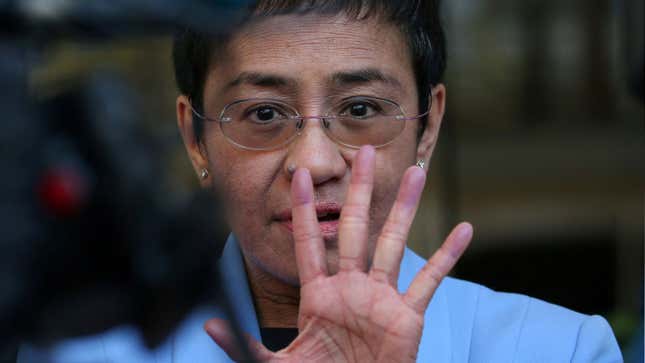 Veteran television journalist Maria Ressa, 55, is a co-founder of the seven-year-old Filipino news organization Rappler, which has covered president Rodrigo Duterte's deadly war on drugs, and the country's battle against misinformation doggedly. Since Duterte came to power in June 2016, thousands of Filipinos have been victims of extrajudicial killings, according to Rappler's reporting and human rights groups.

Duterte's administration has revoked Rappler's access for presidential events, and the president threatened the news website in his annual national address last year. On Nov. 9, the government announced it would indict Rappler and Ressa for failing to file returns and tax evasion, and filed charges in court later that month. It issued a warrant for Ressa's arrest on Nov. 28. Rappler called the government's move a "clear form of continuing intimidation and harassment" and an attempt to "silence reporting that does not please the administration."
Ressa wrote about her thoughts as she prepared to return home from Paris and turn herself in on Dec. 3.
Like preparing for any war zone, you prepare for the worst, and hope for the best. While friends outside the Philippines told me not to come home, that was never an option… Facing these ridiculous charges head-on would shine the light on the way the law has been weaponized.