Baidu CEO and co-founder Robin Li took a big gamble last July. Though 91 Wireless Websoft, a Chinese mobile app store, was valued between $600 million and $800 million, reports Caixin, Baidu bought it for $1.85 billion, making it the biggest merger in the history of China's tech sector. Some thought that was too much. Then again, Baidu's future growth depends on mobile advertising. And as of April, a mere 9% of smartphone searches went through Baidu, according to Caixin.
Was it worth it? Investors seem to think so. That payoff has now nudged the Baidu co-founder, the bulk of whose wealth comes from his 20.8% piece of company, into the runner-up spot for the title of China's richest man. By a $100-million nose, Li now leads bottled beverage baron Zong Qinghou's $11.8 billion, and is trailing Wang Jianlin of Dalian Wanda's $13 billion.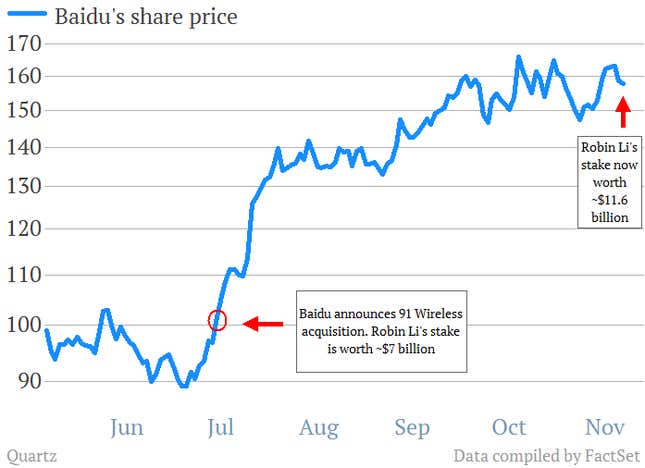 Evidently, investors love Baidu's expensive foray into the smartphone business. The stock is up around 64% since July 15, when the search engine announced its purchase of 91 Wireless from NetDragon. The deal made Baidu the top app distribution channel in China, with what the company says now totals 80 million app downloads each day.
The acquisition should help Baidu build its mobile user base. Whipping up mobile traffic will not only boost Baidu's mobile ad business—the company doesn't disclose the PC-vs.-mobile ad revenue breakdown—but it should also help Baidu deepen its understanding of mobile user search behavior. The company will need to attract more users by improving their experience, especially as it squares up against its competitor in search advertising, Qihoo 360 Technology Co.
Rival Tencent is probably a bigger concern. It recently bought a 36.5% stake of Sogou, a search engine, from Sohu.com. Tencent has infiltrated Chinese smartphones everywhere via its blockbuster social media app, WeChat. Parlaying that into mobile traffic could pose a big threat to Baidu.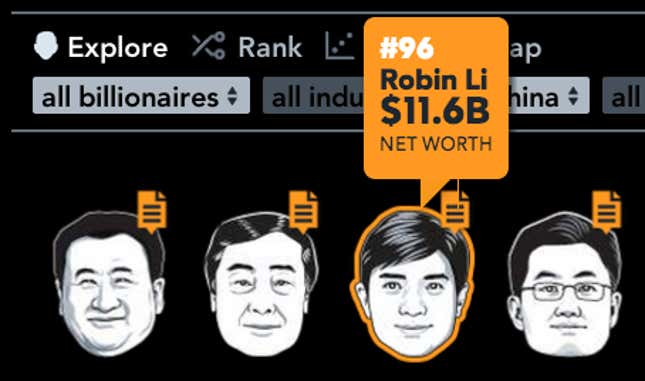 Not to mention Robin Li's Bloomberg Billionaires ranking. Tencent CEO Pony Ma is now in fourth place, with $10.8 billion. If he can figure out how to monetize WeChat and dominate mobile search advertising, Ma's 10.3% Tencent stake means China could soon have a new second-richest man.