Big-wave surfers from around the globe have their eyes trained on a swell headed for the California coast—and in particular on Mavericks, the legendary northern California break where waves can top 60 ft (18 m).
The storm is creating conditions for the World Surf League to potentially hold the annual big-wave surf competition at Mavericks, just south of San Francisco in the town of Half Moon Bay. The break is notable not only for building-sized waves that can be spotted from the shore half a mile away, but also for a jagged reef known as "the boneyard," the presence of great white sharks, and the fact that in 1994, pro surfer Mark Foo paddled into a wave there and drowned. (It is also the subject of Chasing Mavericks, a 2012 movie starring Gerard Butler as a local surf legend.)
None of this has kept the world's bravest, strongest, and perhaps craziest surfers from hitting Mavericks—women among them. This year, for the first time since the Titans of Mavericks contest was founded 20 years ago, female big-wave surfers will have the opportunity to compete there for prize money equal to that of their male counterparts.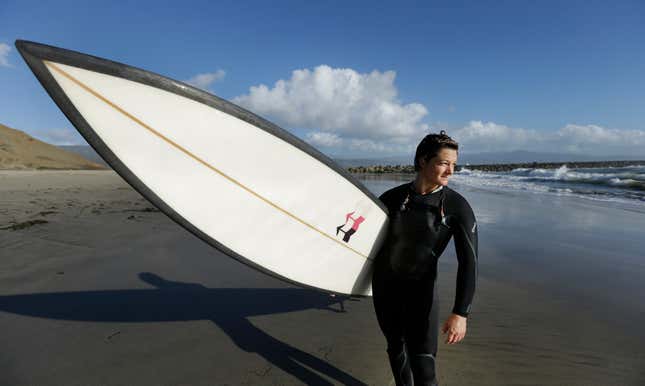 It's been a long time coming, as Joanna Jolly wrote for the BBC in 2017. The competition's original organizers resisted including a women's heat in the contest. (Fun fact: The first tagline for the contest in 1999 was "Men Who Ride Mountains.")
In recent years, a cohort of female surfers including Bianca Valenti (pictured above) teamed up with Sabrina Brennan, a member of the local harbor commission, who saw an opportunity when she heard that the contest's permit was under review by the state. The women formed a lobbying group, the Committee for Equity in Women's Surfing (CEWS), and successfully fought for a women's heat for the 2017 event. But the prize money for the female winner—at $30,000—would be one-quarter of the purse for the male champion. Soon after the announcement, it became evident those organizers wouldn't be awarding any money at all, when they announced bankruptcy.
The World Surf League (WSL) took over the event, but the consistent surf conditions necessary for a contest never panned out in the short window the WSL had between Jan. 1 and Feb. 28 earlier this year. In the months since, CEWS continued to lobby for prize equity, and in September, the WSL announced it would award equal prizes to male and female surfers.
Now this winter is looking different, with conditions aligning not only for a contest at Mavericks next week, but also for equal prize money for its female contenders. Forecasters at Surfline say that Tuesday (Dec. 18) and Thursday (Dec. 20) are both possible days for the contest.