Elon Musk is ready to fix Los Angeles's traffic nightmare.
Musk, best known for his companies SpaceX and Tesla, believes the solution will come in the form of underground tunnels, where Teslas and electric autonomous cars will whiz under LA's gridlock at 150 mph (240 km/h). His other firm, the Boring Company, proposes to bore such passageways under the US's second-largest city, bereft of a decent public-transportation network.
In a presentation last night (Dec. 18) peppered with the phrase "soul crushing," Musk, wearing a flannel shirt, showed off a 1.14-mile (1.8 km) proof-of-concept tunnel under Hawthorne, California, with one end starting in a SpaceX parking lot.
"I've lived in LA for 16 years and traffic has gone from seventh level of hell to eighth level of hell," he said. "Finally, finally, finally, there's something that I think [could] solve [this] goddamn traffic problem."
In a tweet before its public unveiling, Musk had described the experience to "feel[ing] like teleporting."
Musk—who had previously envisioned "electric pods" and vehicles on "electric skates" traveling through the tunnels—now believes the best use of the infrastructure is to move autonomous electric cars outfitted with "tracking wheels," which would guide the cars along the tunnel, deploying when inside the tunnels and retracting when on the street.
Though reporters in Hawthorne were given a taste of the technology in Tesla Model X SUVs—which traveled at only 40 to 50 mph—he insists the tunnels aren't only for his customers. "This is not intended to be some walled garden just for Teslas," he said. "Any autonomous electric vehicle can be outfitted with these guide wheels."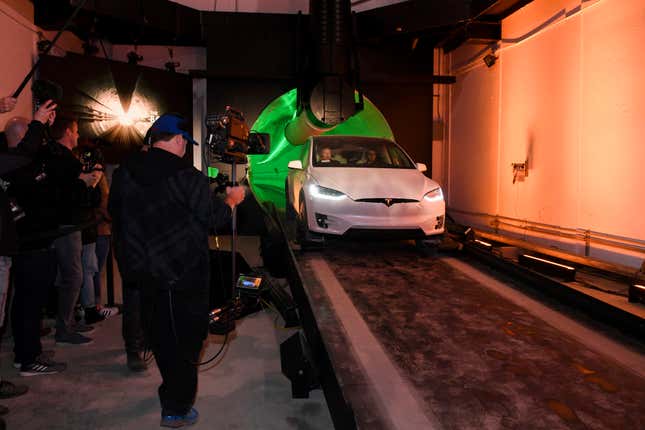 Nor are the tunnels only for car owners, actually. Musk hopes to have cars continuously operating in the loop for pedestrians, he added.
The demonstration tunnel cost about $10 million to build. Cars would enter and exit the tunnels—a system he says is infinitely expandable by simply building more of them alongside one another—via elevators, which would act as stations of sort. To install these elevators, he said the company would drill a hole roughly the size of two parking spaces and install prefabricated lifts in sections. He did not mention the possibility of gridlock as cars queue to exit the tunnels.
"You can think of these as wormholes," he said. "You drop down the wormhole, pop out the other side, and then you drive normally."
As he closed out his presentation, he also teased the possibility of these tunnels connecting to the high-speed rail project Hyperloop, another unrealized concept he's dreamed up that would transport people between Los Angeles and San Francisco in under an hour.