US secretary of Defense James Mattis has resigned, and will be departing the government at the end of February, he told Donald Trump in a letter, 48 hours after Trump unexpectedly said that the US military would exit the Syrian civil war.
Trump and Mattis's relationship has been rocky since he joined the administration just after Trump was elected. In a strongly worded resignation letter, Mattis said the US's strong position in the world was "inextricably linked" to strong international partnerships. "We cannot serve our interests or that role effectively without maintaining strong alliances and showing respect to those allies," he wrote. Russia and China, he added "want to shape a world consistent with their authoritarian model" at the US's expense, he added.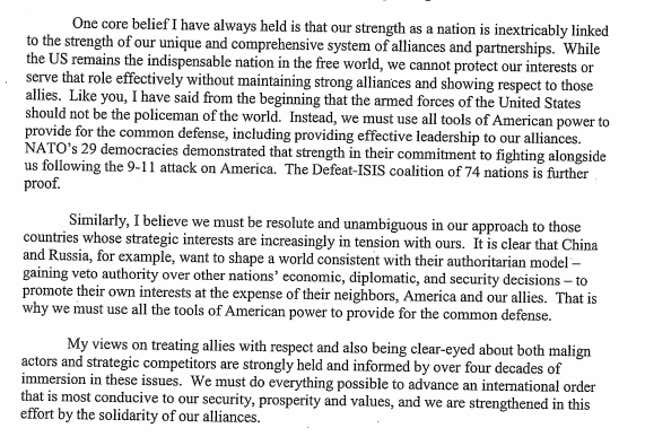 Trump, Mattis said in concluding his letter, deserved a Defense secretary more aligned with his views.
Mattis, described as both "deeply thoughtful and extremely aggressive," earned a fearsome reputation for leading Marine troops in the bloody 2004 attack on Fallujah. As Defense secretary, he urged the US to provide more military support for anti-Iranian forces (paywall) in Yemen, and armed Syrian Kurdish fighters. He also pushed back on Trump's plans to enlist the military to protect the US's southern border, and on his desired ban of transgender people in the military.
Few of the US president's closest remaining advisors have deep experience in government, or even running a large organization, and they're particularly inexperienced with foreign policy. What they have done is shown loyalty to Trump.
A White House briefing by a National Security Council official who didn't want to be named, after the Syria decision on Dec. 19, drove that point home. Asked repeatedly why Trump had decided to announce he was pulling US troops out of the area without consulting Congress, the State department, or the Defense department, the official said multiple times that this was "the president's decision to make, and he made it."
Mattis and the US military have been grappling with how to deal with Trump since the very beginning. US foreign policy still works fine if "the international community realizes they don't have to react to every Trump tweet," one Defense department official, who asked not to be named, explained to Quartz in June 2017.
At the time, military heads of command were already discussing "what to do if Trump gives an order they can't comply with," a former National Security Agency analyst and consultant to the US government told Quartz, citing direct conversations with military agency personnel.
"If it gets to a point beyond their comfort level, they're well trained" by the military not to disobey, said the Defense official at the time. Instead, if Trump gives an order they can't comply with, expect the military leaders to just say 'I'm out,' " he said.
For Mattis, that time has apparently come.