You'll probably never be lucky enough to try the Burgundy that just broke the record for the most expensive case of wine ever sold at auction, a 1978 Romanée-Conti that went for $476,280 this past weekend in Hong Kong. That works out to an astounding $39,690 per bottle, or $6,615 per glass, at six glasses to the bottle.
Producer Domaine de la Romanée-Conti bottles 7,000 cases a year of all of its wines, and just around 5,000 bottles from the less-than-five-acre Romanée-Conti vines, which are meticulously cultivated, bio-dynamically farmed, and plowed by horse. In addition to their rarity, wines from DRC, as it's often called, are known for the length of time they take to reach prime drinkability, which is often measured in decades, not years. A 1978 Montrachet from the same estate remains the most expensive bottle sold in the United States, at over $23,000 a bottle.
An unidentified mainland China buyer took home this weekend's top-priced case, the latest example of China's love of top-shelf Burgundy, which is helping power an increase in Burgundy sales in Asia. China now buys 6% of the world's Burgundy, up from 1% in 2007, and is the fastest-growing market for the wine: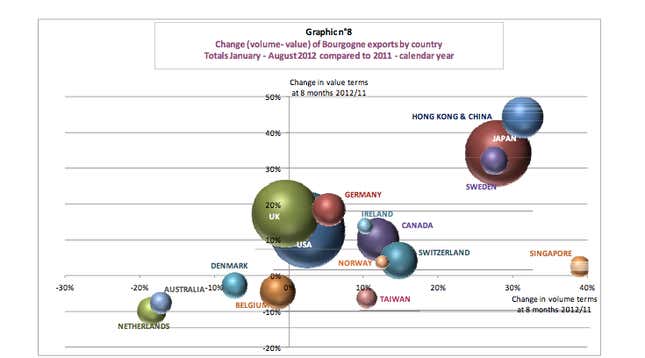 While few regular wine drinkers will get a chance to try the 1978 Romanée-Conti, plenty of effusive wine experts have. It was described by The World of Fine Wine in 2004 (paywall) as:
A sweet, rich, fragrant, pure expression of refined Pinot Noir that, after half an hour, was fully aroused, more soft fruit, with a hint of raspberry. On the palate, it was distinctly sweet, mouth-filling yet with a relatively modest alcoholic content (13%), a velvety texture, a touch of sprightliness and a refreshing finish.
Sotheby's head of wine was even more enthusiastic after an earlier tasting:
Glorious raw black truffles bouquet – wild! Incredible taste, rich, young and untamed. This wine should be censored. The fabulous result of an Indian Summer that coaxed miraculous depth and flavour out of the unique soil that is Romanee-Conti.