Elon Musk has a plan to get to Mars, but how he's going to get there keeps changing.
Over the weekend, the SpaceX CEO said the company had "radically redesigned" its Raptor engine, casting a new steel alloy to contain the hellish engine temperatures during liftoff, and swapping out carbon-fiber components for "mirror-finish" stainless steel.
Musk said SpaceX is switching to stainless steel components because their performance under extreme heat and stress beats out that of carbon-fiber. While carbon-fiber is better at room temperature, Musk stated the extreme heat and cold of space made steel superior despite the added weight.
SpaceX engineers are also finishing a "superalloy foundry" at the company's Hawthorne, California headquarters for its methane-fueled rocket engine known as the Raptor. The metal components must endure hot gas blasting out of the nozzle at 12,000 psi (the same pressure that exists at the deepest part on the ocean). "I super ❤️ 300 Series Stainless!," Musk tweeted about the hardened steel alloy.
Musk was visiting SpaceX's South Texas test site to gauge progress on the massive two-stage reusable Starship rocket system that will power it to Mars. The system is the Starship passenger craft atop a massive booster engine know as the Super Heavy. It is designed to carry as many 100 people and tons of cargo to Mars.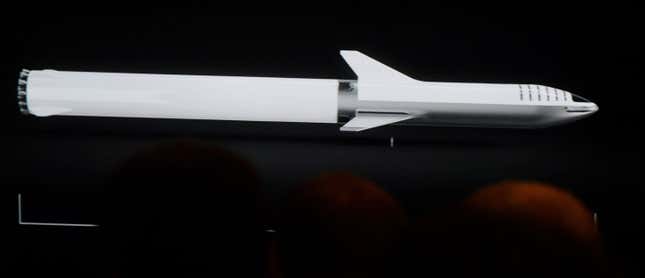 For early tests, SpaceX had planned to use a modified second stage of its Falcon 9 rocket. But Musk tweeted on Dec. 22 that test craft will fly atop a full-size Super Heavy booster, and the prototype Starship itself will now be a slighter shorter version of the final design with the full body diameter of 9 meters (30 feet).
SpaceX is racing to build out its prototypes so it can fly to orbit by June 2019. It is expected to fly several test flights in April. These "hops," or sub-orbital trips, will allow engineers to test the craft as it leaves Earth's atmosphere and then endures the heat of re-entry, a critical trial for trips to the Red Planet.