The boom in solar energy in the US  in recent years? You haven't seen anything yet. The pipeline of photovoltaic projects has grown 7% over the past 12 months and now stands at 2,400 solar installations that would generate 43,000 megawatts (MW), according to a report released today by market research firm NPD Solarbuzz. If all these projects are built, their peak electricity output would be equivalent to that of 43 big nuclear power plants, and enough to keep the lights on in six million American homes.

Only 8.5% of the pipeline is currently being installed, with most of it still in the planning stages. Some projects will inevitably get canceled or fail to raise financing.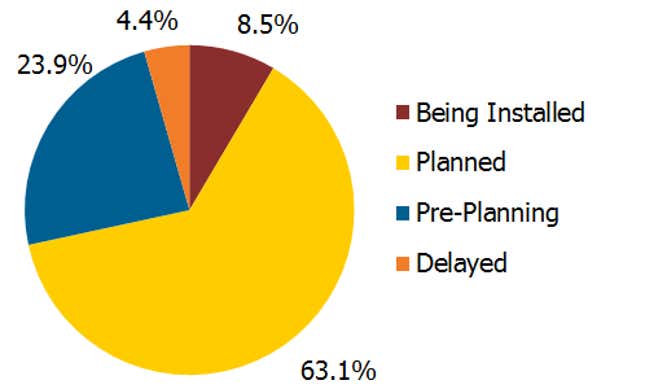 But there's reason to believe that a good chunk of these solar power plants and rooftop installations will get built over the next two years. That's because a crucial US tax break for renewable energy projects is set to fall from 30% to 10% at the end of 2016. So there will be a rush to get projects online. In 2012, for instance, wind developers installed a record 13,131 MW as a key tax credit was set to expire, accounting for 42% of all new US electricity capacity that year.  (The US Congress subsequently renewed the tax break for another year.)
One sign that solar developers like First Solar and SunPower are gearing up to meet the 2016 deadline is that the balance of projects is shifting to smaller installations that can quickly obtain permits and get built fast. While eight of the 10 largest photovoltaic power plants came online in 2012—those in the 100 MW to 250 MW range—over the past 12 months the number of solar projects under 30 MW has jumped by 33%, according to the report.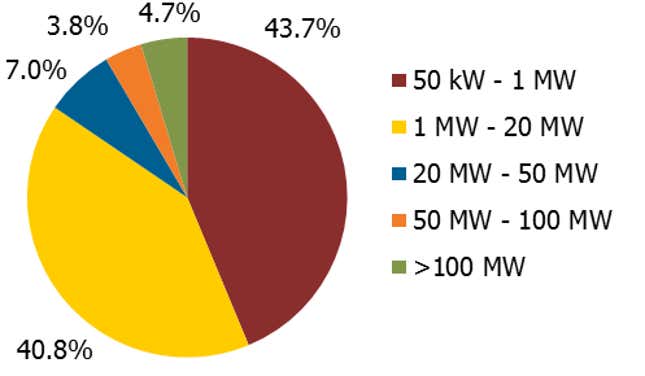 All those projects will make the US the third largest solar market, behind China and Japan. The building boom could have another beneficial effect: The race to score subsidies could help make them unnecessary. The pell-mell growth of photovoltaic power should push prices down, to make solar electricity increasingly competitive with fossil fuels.