After triggering a tsunami earlier this week, one of modern history's deadliest volcanic areas is again raising alarms. Increased activity on the volcanic island of Anak Krakatau has prompted Indonesian officials to reroute flights , increase the no-go zone around it, and raise the volcano's alert status to the second highest level.
Indonesia's disaster management agency (BNPB) has asked that people stay at least 5 km (3 miles) away from the volcano. Luckily, no settlements are within this area. Fearing a repeat of the Dec. 22 tsunami set off by the volcano, residents have also been asked not to be within 1km of nearby coastlines. The tsunami was caused when volcanic activity caused land to shift under Anak Krakatau, generating waves that killed at least 430 people on the islands of Sumatra and Java.
The island, which consists only of the volcano, emerged from the water in 1927. Its name means"Child of Krakatoa," as the volcano appeared from under the islands obliterated by Krakatoa in 1883. Radar data from satellite images taken before and after the December 22 eruption reveal that a large part of that island has completely disappeared. In the second image, concentric waves are seen radiating from the volcano. This suggests continued eruptions, experts say.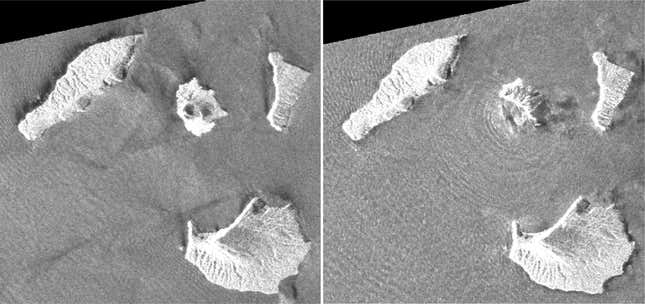 Some flights in the region were cancelled today (Dec. 27), while others have been routed around the volcano. An operations manager for air traffic control agency AirNav told the BBC that travel disruptions would be minimal, with only about 20 or 25 flights affected. These are small inconveniences when compared to the tens of thousands of flights affected by a six day travel ban when an Icelandic volcano erupted in 2010.
At this time, Anak Krakatau's volcanic activity includes the ejection of large rocks and lava, billowing hot clouds, and thick volcanic ash. The volcano's alert status has been raised from level two to level three. In the Indonesian alert system, this increase indicates there's growing volcanic unrest, obvious visual changes, and if the trends continue, an eruption is likely. The final level is four, which indicates an imminent eruption.