You order a Christmas present from Amazon and shortly thereafter, it simply arrives. The process feels seamless, almost magical. But the logistics that make online shopping possible—particularly the part where warehouse workers actually retrieve and package the goods—are the subject of new scrutiny, this time by the BBC.
"Amazon: The Truth Behind the Click," which aired last night, focused on such employees' long hours and the pressure they face to execute repetitive tasks as quickly as possible. "I managed to walk or hobble nearly 11 miles, just short of 11 miles last night," said 23-year-old Adam Littler, a reporter who worked undercover at a warehouse in Swansea, Wales. "I'm absolutely shattered. My feet are the thing that are bothering me the most to be honest."
Amazon relies on a huge influx of temporary workers to handle the Christmas shopping rush, and will add 15,000 in the UK and 70,000 in the US this year for the season, many of them warehouse "pickers" like Littler, who collect items from vast areas of shelving by following directions on hand-held scanners. Littler was paid between £6.50 ($10.50) and £8.25 ($13.34) per hour.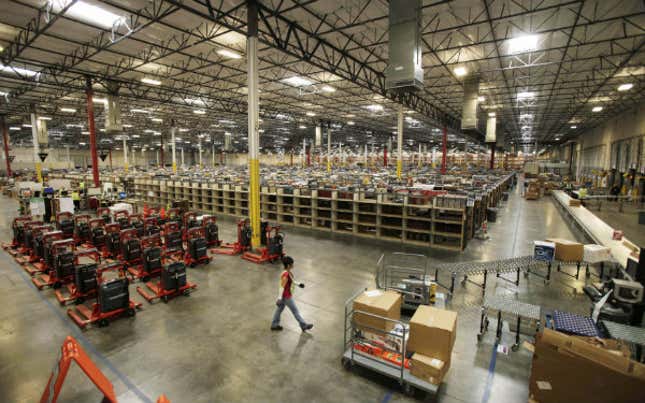 The BBC quoted Michael Marmot, an expert on workplace stress, as saying the kind of work Littler was doing involves "increased risk of mental illness and physical illness." (The show can only be played from within the UK, though a copy has been uploaded to YouTube.)
"We strongly refute the charge that Amazon exploits its employees in any way," Amazon UK said in a statement on its website, adding that it adheres "to all regulations and employment law." The company said an independent expert who has visited Amazon's buildings and associates said "a picking role is similar to jobs in many other industries and does not increase the risk of mental and physical illness."
This is not the first time Amazon's warehouse workplace conditions have been criticized. In February, the Financial Times detailed disappointment in the former mining town of Rugeley, England over the quality of jobs Amazon's warehouse there offered. And in a series of posts beginning in July called "True Stories of Life as an Amazon Worker," the gossip site Gawker published emails from people who said they were current or former Amazon employees; they complained that the work was monotonous, dished about the specifics of various positions, and detailed the many physical demands.
Meanwhile, yesterday employees at two of Amazon's facilities in Germany went on a union-led strike after a long-running dispute over pay. An Amazon executive in the country said strikers were threatening to "ruin Christmas for German children."