Rarely have American citizens been arrested for espionage on Russian soil. In 2013, US diplomat Ryan Fogle was apprehended in Moscow and deported after being accused of attempting to recruit a Russian intelligence officer as a spy. In 2000, American businessman and former US Navy intelligence officer Edmond Pope was arrested in a Moscow hotel, for allegedly attempting to buy classified military secrets. Convicted by a Russian court on espionage charges, the first such ruling in four decades, Pope was sentenced to 20 years in prison (paywall) but released eight months later after a pardon from president Vladimir Putin, himself a former KGB operative.
On Friday (Dec. 28), Paul Nicholas Whelan, an ex-Marine who currently works in corporate security for Michigan-based automotive components supplier BorgWarner, was arrested by the FSB, Russia's Federal Security Service and successor agency to the KGB. An FSB statement issued three days later said Whelan, who served multiple tours in Iraq, was caught "during an espionage operation," but gave no further details.
A criminal case was opened under article 276 of the Criminal Code of the Russian Federation—espionage. The charges carry a potential prison sentence of up to 20 years. US consular officials were allowed to see Whelan on Wednesday afternoon (Jan. 2), Russian foreign ministry spokeswoman Maria Zakharova told CNN.
Whelan is US citizen born in Canada to British parents. His brother David, a law librarian in Toronto, did not respond to multiple requests for comment by Quartz. He told CNN that the family is "worried… but at least we know he is alive."
What is not yet known, however, is what exactly Whelan, who worked as a cop in Michigan from 1988 through 2000, was doing in Russia. According to his family, Whelan had flown to Moscow six days before his arrest to attend a friend's wedding, taking place at the downtown Metropol Hotel. He was scheduled to visit St. Petersburg during his trip, as well.
"I can't imagine how someone with a law enforcement background who is also a former US Marine, and who is now working in corporate security and is also aware of the risks of travel, would have broken any law let alone the law related to espionage," David Whelan told the BBC.
Deep cover? Or payback?
The majority of CIA officers posted abroad assume identities as diplomats or unremarkable low- to mid-level State Department employees. That's what is known as "official cover." Operatives given "non-official cover" typically pose as businesspeople, working for real companies. If caught, "NOCs" (pronounced "knocks") are not covered by diplomatic immunity, like their counterparts under official cover.
The Russian government has produced no evidence that Whelan is indeed a spy. If he is a NOC, his family almost certainly wouldn't know anything about it, said Jack Barsky, a former KGB sleeper agent who spied on the United States from 1978 to 1988. And with the accusations against Whelan coming just weeks after accused Russian intelligence agent Maria Butina pleaded guilty to conspiracy charges in the US for improperly trying to influence the National Rifle Association and Republican lawmakers, the waters are even further muddied.
"Real simple—this is either a setup and the man is innocent, or he was doing intelligence work and got caught," Barsky told Quartz. "In this business folks don't get arrested right away. They are being observed and/or kept on ice for just such an occasion."
On the other hand, John Sipher, who spent 28 years in the CIA's National Clandestine Service, which included serving in Moscow and running the agency's Russia operations, doesn't believe Whelan could have been spying. The CIA "would never leave an American vulnerable without immunity—especially for such low-level stuff," he said.
"There is no way we would ever use anybody like this guy Whelan," Sipher told Quartz. "We only handle critical, high-level spies with meticulous tradecraft. Putin knows very well that this is not US intelligence. He's seen the real thing over the years. This is a political game, pure and simple. An ugly game."
The statement released by the Russian FSB said Whelan was apprehended "during an act of espionage," which suggests he may have "been busted red-handed," said Jan Neumann, a former FSB officer who now lives in the United States.
"The FSB never busts anyone on espionage charges if there's no espionage case," Neumann told Quartz. "Especially foreign citizens. This means they followed [Whelan] and saw every step of the way and had enough evidence. Each espionage case is a very high-profile investigation, every step is under control of top-level officials, and everyone is very sensitive about every detail and aspect of such an operation."
Neumann doesn't think the Whelan arrest is linked to Butina, who the Russian government insists is not a spy, and speculates the FSB was simply "waiting for a perfect moment of arrest, such as direct spy action. Something the alleged spy can't deny."
He said the FSB likely apprehended Whelan when they did because he was planning to leave Russia "or his contact or contacts were going to leave Russia."
"This could have compromised what FSB was doing and failed the whole operation," Neumann said. "To let him go could have also led to a leak of secrets outside Russia."
Trump fan
A statement released by BorgWarner, the company for which Whelan has worked since 2016, confirmed that he currently serves as the firm's director of global security and is responsible for "overseeing security at our facilities in Auburn Hills, Michigan and at other company locations around the world." Company spokeswoman Kathy Graham told CNN that BorgWarner has no facilities in Russia, and that she believes Whelan was on a private trip when he was arrested.
According to Whelan's brother and Russian acquaintances contacted by the Washington Post (paywall), Whelan has been visiting Russia since 2007, when he traveled to Moscow during a break from Marine Corps duty in Iraq. But a Marine Corps publication from 2006 features a photograph of Whelan taken in Moscow's Red Square: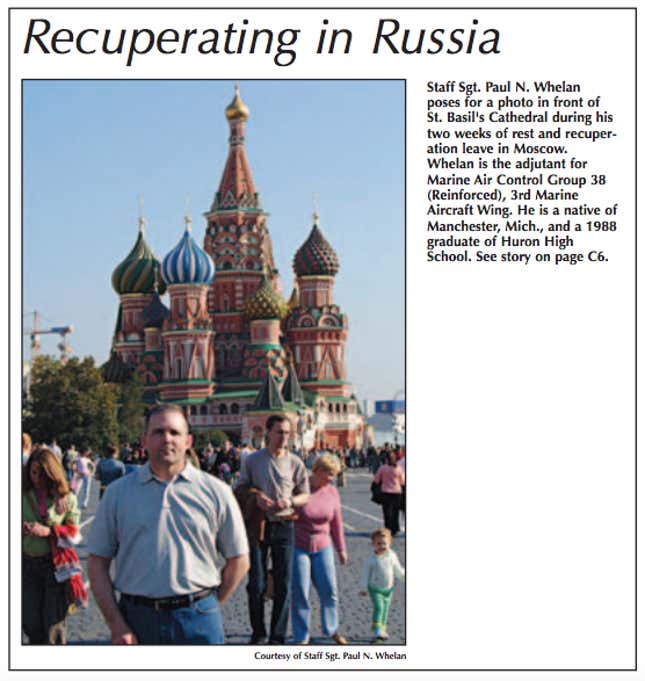 Whelan's personal website, now taken offline, had a section devoted to the country, titled: "Pavlik's Russian Adventure," Pavlik being the Russian diminutive for Paul. It also had a page focused on his time in local law enforcement.
"This is my faithful hound, Nugget. He is better at sniffing out liberals than he is criminals, but they are usually one in [sic] the same," one caption reads.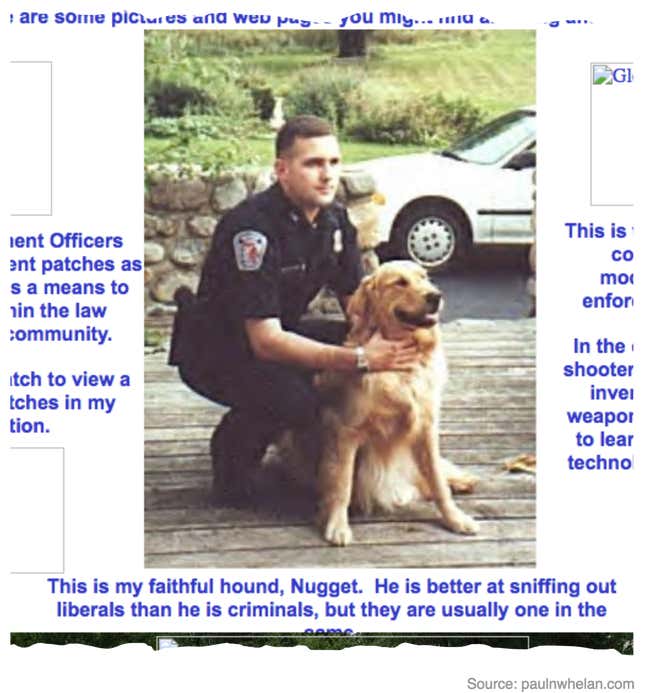 Whelan had a federal firearms dealer's license, and appears to be a fan of president Donald Trump, according to postings on his VKontakte account, a Russian social networking site similar to Facebook.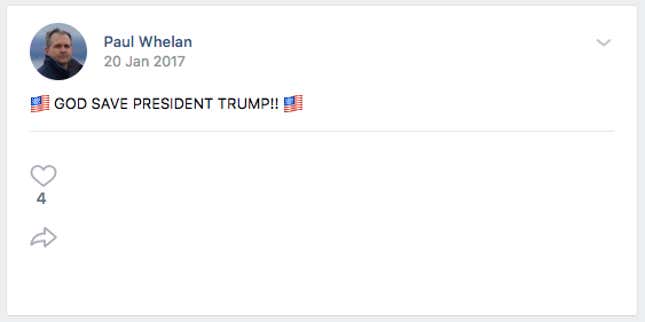 Speaking to an FSB gathering last year, Russian president Vladimir Putin said the country's security services had shut down espionage activities by 53 Russian officials and 386 foreign agents in 2016.
"The law of retaliation states, 'An eye for an eye or a tooth for a tooth,'" Putin stated during his annual press conference broadcast this past Dec. 20, referring to Maria Butina's arrest and prosecution by US authorities. However, he said, "[W]e will not arrest innocent people simply to exchange them for someone else later on."
US secretary of state Mike Pompeo said Wednesday that the United States is demanding Whelan's immediate return.