Imagine a human city which has lost half of its inhabitants, or in which its diverse populations have been winnowed down to a single culture. While the buildings and roads may be standing, the many interactions that make the city hum would largely vanish. That's what's happening in many forests. 
Despite appearing healthy from above, forests are falling silent as their inhabitants die off. The primary signature of human disturbance in forests is the absence it leaves behind. Sound promises to help save them. In a paper published in the January issue of the journal Science, tropical researchers proposed a way to monitor biodiversity, on a budget, over vast areas of remote rainforest. The burgeoning field is called bioacoustics.
Every location has a natural soundscape. Scientists use microphones to capture the aural signature of an ecosystem's inhabitants from its tiniest creatures to its resident humans. The approach has long been used in the oceans to detect vocalizations of mammals, but not always in forests. Yet one networked recorder device can detect "vocalizing biodiversity"—the calls and songs of birds, mammals, insects, and amphibians, from hundreds of meters away and feed that into a central database to paint a picture of the ecosystem. 
The authors argue that bioacoustics could fill in a critical gap for conservation projects: monitoring the ongoing health of a forest after it's been saved.

Compared to ground surveys and camera traps, the technology provides cheap continuous, real-time biodiversity monitoring at the landscape scale. Thousands of hours of recordings can now be collected with long-lasting batteries and stored digitally. In sites with solar power and cellular signal, multi-year recordings have now been transmitted and saved to scientists' databases. That's possible thanks to the steep drop in the price of equipment that enables researchers to collect more than short, isolated sound snapshots. For decades, wildlife recordings required heavy and expensive custom gear averaging around $3,000. Today, the same results can be achieved with off-the-shelf hardware worth $500 or less.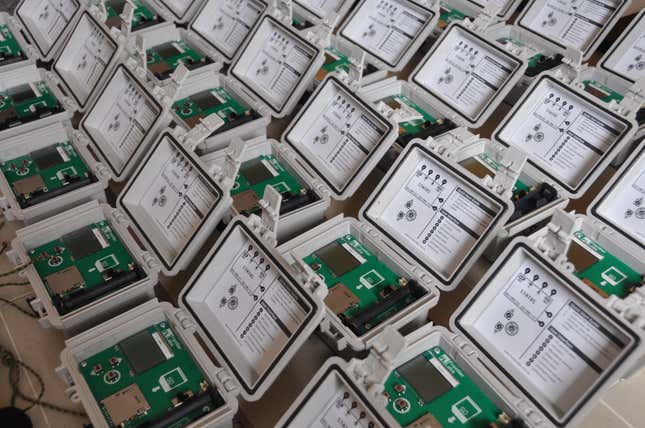 The key, says co-authors Eddie Game of The Nature Conservancy and Zuzana Burivalova at Princeton University, is to build out enough data to understand how changing soundscapes reflect biodiversity on the ground. Game says he has found plenty of "high-conservation value" tropical forests that are devoid of key species. This is common in reserves set aside by owners of plantation crops such as palm oil.
"They look like rainforests but they don't sound like them," Game wrote by email. "Some companies do a terrific job of limiting access and preventing hunting, and the forests show it. Others companies turn a very blind eye to hunting and collecting in these forests, sometimes seeing that activity almost as a perk they give staff or surrounding communities…But this is not something that is easy to monitor as part of a certification program."
Bioacoustics is seen as a way to do this. Detecting human activities in forests is not just about hearing the sound of gunshots, chainsaws, or motorbike and truck engines. It's about what one doesn't hear.
You can hear the differences yourself. The authors have collected more than 30,000 hours of recording across the tropics including Papua New Guinea and the island of Borneo, one of the world's largest tropical islands divided between Malaysia, Indonesia, and Brunei. The first two recordings below are from healthy, intact forests, and the third is from an oil palm plantation cut out of the Indonesian rainforest. 
Musiamunat Community Conservation area, a continuous 1,630 hectare forest in Papua New Guinea
Unlogged rainforest in Berau, Indonesia.
Oil palm plantation in Berau, Indonesia
Algorithms can use these recording to learn the sound of healthy forests, and infer the composition of their species. In Papua New Guinea, for example, the researchers found soundscapes in fragmented forests were far quieter during the dawn and evening choruses, the short cacophonous periods during the changing of day and night.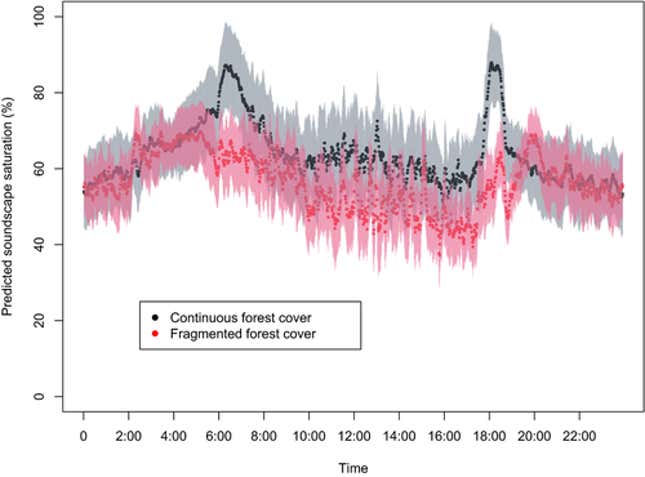 Once enough data has been collected, says co-author and founder of the environmental news site Mongabay Rhett Butler, the technology can be applied to the zero deforestation commitments set by corporations. In these agreements, corporations conserve forests as part of their certification to produce palm oil, beef, soy, and pulp and paper. Today, enforcement is spotty and focused on forest cover rather than ecology. With bioacoustics, land managers can then monitor (and be monitored) to ensure all species are thriving. 
Computing science departments are now partnering with ecologists to explore the potential of bioacoustics. "There is a need for a global organization to host a global acoustic platform, which would allow direct, on-the-fly analysis," write the authors. Unless they're listening, a living forest can slip away without a whisper.