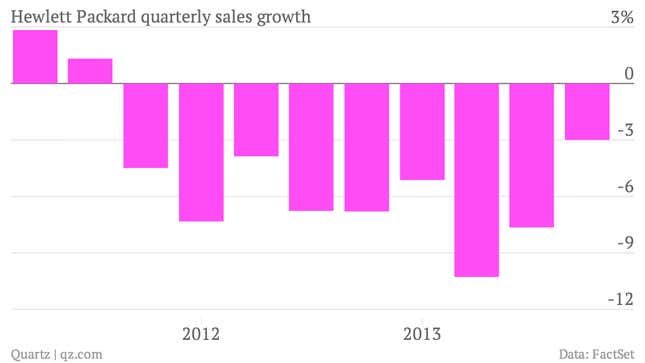 The numbers: Pretty good, on balance. Revenue for the fourth quarter was down 3% from a year ago, falling to $29.1 billion, but this is the smallest decline, in percentage terms, in nine quarters. Net income came in at $1.4 billion, or $1.01 per share, ahead of Wall Street consensus for $1.00, according to FactSet. The recovering PC, printing and server giant also reaffirmed its forecast for earnings in fiscal 2014 to come in between $3.55 to $3.75 per share. Wall Street expects $3.64.  The stock is flying, up about 6% in after-hours trading.
The takeaway: Could there be light at the end of the tunnel for the company's personal computer and printing businesses, which, like many others, have been struggling as consumers abandon PCs for mobile phones and tablets?  Together, these businesses still make up about half of HP's total sales. Revenue was up 8% from the previous quarter, to $14.62 billion. The number of laptops sold increased 3%. Arguably more important is its enterprise group segment, which makes computer hardware for large companies. The division, on which HP is pinning its turnaround hopes, grew revenue by 2% to $7.6 billion. Sales of high-end servers were up 10% to $3.5 billion.
What's interesting: Meg Whitman, HP's CEO, who used to run eBay, hit the reset button in October last year, slashing the company's earnings forecasts, laying off thousands of workers and warning that there was "no silver bullet" that could fix HP's woes. Since then, shares are up 47%, against 25% in the broader S&P500. Investors seem to have confidence in Whitman's recovery story.