CES, the annual technological bacchanal in the desert, is set to begin Tuesday, Jan. 8.
But if, like me, you're going to the event as a member of the media, you've likely been inundated with pitches from companies, asking for a moment of your time when you're in town, since August. There are over 4,000 companies registered to attend, and countless more that book rooms at nearby casinos and hotels, hoping you'll leave the show floors for a quick visit.
There are a few trends that pop up every couple years at CES, and one that has emerged in recently is "the internet of things," where every device must be made "smart" by jamming a computer inside of it and connecting it to the internet. Some of these are super useful—a fire alarm that can alert your phone when you're not home—but many are gimmicky at best. And there's no better place to find gimmicky electronic stuff than CES.
Here are a few of my favorite pitches I've received for this year's CES that are trying to convince the world to replace their dumb items with smart ones. The only requirement for this list was that the pitch had the word "smart" in the subject line. This is not an exhaustive list, mind you—there were dozens more—and it's likely we'll see a few additional ones once we're on the ground in Las Vegas:
The "world's only Smart Bottle Opener" from WeCheer.io. "Bringing Internet of Things to the bar and brew culture."
I guess this makes it much easier to track if you have a drinking problem?
The "Smart Digital Backsplash" from GHSP. "The Smart Backsplash can change color and pattern anytime via your phone. It's like remodeling your kitchen with the touch of a button."
Match your kitchen with your shoes!
The "Savvy Smart Mirror" from Electric Mirror. The "mirror becomes the technological heartbeat of your home, putting your entire house under your control, and the entire world at your fingertips."
This is just a screen behind a mirror, with shoddy Photoshopping on the website. God forbid you don't have a screen to look at when you're brushing your teeth.
The "World's Most Versatile, Remotely-Managed Smart Padlock" from igloohome. "Featuring an innovative PIN code technology that allows owners to grant remote access anytime, anywhere without users needing to download an app, igloohome is the perfect security tool for granting time-sensitive access."
You know what other padlocks don't require users to download an app to use them? Literally every other padlock.
The "First Smart Action Command Bed" from Reverie. "With new direct 'Smart Action' commands, you can now say: 'OK, Google. Set bed position to flat.'"
Hopefully Google doesn't disagree with how your bed should be inclined and wrap you up like a sandwich.
The "AVA Byte Smart Garden" from AVA Technologies. "AVA Byte uses AI and intuitive user experience to give every home cook, busy parent and curious child access to fresh, organic plants and veggies like herbs, lettuce, and tomatoes."
You know what else can do that, without AI? Literally any other pot or plot of dirt. 
"Cyberfishing, a new technology that makes any fishing rod smarter!" The company aims to bring fishing rods "into the modern age." Here's what that looks like: "A world where every cast is counted and saved; where all your catches are recorded with a single touch; and where you can build an online map of your fishing hotspots."
Like a Fitibit, but for catching fish. A Fishbit, if you will.
The "Smartest Travel Mug" from Cauldryn. This pitch was just a list of increasingly bizarre questions: "What if your coffee mug kept drinks hot for 20 hours? What if your coffee mug brewed coffee from your phone? What if your coffee mug blended frozen drinks? What if your coffee mug was a Cauldryn?"
If you've ever wanted coffee to be hot for an entire day, or wanted to go straight from caffeine to frozen Marg happy hour, or if you've wanted your travel mug to talk to your phone, then this is the mug for you! It costs $150.
And although it didn't have the word "smart" in the pitch, a special mention has to go out to "IoT Cat Toilet LavvieBot" from PurrSong. It's "the world's first and only IoT cat litter box to automatically clean itself and refill litter." A totally normal object to have in your living room: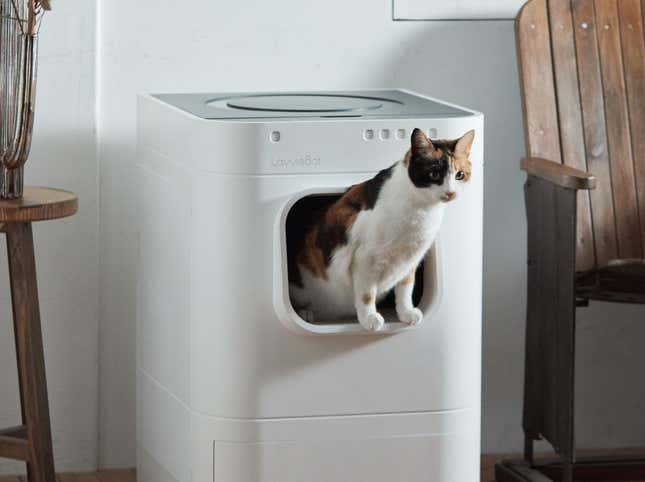 Update: An earlier version of this post said that Wolf/Sub-Zero was working with GHSP on the "digital backsplash," but the company confirmed to Quartz that it is not.