The heart of Yoshino resides in a narrow, A-frame house along the banks of a mighty river. Yoshino Cedar House is an extraordinary, community-run Airbnb that has drawn international visitors to the remote village in Nara, Japan since it opened in 2017. By virtue of its architecture and management, the guest house also serves as the de facto headquarters for the beleaguered town's campaign for survival.
"They say that Yoshino is disappearing," says Ryoko Satoda, a housewife who cooks meals for AirBnb guests. Sitting down after whipping up an artful breakfast plate in the house's tiny kitchen, she explains that half of the town (pdf) has moved away since the wood industry began sharply declining in the 1980s. With only around 6,700 residents today, it's a starkly different place from her youth, when the population was more than double.
Located about an hour's drive east of Osaka, Yoshino is an industrial town best known for two things: cherry blossoms and very tall, evenly-grained cedar. For one week every spring, tourists arrive in droves to gaze at 30,000 sakura trees that blanket the mountain ranges in various shades of pink. Considered among the best cherry blossom viewing spots in the entire country, Mt. Yoshino is also part of the Kii pilgrimage route, which was included in UNESCO's World Heritage site list in 2004. For the rest of the year, the town is pretty much dead.
Japan's 16th century isolationist period birthed Yoshino's wood industry. Under the Sakoku policy, the Japanese sought to be self-sufficient, which involved creating plantations that would provide quality lumber for domestic architecture projects. "For the most part, this extraordinary experiment in environmental engineering has involved planting a single species, the Japanese cedar, because of the usefulness of its wood and the speed of its growth," explains James Sterngold in the New York Times.
But as consumer tastes gradually shifted to plastic furniture and earthquake-proof cement buildings, Yoshino's premium wood industry has stalled. Today, the town's human-made plantation forests are dense with towering, century-old trees. "It is becoming increasingly apparent, experts say, that the superabundance of a single species of tree is threatening wildlife, causing heavy soil erosion, reducing the water table and creating the potential for disastrous landslides," describes Sterngold in 1995. Reiko Amano, director of the Committee to Regenerate Healthy Forests in Japan, explains that the acreage of 100 year-old trees in Yoshino is expected to increase to 7,000 hectares in 2030 compared to 3,000 hectares today.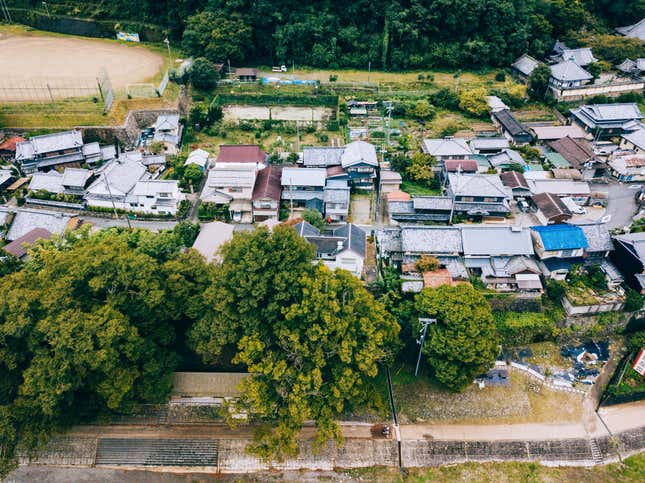 Like other rural towns across the country, Yoshino has also been decimated by the wave of internal migration to Japan's cities. Millennials have been steadily leaving their sleepy hometowns and flocking to Tokyo, Osaka, and Kyoto in search of job opportunities and the known thrills of living in a diverse metropolis. This trend, compounded by falling birth rates and a rapidly aging populations, has meant that the Japanese countryside is now dotted with more than 8 million abandoned homes or "akiya." There are so many empty houses today that regional governments have resorted to offering them at a huge discount, or in some cases, totally free to anyone who commits to living in them and pay taxes.
Masuda Hiroya, Japan's former minister of internal affairs, predicts that900 provinces will "disappear" or become virtually uninhabited by 2040. "Declining population will first, like a giant wave, hit small-scale regional municipalities, and then will rapidly expand to entire regional areas," Hiroya warns. "We cannot, however, just stand by, dumbfounded by this challenge. While calmly accepting the harsh future forecasts, we need to take effective measures as soon as possible." In 2015, Prime Minister Shinzo Abe made rural regeneration a national priority. Abe has tasked each town to come up with attractive incentives to convince young people to remain in their towns or entice those in cities to move back to the countryside, as Japan Times reports.
The renewed interest in the countryside isn't a matter of nostalgia. Cities and towns exist in a symbiosis. Ignoring rural towns results in overcrowded cities, poverty, and a host of other social ills. It strains resources and results in greater environmental degradation. "Cities occupy only 2% of the world's landmass. But in terms of climate impact, they leave an enormous footprint," explains C40, an alliance of 94 megacities. "Cities consume over two-thirds of the world's energy and account for more than 70% of global CO2 emissions." Saving Japan's small towns, then, is crucial for the health of the nation and its people.
Guardians of the forest
In many ways, Yoshino Cedar House embodies the best expression of community-led action that Hiroya, the minister for foreign affairs, calls for. A collaboration between Airbnb co-founder Joe Gebbia and Tokyo-based architect Gō Hasegawa, the guest house is run by a cooperative of about two-dozen town residents, many of whom still work in the wood industry.
Yoshino Cedar House is a test case for Samara, a community-mobilization innovation lab within Airbnb. "If we can get community-driven empowerment right in Japan, we can find ways of adapting this to other countries," Gebbia said to Reuters. In close partnership with local business owners, Airbnb approached Yoshino's government with a proposal to build the architectural showcase featuring the town's high quality cedar and cypress lumber. They received a parcel of land along the Yoshino river, a few paces away from the town's lumber yard. They could have very well revived one of Yoshino's many abandoned buildings, but Gebbia explains they wanted to make a bigger point.
Among the AirBnB's hosts is Teruichi Ishibashi, an affable third-generation timber merchant who coordinates most of the house's activities; Akimoto Nakai, a former salaryman who introduces himself as "the guardian of the forest;" and Teruaki Hashimoto, a fourth-generation sake master brewer who uses cedar barrels in his distillery, Miyoshino Shuzo.
Twenty-four year old Kouhi Yoshikawa, the youngest of Yoshino Cedar House's two dozen local hosts, serves as the group's default English translator. He says he was so charmed by Yoshino's bucolic setting that he applied to be a host even though he lives in Osaka, an hour's drive away. A graduate of the University of Albany, SUNY's tourism program, Yoshikawa has grand plans of launching a Yoshino YouTube channel to tell the world about the town's under-appreciated sites, beyond the famous sakura trees. That a city-bred millennial is so keen to help save Yoshino and use his social capital to broadcast its attractions is terrific progress, says Ishibashi.
In fact, all of Yoshino Cedar House's hosts share an eagerness to show off their hometown. Like ambassadors, they'll happily disrupt their schedules to drive a guest to meet the Fukunishi family, who makes high quality washi paper for Japan's imperial family or direct visitors to the humble roadside workshop that lavishes an inordinate amount of love in making disposable chopsticks from the cedar scraps. Some hosts will even serve rice grown from their backyard, and in good weather, offer to accompany guests on a hike to Yoshino's dense cedar forests.
At Yoshino Cedar House, the brochure-fantasy of escaping to a remote patch of nature where people are gracious and neighborly is fully manifest. The town's quaint sense of tradition—an element that ironically drove away many of its young residents—is its greatest tourism draw.
A few days sleeping on the floor of the empty room, technically too small for Westerners—most people can only stand at the center of the A-frame roof-is perspective-altering. Cocooned in the cedar room, with the sun peeking through the triangular window, one might think: Who needs a bed? Or side tables? Or anything else?
On the cedar house's guestbook are pages and pages of endorsements—love letters—to Yoshino. "This is the real embassy of Japan," wrote a couple from Berlin. "A world of tranquility and balance. The antidote to our city life," says a visitor from Singapore.
The Pritzker Prize-winning architects Rafael Aranda, Carme Pigem and Ramon Vilalta (RCR Arquitectes) were among the house's first visitors. The Catalan collective say that they were struck by "the extremely beautiful landscape and the extraordinary kindness of its people." Yoshino's determination "to push from their past to their future" is something other dying rural towns can learn from, they explain.
A modern attraction, by design
For design lovers especially, architect Hasegawa's picturesque 22-by-3-meter (72-by-10-foot) cedar and cypress building is worth the pilgrimage. Made from 28 types of wood harvested from the area, the plan is based on engawa, a traditional structure which extends the interior floor into a porch. This detail is Hasegawa's metaphor for blurring the boundary between the public and private realms. "Every detail of the structure inspires connection to the people of Yoshino and their underlying traditions," he stresses.
The house's first level is dominated by a handsome sunken table where the house's guests (it can host a maximum of six) and local hosts eat and gather. The all-cedar bathroom is also in this floor. Up an open staircase are two sparsely-furnished rooms. All wires and telltale signs of modernity like plugs and switches are tucked beneath the floorboards, amplifying the fantasy of being in a cabin in the woods. The wi-fi connection is strong throughout the loft, but it seems ludicrous to be hunkered on a laptop in such a setting.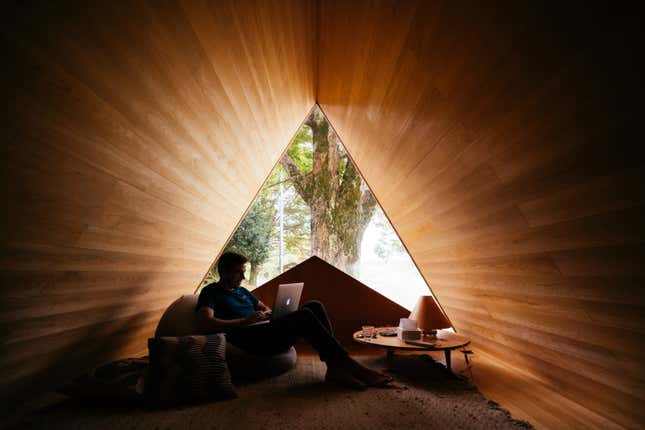 On its first year, Yoshino Cedar House welcomed over 1,000 guests, including many architecture fans who first learned about it at the 2016 House Vision Tokyo exhibition curated by MUJI's art director Kenya Hara. The house generated a total of $27,804, which earned each host $2,137. The sum may not be very large, but it has given the entire town a sense of renewal, and spurred new business ventures. For one, it emboldened others residents to list their vacant rooms on Airbnb. Compared to four homes in 2015, there are now 15 properties for rent in Yoshino proper in 2018.
"It's incredible how Yoshino Cedar House has attracted so many people from around the world," says Ishibashi, recounting some 30 countries represented in their guest records. "That's the power of great architecture."
The house also serves as a  model house for potential buyers of Yoshino's lumber stock. Ishibashi, Nakai and Hasegawa have gone on business expeditions to Europe, using the Cedar House as a compelling case study of Japanese materials and craftsmanship. Satoda, the house chef, says cooking meals for guests is her practice run for a café she hopes to open.
The sense of ownership is palpable among locals. Working with Hasegawa's specifications, Yoshino's woodsmen felled the trees, local lumber mills processed the timber, and master carpenters built the structure. It has also fortified the sense of cohesion among neighbors. In October 2017, just six months after the cedar house welcomed its first guests, Yoshino was hit by a strong typhoon. The river's levels rose to over 18 feet, flooding the first floor of the house. Hosts, town officials, and volunteers rushed to clear the water and make repairs, and the guesthouse reopened in a matter of days.
Rebranding rural
Two years into the project, Gebbia declares the Yoshino Cedar House model a success. "We believe other rural Japanese towns can learn from Yoshino by looking at the empty homes they have and seeing possibility in them," he tells Quartz. "Through renovation and small investment, those homes can also be listed on Airbnb to attract interest from travelers who delight in experiencing Japanese village life."
Arguably, Airbnb's greatest contribution to small villages lies in recasting ghost towns as idyllic retreats for discerning urbanites. Through its robust tech platform and design-minded sensibility, the company has helped put a new spin on remote areas like Civita, Italy, where guests can sleep in a 13th century stone house or Gurajat, India where travelers are welcomed with home cooked meals and folk dance lessons. Airbnb's latest scheme involves paying four lucky individuals to live in the hilltop town of Grottole, near Naples, for three months to learn the local culture and participate in village life.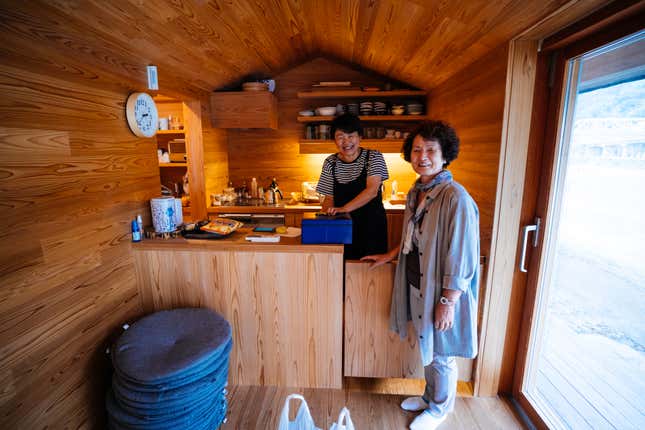 Dutch architecture theorist Rem Koolhaas wants to steer scholarship back to the oft-neglected towns. "Our current obsession with only the city is highly irresponsible because you cannot understand the city without understanding the countryside," he argues. With a forthcoming exhibition at the Guggenheim Museum titled Countryside: Future of the World, Koolhaas, who is considered as the most influential architecture polemicist in some circles, points out that much innovation actually occurs in towns like Yoshino, where citizens are forced to adapt to their circumstances.
"The fact that more than 50% of the world's population now lives in cities has become an excuse to ignore the countryside," Koolhaas says. "I have long been fascinated by the transformation of the city, but since looking at the countryside more closely in recent years, I have been surprised by the intensity of change taking place there. The story of this transformation is largely untold."
Correction: An earlier version of this article stated that architects from the firm RCR Arquitectes won the Pulitzer prize. In fact, they won the Pritzker. 
Be sure to download the Quartz Brief app for iOS to explore our 3D model of Cedar House in augmented reality.