Tourists just keep flocking to Thailand, despite the country's chronic political woes and and mass demonstrations.
In 2006, the country's prime minister was overthrown in a military coup. In 2008, Bangkok's international airport was closed for a week after it was stormed by protesters, stranding thousands of travelers. Protracted demonstrations in the middle of the capital culminated in an army crackdown that killed more than 80 people in 2010. Massive floods in 2011 inundated large swaths of Bangkok and other parts of the country. And in recent weeks, protesters have swarmed various sites in Bangkok in an attempt to overthrow the government.
Not only are tourists still coming, but they've been arriving in increasing numbers in recent years, according to government data.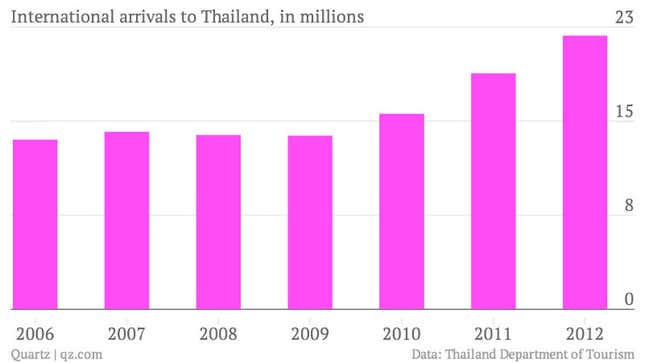 That's a relief to Thai authorities, since last year the country counted on travel and tourism for 7.3% of its gross domestic product, according to a report (PDF) from the World Travel and Tourism Council. In ten years, that contribution could grow to 8.7% of GDP, the Council reckons. The sector is important for jobs, as well, employing more than 2 million people last year—some 5.2% of all employment.
Indeed, despite the recent turmoil, Bangkok was this year named the world's most popular tourist destination, beating London for the top spot in the "Global Destination Cities" Index. The capital is set to receive some 15.98 million visitors this year, with Chinese tourists in particular coming to the city to shop, since it's inexpensive compared to regional rivals like Singapore and Hong Kong.
One reason foreign tourists don't seem to be deterred by Thailand's upheavals is that many of the country's attractions are outside typical trouble spots, from the hilly north of the country to beaches in the south; troubles in Bangkok don't usually translate into issues elsewhere.
Thai tourism officials appear to have have developed not just nerves of steel, but also expertise in communicating that despite all of the country's political dysfunction, its various attractions are still open for business. The Tourism Authority of Thailand maintains a map of Bangkok protest sites, and even provides live video of the northern city of Chiang Mai and the beach in Koh Samui to assuage nervous travelers.
"Tourists need not be alarmed of the presence of security forces and checkpoints in Bangkok," The Association of Thai Travel Agents said yesterday in an update on its website. Not that officials are overly worried: The country welcomed 21 million visitors through October this year, meaning it's on track to set a new annual record.