Andre Poggenburg, a far-right politician in Germany, stirred controversy yesterday (Jan. 11) when he unveiled his new political party's logo, which features a symbol used by Austrian Nazis in the 1930s.
Germany is a country that still struggles with its Nazi past. The far-right Alternative für Deutschland (Alternative for Germany) party earned 12.6% of votes in the 2017 parliamentary elections, making it the third-largest party in the Bundestag. Meanwhile, neo-Nazi rallies (paywall) in the city of Chemnitz drew some 8,000 people this summer and shocked the world with images of violence and hatred expressed towards immigrants.
The announcement has caused a stir in Germany and abroad. The logo of Poggenburg's new party, Aufbruch der Deutschen Patrioten (Awakening of German Patriots), will feature a blue cornflower, which Austrian Nazis used as a secret symbol to recognize each other when their party was banned in the country in 1933. As historian Bernhard Weidinger told the BBC, "the cornflower is a complicated symbol" in more ways than one. It is also known as "the kaiser's flower" because it was once a favorite of German Kaiser Wilhelm I, the first German emperor. CNN notes that the cornflower has continued to be associated with nationalism and the far-right in recent history; Austria's far-right Freedom Party adopted it as a symbol, eventually ditching it in 2017.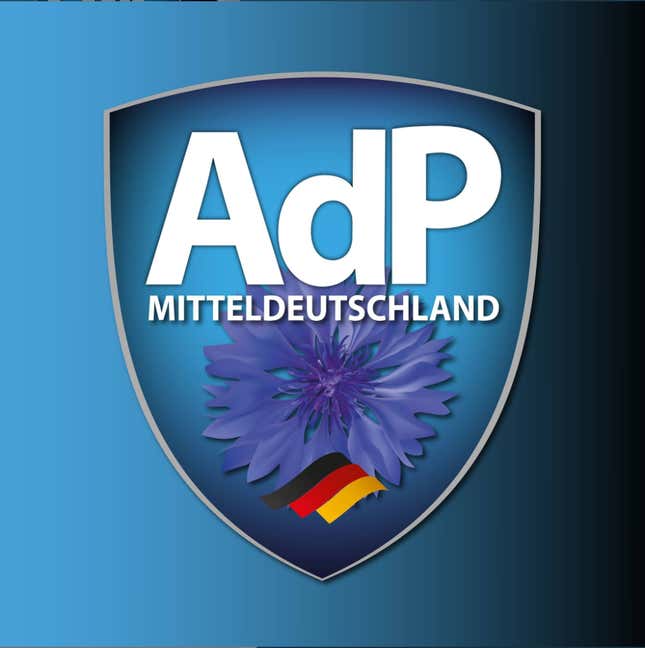 Poggenburg, who was AfD's regional leader in the eastern state of Saxony-Anhalt, was forced to resign in March 2018 after he used racist language to describe Turkish immigrants in a speech to AfD supporters. He was also reprimanded in 2017 when he sent "Germany for Germans," a Nazi-era slogan, to party members over WhatsApp.
But Poggenburg is far from an aberration within a German far-right that often flirts with Nazi symbolism or language. In 2016 Frauke Petry, the former chair of AfD, gave an interview in which she argued in favor of de-stigmatizing völkisch, a word used by German Nazis to allude to a person's race. And in January 2017 Björn Höcke, an AfD politician, "attacked Germany's national Holocaust memorial and the country's devotion to teaching its citizens about Nazi genocide," according to German broadcaster Deutsche Welle (DW).
Far-right politicians in Germany have long argued that their country (and the world) should move on from the Holocaust and stop holding modern Germany accountable for the crimes of its past. But as historian Jason Stanley (paywall) recently asked in the New York Times, "who can really decide when a reckoning is complete?"