Ongoing anti-government protests aimed at toppling Thailand's Prime Minister, Yingluck Shinawatra, continue in Bangkok, where at least three people have died and more than 100 have been injured in clashes.
In the Thai capital's historic quarter, where most of the unrest has been occurring, protesters are attempting to force their way into a complex of government offices. Security forces have been employing tear gas and water cannons, among other measures, to keep the demonstrators at bay. The protesters' response: they've constructed their own "gas masks" for protection.
In recent days, the protests have rapidly deteriorated from peaceful gatherings opposing Yingluck to violent street demonstrations demanding she step down. Though security forces have superior equipment, the demonstrators have shown some organization. In protests yesterday, they advanced toward police barriers in coordinated waves, throwing rocks and evading tear gas, while others stayed behind, offering water and cloths to help stricken demonstrators recuperate.
Many protesters have taken to using surgical masks, bandanas, and damp cloths to shield themselves from the tear gas, which causes incapacitation due to severe irritation to the eyes, nose, and lungs.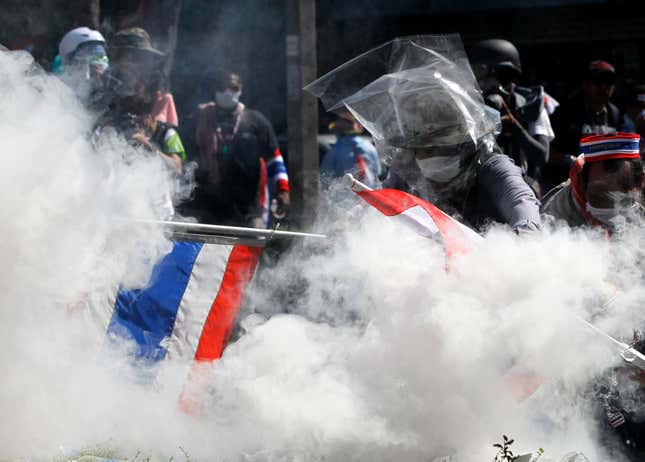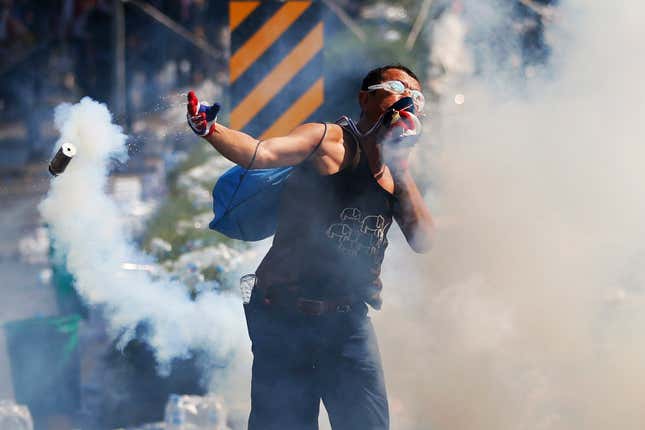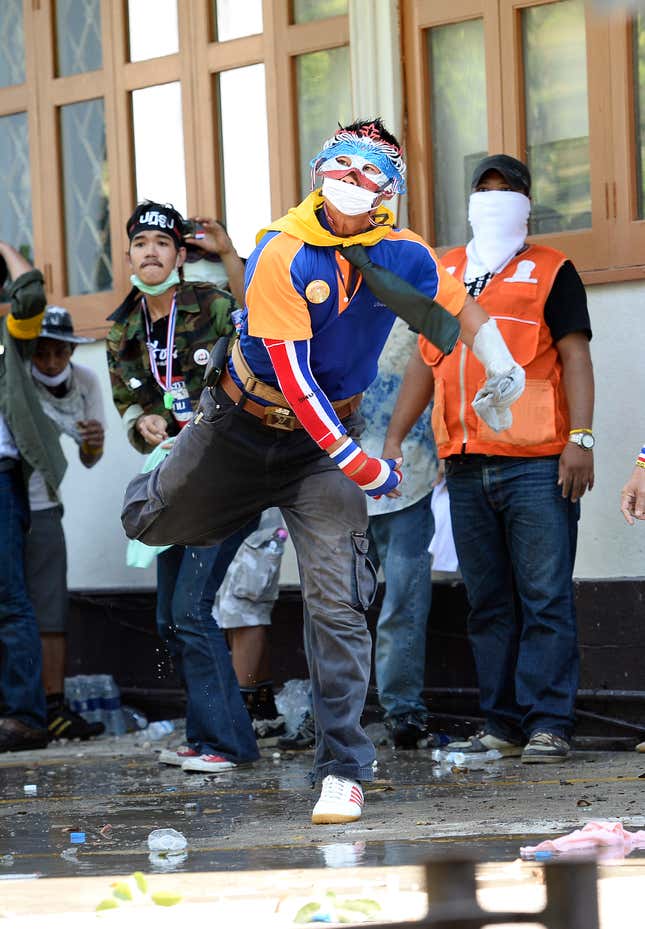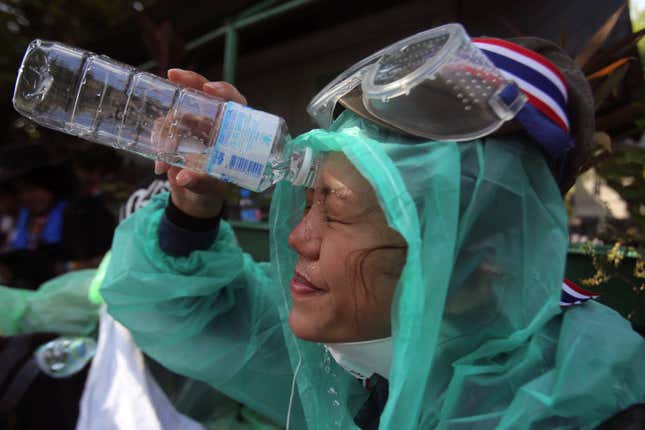 Meanwhile, further from the clashes, some people attending the rallies have taken to donning whimsical clothing—or posing for photos with their homemade gear.
Keeping the weird going. #BANGKOKPROTESTS pic.twitter.com/QES9TdEa1k
— Aubrey Belford (@AubreyBelford) December 2, 2013

บ้านเรา ถุงพลาสติกคลุมหัวกันแก๊สน้ำตา ในภาพคือ ตุ๊ก-ชนกวันนท์ หน้าบช.น.(2ธ.ค.56) cr.เอเจ เสียงฝ่ายค้าน pic.twitter.com/nURPHetx9V

— Nalinee Siriked (@Nalinee_PLE) December 2, 2013
The demonstrations, of course, are no laughing matter: Prime Minister Yingluck today said she wouldn't back down. And the violent protests show no sign of abating.