On Dec. 1 China launched its first probe to land on and explore the moon's surface. If successful, China will become the third country, after the US and the former Soviet Union, to have completed a "soft landing" on the moon—one in which the spacecraft remains intact and operational. (It would be the world's first such landing since 1976.)
China's space program is almost as much for prestige among its own citizens as it is for the country's international image. Specifically, the launch and China's space program more generally appears to be part of president Xi Jinping's mantra of promoting the "Chinese dream." Zhang Zhenzhong, director of China's Xichang Satellite Launch Center told reporters, "We will strive for our space dream as part of the Chinese dream of national rejuvenation."
State television network CCTV aired several hours of coverage ahead of the launch. The moon rover is named the "Jade Rabbit," a name chosen from an online public poll, after a pet rabbit in Chinese folklore. (Here are photos of the gold-colored buggy as well as a video of the launch.)
One way to promote the probe, and China's ambitious space program more broadly, is to ask celebrities to attend the event. And here, China scored the most-successful internet entrepreneurs in the country. A photo of what appears to be founders of the country's biggest internet businesses was forwarded about 1,300 times on the microblogging site, Sina Weibo. The photo features Zhou Hongyi of software firm Qihoo 360, Charles Zhang of search engine Sohu, Victor Ku of video hosting site Youku, Pony Ma of Tencent, maker of the messaging app Wechat, and Lei Jun of Chinese handset maker Xiaomi: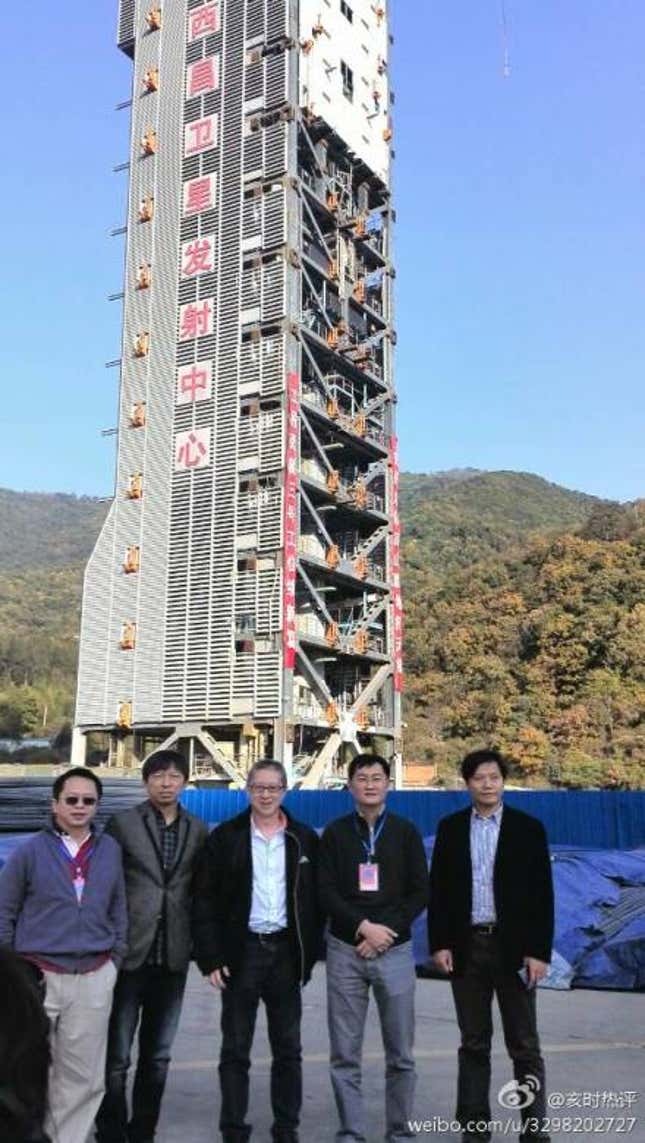 The photo appears to be real— Zhou Hongyi also posted the picture (registration required) from his Weibo account and judging from Lei Jun's account, he was present at the launch. Whether inadvertent or planned, the image of some of China's most famous entrepreneurs next to a major state program is perhaps one of the best marketing techniques for the government. (China has been known to ask celebrities to help promote government campaigns.) One blogger commenting on the photo said, "This is a symbol of the collision of science and technology." Or as the Wall Street Journal's Paul Mozur points out, it seems like an effort to "rhetorically link private industry innovation with state-run scientific development."
Gang Yang contributed additional reporting.