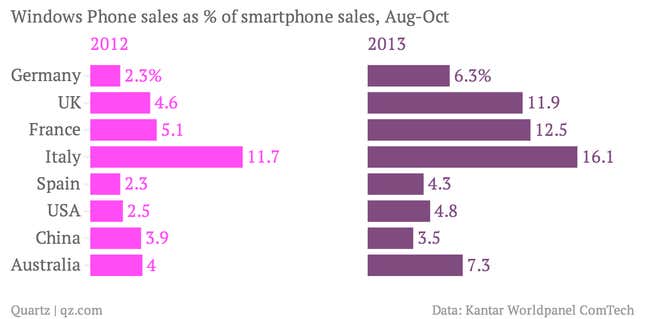 Something strange is happening in the world of smartphone sales. People are buying more and more Windows Phones. Having been written off as a delayed, failed bid by Microsoft to make its presence felt in mobile, with an app store that didn't even offer Instagram (it does now), the phones made by Nokia, HTC and others with a version of the Windows operating system were hard to take seriously.
That's not what ordinary shoppers thought. Numbers out this morning from market research firm Kantar Worldpanel show that more people than ever before are buying the phone, and not just in its traditional stronghold of Latin America. For the three months from August to October, the Windows phone's share of smartphone sales doubled or more over the year prior in nearly every large European country, while also showing respectable gains in Australia and the United States. The only place its market share fell is in China, which is unsurprising given that China's market is dominated by local players who tend to install their own versions of the free Android operating system.
Meanwhile, Apple's iPhone lost market share in every country reported by Kantar except Australia and Spain, despite Apple's launch of two models—the iPhone 5s and 5c—this year instead of just one as in previous years. Kantar suggests this may be because people prefer to wait for a "full release," or significant upgrade of the iPhone (i.e., the iPhone 6, probably due next year). Indeed, in Spain, the iPhone and the Windows phone managed the exact same market share—4.3%. (Android claimed over 90%.)
So what explains the rise, albeit from a low base, of the Windows Phone? According to Kantar, a large chunk of Windows Phone sales come from lower-end devices. That suggests that in Europe as in Latin America, people looking for a cheap smartphone may be finding the Windows Phone an attractive alternative to Android. And that's good news for Microsoft and its handset partners, since such customers are also more likely than average to be buying their first smartphone, and thus getting hooked on the operating system.