For the past decade, the World Economic Forum has put out a yearly review of the greatest threats to our world—the economic and geopolitical risks that endanger our planet, our way of life, and even our species.
This year, for the third year running, "extreme weather" induced by climate change has taken the top spot in the Global Risks Report (pdf), issued the week prior to the forum's gab fest in Davos, Switzerland.  In second and third place are failed climate-change mitigation, and natural disasters, respectively.
Economic risks such as fiscal crises and market collapses, which were once the preoccupation of the 1,000 or so surveyed experts in business, government, and civil society, are secondary to the risks we pose to our planet. That's not to say we're rid of them, however: The report noted increasing market volatility, as well as intensifying "headwinds facing the global economy." Political turmoil is another concern: "Geopolitical and geo-economic tensions are rising among the world's major powers. These tensions represent the most urgent global risks at present." While climate crisis may be a greater concern in the long-run, political turmoil seems closer on the horizon.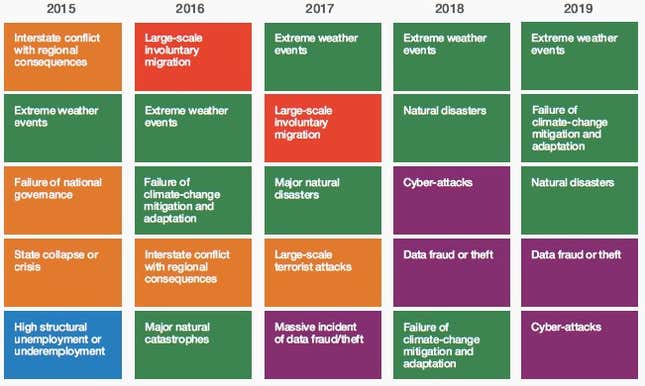 Most of all, however, experts fear an environmental catastrophe as a growing certainty. We may be sleepwalking into a crisis, the reports' authors warned: "Our survey respondents are increasingly worried about environmental policy failure." Among the impacts is damage to biodiversity, which has implications for health, economic development and "even regional security," according to the report.
To anyone paying attention, this comes as no surprise. Climate change is killing our puffins and our tortoises; our cedars and our kelp. Bears can no longer hibernate as they once did. For human beings, the news is just as dire. In the Horn of Africa, climate change-induced droughts have wrecked the region and left more than 650,000 children under the age of five severely malnourished. Some 12 million African people rely on food aid. Extreme heat killed dozens in Pakistan last summer; in cities such as New Delhi, rising temperatures are already punishing the poor and the sick. Soon they may be unlivable.
The climate isn't the only challenge we face. Interpersonally, the report notes, we are also struggling. For many people, "this is an increasingly anxious, unhappy and lonely world. Anger is increasing and empathy appears to be in decline." Technology addiction is cited as one cause. Moreover, we don't know what's coming next, and our lack of control manifests itself as psychological stress. Globally, mental illness is rising, with approximately 700 million people now suffering from a mental disorder. Five of the top 20 diseases "in the global burden" are mental ones.
It's not all bad. The proportion of people living in poverty is at its lowest point in decades—though a rising population means the total number, of around 736 million people, is still very high. And, as authors András Tilcsik and Chris Clearfield write, "The good news is that there are solutions. Though we often cannot simplify our systems, we can change how we manage them." That means seeing today's problems as warning signs ahead of a major crisis, rather than dismissing them out of hand as random events, and being prepared to change our course instead of charging headlong into disaster.
Just a few things for our world leaders to chew over at Davos, then.