Good news is relative. It may seem positive that 3,000 fewer African elephants were illegally poached in 2012 than in 2011, according to a report by the Convention on International Trade in Endangered Species of Wild Fauna and Flora (CITES), an international organization, and Traffic, a non-governmental group that tracks elephant populations. But that still adds up to a lot of illegally killed elephants and could wipe out one-fifth of Africa's elephant population in a decade.
The report estimates that 22,000 illegally killed elephants were killed in 2012, at a poaching rate—the proportion of illegally killed elephants measured against total population—of 7.4%. That's much higher than the natural African elephant population increase, which doesn't exceed 5% a year.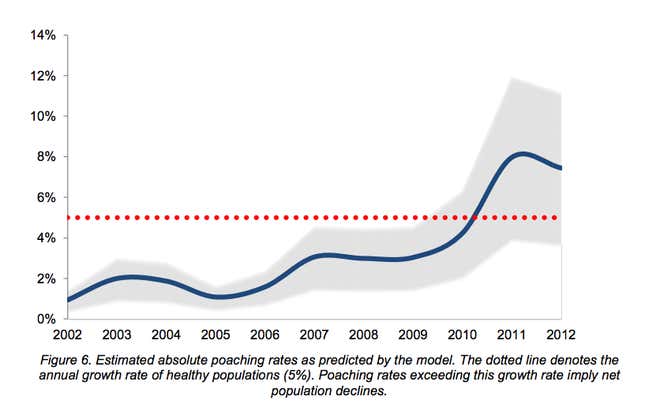 The estimated seizures of illegal ivory shipments, which trade experts consider to be a good proxy for poaching trends, improved slightly in 2012 from the previous year. But 2013 is shaping up to be 20% higher than 2011, says Tom Milliken, Traffic's ivory trade expert. This year has also seen the largest quantity of ivory confiscated in large-scale ivory seizures in 25 years. It's unclear whether this is due to stepped-up law enforcement or simply an uptick in the trade, but CITES and Traffic note that such large-scale shipments typically suggest the involvement of organized crime.
The decrease in 2012 may have to do with the growing size of tusk shipments; while the number of tusk shipments fell 30% in 2012, the average weight of large consignments rose 15% compared with 2011 data.
China's hunger for elephant tusks is largely to blame. "Ultimately, the illegal killing of elephants for ivory is driven and sustained by demand from consumers who are willing to pay for illegal ivory, as measured by household consumption in China," says the report (pdf, p.6), noting that spikes in poaching trends "are strongly related to patterns in consumer spending in that country."  To get a sense of how the trade route of illegal ivory trade route has changed, here's a look at the shifts between 2000 and 2008: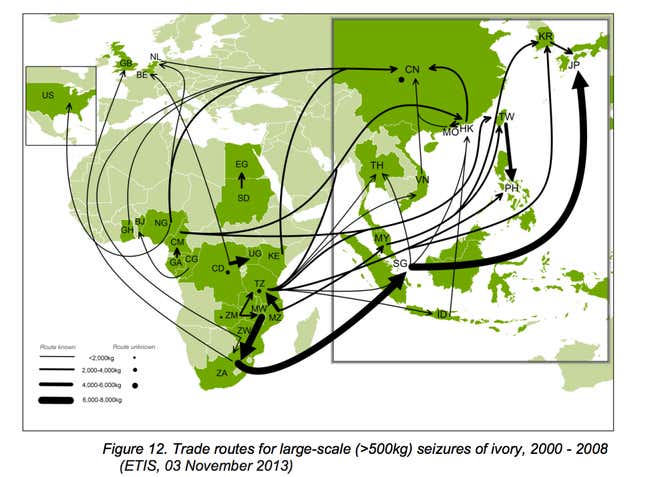 Compare that with the map of ivory seizures based on 2012 to 2013 data: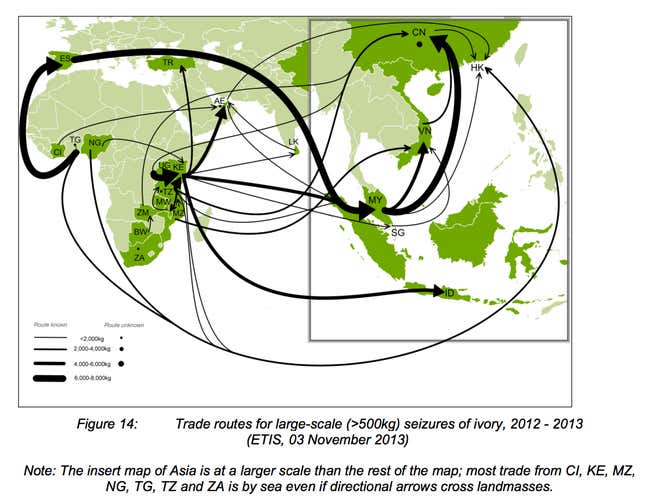 As we've discussed in the past, Chinese consumer zeal for luxury status symbols includes ivory carvings. It doesn't help that the Chinese government insists on allowing a legal ivory trade. Many trade experts suspect that the government's efforts to crack down on illegal ivory smuggling are cancelled out by the legal market, which facilitates the black-market trade.