Air pollution has reached hazardous levels in Bangkok, Thailand, leading some officials to attempt an unusual approach: letting drones spray the pollution out of the sky.
Earlier in the week, levels of PM2.5—tiny particles 2.5 microns in diameter or smaller that can penetrate deep into the lungs—reached 185 micrograms per cubic meter. Anything above 150 is deemed hazardous for all individuals (50 or below is considered good).
The government has responded by unleashing a small fleet of drones that can spray water into the air and eliminate some of the pollution. Photos from a test on Tuesday (Jan. 22) show the yellow aircraft dispensing water and a "non-hazardous chemical spray," reported the Bangkok Post. An official from the Defense Technology Institute, a government agency, said the test, in which drones sprayed for less than an hour, reduced the concentration of PM2.5 by 10 micrograms per cubic meter on average.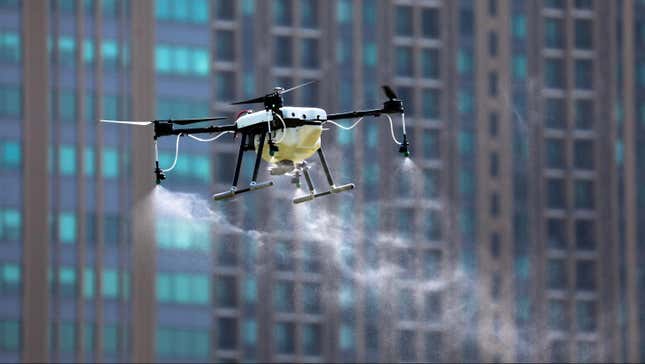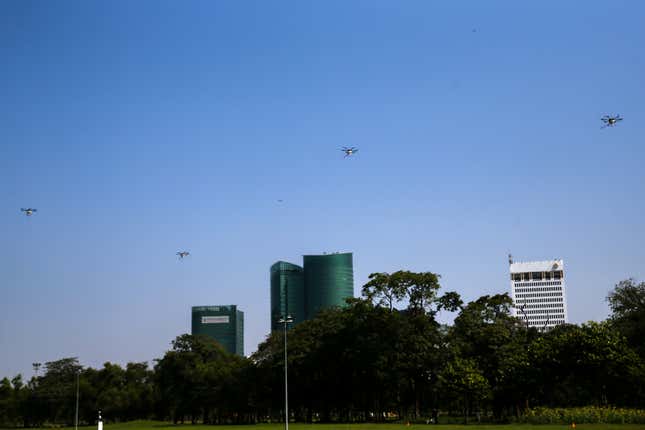 It's unclear if the plan is scalable, as it was only attempted in a single Bangkok park. China tried a similar approach in 2014, dropping drones fitted with parachutes. Elsewhere in Bangkok, people were fighting air pollution with a slightly more head-on tactic, spraying a water cannon from on top of a truck.