Venezuela's National Assembly president Juan Guaidó declared himself interim president on Wednesday (Jan. 23), the opposition's most forceful challenge yet to Nicolás Maduro's regime.
Donald Trump quickly responded by recognizing Guaidó, a 35-year-old engineer, as Venezuela's legitimate leader. Canada and many Latin American countries, including Brazil, Argentina, and Chile, have followed suit.
The US had been intensifying its push for regime change in Venezuela in recent weeks. On Tuesday (Jan. 22), vice president Mike Pence told Venezuelans in a video that he supported the anti-Maduro marches taking place across the country. He called Maduro a dictator "with no legitimate claim to power," and the National Assembly the country's "last vestige of democracy."
On Wednesday, a senior Trump administration official said the US hopes Maduro will embrace a peaceful transition to democracy. If Maduro tries to harm Guaidó or other National Assembly members, "all options are on the table," he added.
A chance to dislodge Chavismo
Guaidó's challenge to Maduro represents the opposition's best opportunity to dislodge Chavismo, leftist populist agenda launched by the the late Hugo Chávez in 1999. His policies, which Maduro continued, have left Venezuela's economy in shambles, and sunk it into a political crisis. The International Monetary Fund predicts inflation of 10 million percent this year. Food and medicine shortages are common, and millions of Venezuelans have fled the country to neighboring Latin American nations.
Unlike other opposition leaders in the past, Guaidó has the backing of a diverse group of political actors. He's also openly called for the military's support.
The international community's prompt recognition of Guaidó increases his chances of success. "It's necessary for the world to put its gaze on Venezuela," says Angela Chavez, who's been following the situation as associate director at the Atlantic Council's Adrienne Arsht Latin America Center. Guaidó and his supporters "are going to need resources to bring about a democratic transition."
The senior Trump administration official said that depending on Maduro's response, the US could use both diplomatic measures and economic sanctions to back Guaidó, but declined to answer questions on whether the US is willing to use military force.
The Associated Press reported last year that Trump had repeatedly considered a "military option" for Venezuela, insisting on the idea even after aides told him invading the South American country could backfire badly, and risk harming the US's already tarnished image in Latin America.
An explosive situation
Guaidó's swearing in came amid massive marches across Venezuela against Maduro's regime. The protests were called by Guaidó earlier this month, after Maduro started his second term as president.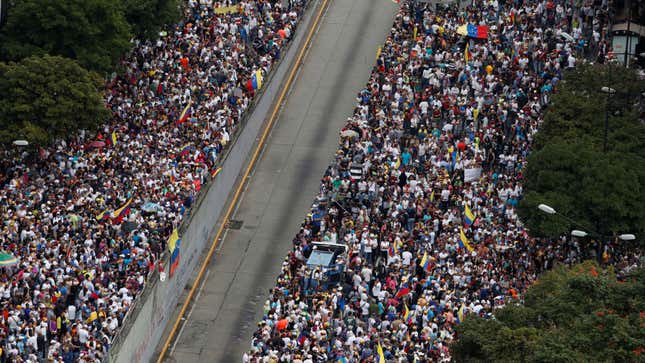 Maduro was re-elected last year in a vote widely seen as a sham. In a defiant speech on Wednesday, he gave no signs of backing down. Instead, he announced that Venezuela was breaking diplomatic relations with the US, and that American diplomats had three days to leave the country.
Meanwhile, the BBC reported confrontations between protesters and security forces in the capital, and activists claimed four people had died during the night, even before the protests had started.
Chavez, from the Atlantic Council, said there's a possibility that Maduro will dial up repression. "But honestly, the overall sentiment is of hope," she added.