National carriers like ESPN and TNT broadcast the games. Major NBA and NFL power brokers field teams. International sponsors, like Mastercard, Toyota, and Intel, fill the gaps in broadcasts. And the stars themselves have started popping up on late-night TV.
If you don't think esports—in your stodgy uncle's words, "watching other people play video games"—is a big deal, then you haven't been paying much attention.
Last year, an estimated 100 million viewers tuned into the League of Legends World Championship series. That's almost as many people as watched the 2018 Super Bowl, and it didn't involve a television network: It was hosted online on Twitch, an Amazon-owned live-streaming service that is quickly becoming just as influential as any cable network.
Investors cannot buy in fast enough. At a time when traditional broadcasters are looking for ways to hang on to Gen Z, esports already has them: Almost 60% of 14 to 21-year-olds have watched a pro gaming tournament, according to a Washington Post poll. As traditional entertainment and sports businesses continue to struggle in the digital revolution, professional gaming offers something of a model for what's next—in video games and beyond. An incoming generation is choosing pop culture's future, outside of the traditional networks of celebrity.
Esports in a nutshell
There is not a singular "esport." The word roughly translates to "sport," and just like traditional sports,  a variety of different games have attracted a dedicated professional community. The most popular games, according to Twitch, are League of Legends and Overwatch. The NBA, NFL, and FIFA all hold tournaments for the digitized versions of their corresponding sports (Yes, that means in 2019, there's a difference between a professional soccer player and a professional FIFA 19 player). Spectators watch esports in-person and on Twitch, and the biggest tournaments have sold out Madison Square Garden, Barclays Center, and Staples Center.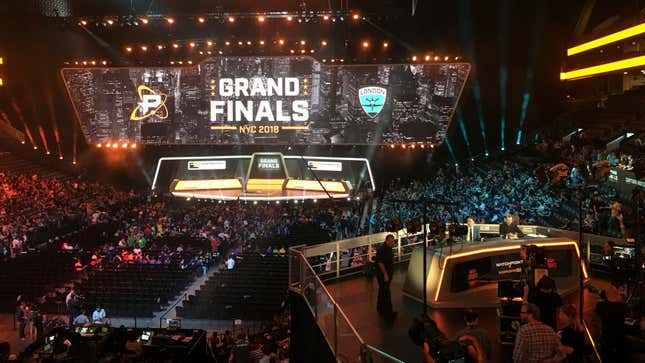 Game publishers typically run the tournaments—which can take place across multiple conferences in different countries, all leading up to one world title—and esports teams (known in the industry as "esports organizations") sign players to contracts and roster teams to compete in those tournaments. It's similar to how the National Football League (NFL) head office runs the league's operations, while the owners pay the players' salaries. The big difference is that while you obviously couldn't grab 10 friends who know how to play football and schedule a game against the Packers the following Sunday, you and a handful of friends could qualify for the same esports tournament as professional teams and win the whole thing.
Esports is also more global than many traditional sports. There are esports hotbeds everywhere: Hangzhou, China is making significant investments into infrastructure to become an esports powerhouse. Real Madrid, the soccer powerhouse, is building an esports facility into its new stadium, and some of the best Counter-Strike players are from Brazil. Most of the top esports organizations field teams comprised of players of multiple nationalities. Team Liquid's Dota 2 squad fields players from Lebanon, Jordan, Germany, and Finland.
Why now?
Video games have been popular since Atari released the 2600 console in 1977, so what took competitive gaming so long to take off? It was always a matter of distribution.
Imagine it's 2005 and you're walking into a boardroom full of ESPN executives with the hopes of selling them the live rights to a competitive video game league. That's a tough sell. The executives in that 2005 room probably belong to a generation that didn't grow up playing video games, and there's little proof anyone wants to watch other people play video games. Why would ESPN put up the money to broadcast video games, when they could stick with what worked?
That explains why most networks paid no attention to competitive gaming until recently, but there were a few exceptions: The Cyberathlete Professional League (or CPL) was broadcasted on MTV throughout the 2000s and featured some of the earliest pro gaming stars. OGN, a network in South Korea, was initially dedicated to round-the-clock coverage of professionals playing StarCraft, a real-time galactic strategy game. There was even a game show called Starcade in the mid-'80s where kids completed in old arcade games. (Read more on the history of esports here.)
None of those early initiatives ever took off. It was extremely difficult to package live competitive gaming within the strict confines of cable, and there was no reason for a television network to take a chance on doing so. Then Twitch showed up.
The site that changed everything
The live-streaming site Twitch was originally conceived as "Justin.tv," a website where people could broadcast themselves doing whatever they wanted. It rebranded to a platform specifically for video games (and thus esports) in 2011. The concept is simple: A person sits in his or her bedroom and plays endless hours of League of Legends, or Overwatch, or Counter-Strike, to a shockingly captive audience.
Twitch's concept sounds almost rhapsodically boring if you haven't experienced it, but personalities like Ninja, Dr. Disrespect, and Shroud have turned themselves into media icons. Success on Twitch is about more than being good at video games. Ninja is effortlessly charismatic and clean-cut, which has earned him a significant following among younger fans who treat his stream like a Disney Channel morning show. Dr. Disrespect is the closest Twitch comes to a genuine performance artist: Every day, he sports a wig and a fake mustache to amp up his persona as a beer-swilling cranky uncle. These streamers are able to sell advertisements on their broadcasts and sign up with sponsors, making money in the same way that YouTubers do.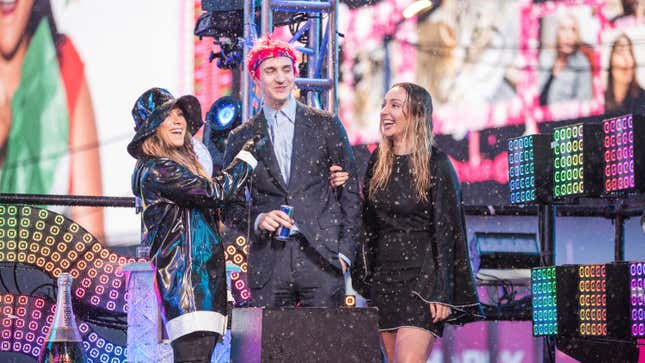 As Twitch took off, video game makers like Riot saw an opportunity to create esports leagues—which double as marketing for their video games— without renting time on a cable network. They were finally able to build an esports league out in the open, where millions of people could tune in at the same time.
---
DATA POINT
$500,000 per month: Estimated revenue from Ninja's Twitch stream.
---
This prompted a massive sea change in the games industry as a whole. Today, when publishers release new multiplayer games, they look at each one as a "platform"—something that they'll support for years afterwards—because consumers now play the same game for much longer, rather than immediately jumping to a sequel or a different title. That's because esports and Twitch give these games an elongated life cycle, with a persistent community of players, all eager to watch the next big tournament. League of Legends, which has one of the most vibrant esports communities, came out in 2009. Counter-Strike: Global Offensive, another popular esport game, came out in 2012. By traditional metrics, these games are old. But the NFL played its first game in 1920, and we don't think of that league as archaic or passé when we watch a Monday Night Football game in 2019. Esports is the same way now: Young people are more inclined to think of League of Legends as something akin to chess, rather than a game they're going to throw away when the next thing comes out.
Twitch now pulls in as many viewers as CNN, and in 2014, Amazon purchased the company whole cloth for $970 million. In 2018, three of the top 10 most trafficked channels on Twitch belonged to esports initiatives. No matter what happens in esports, Amazon's live-streaming property will enjoy the eyeballs it gets in residuals.
The people who bankroll esports
Traditional media companies face the reality that young people (and people in general, for that matter) are not committed to cable subscriptions, and are instead getting much of their entertainment from YouTube, Netflix, and other streaming services. According to digital-content provider Limelight Networks, people between the ages of 18 and 25 now spend more time watching people play video games online than they do watching other sports.
This puts esports in a fascinating position. The industry is still so young, and yet it's already carrying the hopes and aspirations of an entire generation of dealmakers and competitors. Here are the principal factions that fund this industry and make it tick.
Game developers and game publishers
Game makers often host competitive leagues for their games. They fly teams to tournaments, they pay for broadcast crews, and they carve out the prize money for the winning teams.
This is extremely expensive. League of Legends developer Riot Games, according to one report, spends "way over" $100 million a year on global esports initiatives. The tournaments and leagues themselves don't necessarily make money—they are generally considered to be loss-leaders. What does Riot's $100+ million investment get it? Well, every time someone goes to Twitch, they'll be likely to catch a League tournament on the front page. This keeps the game extremely relevant: Ten years after League of Legends first came out, it's as popular as ever.
Traditional sports team owners
A boom of traditional sports owners has recently invested in esports. New England Patriots' owner Robert Kraft is also a proud owner of the Overwatch League team Boston Uprising. Los Angeles Rams owner Stan Kroenke owns the Overwatch esports team Los Angeles Gladiators. Harris & Blitzer, the ownership group of the Philadelphia 76ers and the New Jersey Devils, bought the venerable esports team Dignitas in 2016.
Why are pro sports owners investing in esports right now, at a time when they're making money hand over fist in the NFL or the NBA? For one, the cost of entry is fairly low. Some esports organizations are selling for between $5 million and $15 million, which is peanuts compared to the average $2 billion price tag on an NBA franchise. Esports is also growing very quickly, especially among young people, and sports owners want to make sure their portfolio remains relevant in a quickly changing world.
Independent esports companies
Organic, grassroots organizations have also entered the esports field. World championship-winning Team SoloMid's CEO is Andy "Reginald" Dinh, a former League of Legends pro, who both founded the team and, initially, played for it. Today, Team SoloMid is one of the most popular esports brands in the world, and you can lump it in along with Cloud9 and Team Liquid (founded all the way back in 2000) as some of the great, original pro gaming teams that are still kicking.
Here are the most valuable esports companies, according to a 2018 Forbes analysis.
Television
Esports is making headway into traditional media, which is scrambling to catch up with the trend. Last year, ESPN featured both the Overwatch League championship and the grand finals of Evo, live on its network. The network also launched an esports vertical on ESPN.com, for which reporters work beats and break stories about a variety of games. TNT, meanwhile, launched ELEAGUE, its very own live esports television show, which essentially mirrors a Twitch stream. So far, success has been hard to come by. ESPN's broadcast of the Overwatch championship got slaughtered in the ratings, drawing a paltry 0.18 Neilsen rating on its first day. That's nothing compared to the reported 10.8 million people who tuned in on Twitch and other live-streaming platforms.
Who's getting rich?
Not most of the players, or at least not yet. Being an esport player lacks some of the glamour of the NFL or NBA. Success requires maniacal dedication to the craft: It's common to hear about 100-hour weekly practice schedules in this industry. The retirement age for esports athletes is also surprisingly young, usually around 25. Factors leading to early retirement include burnout, a brutal schedule, and lingering carpal tunnel injuries in the wrist and hand that can severely hamper gameplay.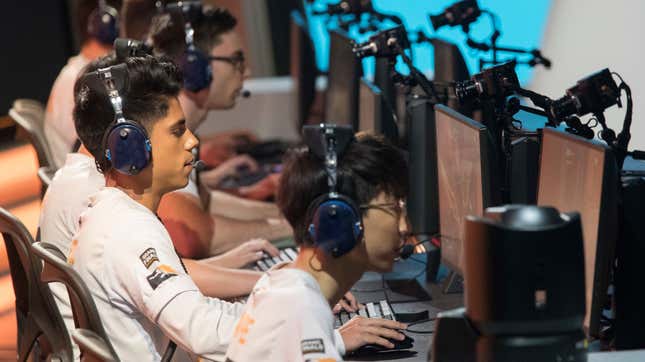 The base salary for players in an esports league is only $50,000 minimum (with full benefits.) Prize money is more significant, and esports players also try to make money in other ways, outside of competition. Many players stream on Twitch or collect their own sponsors to diversify their portfolio. They also often opt to live in a "team house," a dwelling populated exclusively by the principal members of a team, to both cut down on rent and maximize practice time.
The new pop culture
Esports has changed how we think about entertainment. Young people started watching esports completely independent of any influence or coercion from cable networks, and gamers became celebrities without any buy-in from traditional gatekeepers. There are no barriers to stardom in the 4G era, and esports is the ultimate manifestation of that possibility.
The popularity of Twitch—and video games as a whole—continues to skyrocket. As of last year, Twitch was averaging just under a million concurrent viewers on the platform at any given time (up from about 750,000 in the previous year). This leads to a general fluency people have with gaming culture, but pinning that popularity down and turning it into a sustainable, repeatable business model remains unsolved.
Even so, there is some concern about froth and overvaluation in the esports world: Sponsorship revenue isn't growing in the way some have projected, and that can make the huge revenue drives drummed up by some organizations look a little faulty. Some investors are also concerned about the lack of control they have in the product. If you invest in an esports team, you don't have any say in what Riot does with League of Legends. And as with many buzzy industries, the revenues that esports organizations are generating don't yet match their valuations. Forbes put the valuation of League of Legends team Cloud9 at $310 million last year, even though the company only raked in $22 million through sponsorships, prize money, and brand partnerships. Eventually, there might be some sort of market correction.
Here's one thing we know for sure: Viewership of gaming is going up every year, and other industries are noticing. In a recent letter to shareholders, Netflix wrote that it competes more with Fortnite than they do with HBO (pdf). The people watching Twitch and esports are young and energized. Soon enough, they'll be inheriting the world as adults—and they'll be bringing their pop culture with them.
There is an intimacy in esports, between fan and star, that traditional networks are never going to be able to create in the NFL or the NBA. Fans watch their favorite stars play for hours every day on Twitch or through intense tournaments. Afterward, they might go to YouTube and watch the same player hang out with their teammates. If you ask a question in a player's chat, he or she might answer it directly. Streamers dole out gameplay tips and dating advice in equal measure. That relationship will not diminish as esports continues to percolate. When Ninja goes on Ellen or The Tonight Show, his fans know that the next day they'll be able to catch him on his regular stream, live from his familiar bedroom.
According to Google, 70% of teenagers are influenced more by the people they watch on YouTube than the people they see in movies and TV shows. Why? The answer is simple. Traditional sports try to lionize their stars as superhuman forces on the fringes of human potential. That's not how esports works, though. When teenagers tune into a tournament, what they see is other kids, just like them, playing the same games they love.
Editors note: This article initially cited a different estimate for the number of League of Legends championship viewers last year. It has been updated to Riot Games' estimate.