In most rich countries, the bulk of deaths occur in hospitals. But in India, where 9.5 million people die each year, as many as 75% of those deaths happen at home, work or on the street. Until recently, health officials knew little about what causes these deaths since they aren't accompanied by the paperwork drawn up by hospitals or police.
But the Million Death Study (MDS), a project led by Prabhat Jha, a University of Toronto epidemiologist and public health specialist, is changing that. Since 1997, the Jha and colleagues have used "verbal autopsy," surveys of around 450,000 deaths, according to Nature. One thing they're finding is that causes of death vary wildey by region: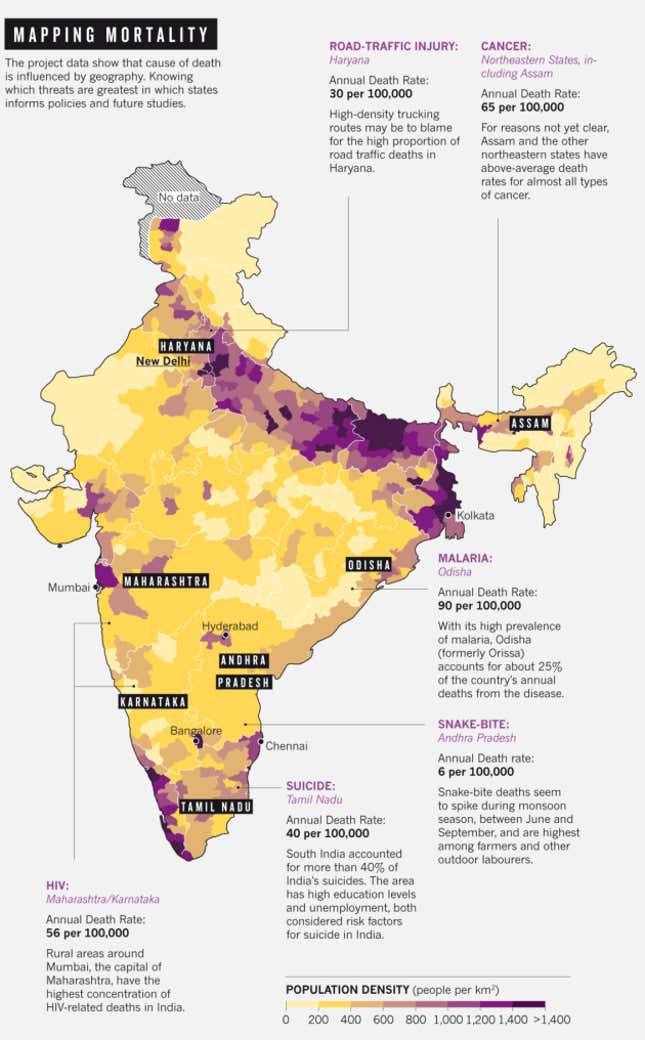 As you can see, most of these factors have to do with the surrounding environment, whether the prevalence of malaria-carrying mosquitoes or stressful jobs.
The study also highlights which diseases are more prevalent in India. Take, for example, chronic respiratory problems like asthma:

Some of Jha and his colleagues' findings vary dramatically from previous estimates on causes of death in India from the World Health Organization or other global institutions. The MDS results suggest that 205,000 people die from malaria and 45,900 from snake-bites each year in India—much higher rates than what the WHO and other groups project.
Some of the Jha's estimates are lower than those of other international organizations. For instance, the MDS found that 100,000 Indians die of HIV each year, less than the 140,000 that the United Nations reports (pdf, p.A42). And the UN has actually come down somewhat in the 400,000 it once estimated, according to University of Toronto Magazine. Those lower estimates speak to some skewed priorities: Malaria kills twice as many people in India as HIV does each year, and yet it receives much less attention and funding. Here's a look at grant money disbursements of the Global Fund to Fight AIDS, Tuberculosis and Malaria, an international financing institution for public health: