Bangladesh's giant garment industry, which supplies a number of brands including H&M, Walmart, Gap, and others, is notorious for its low wages. But for countless workers who rely on those jobs to survive—even with the low wages—it has been a lifeline.
Now some 5,000 workers or possibly more have lost their jobs, following massive protests in the country to demand higher pay, in what workers' advocates frame as retaliation for the protests, but industry representatives call a response to acts such as looting and vandalism. Among the factories that have fired workers, according to one workers' rights group, are some that supply well-known foreign brands.
In January, as many as 50,000 garment workers in the capital Dhaka staged strikes and took to the streets in massive demonstrations over the low wages they receive. Many were dissatisfied following the government's move in November to raise their monthly minimum wage to 8,000 takas ($96), up from the previous 5,300 takas ($63). Some groups had demanded much more, including trade unions and workers' rights organizations that campaigned for a minimum of $193 per month, and others were unhappy about a discrepancy in the increase between junior and senior workers. Police used rubber bullets, tear gas, and water cannons to disperse the crowds. After one violent clash, one person was left dead and 50 others injured.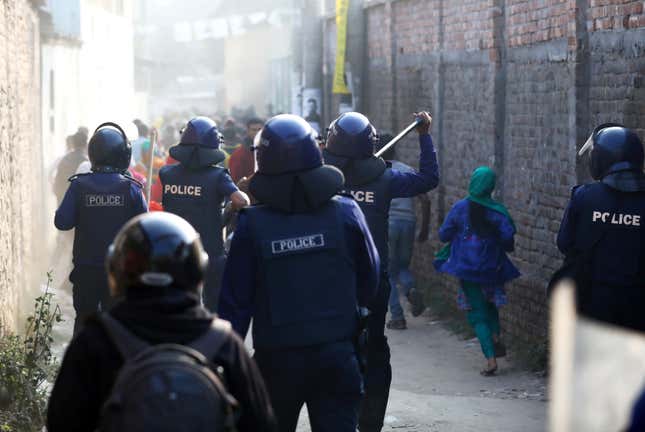 After the protests, one senior police official told Al Jazeera on condition of anonymity that 4,899 workers were dismissed from their jobs. Kalpona Akter of the Bangladesh Center for Worker Solidarity told the Associated Press that they knew of at least 5,000 workers who had been fired, but the true figure could be up to 7,000.
"The government is undertaking measures to intimidate workers and squelch any attempt of workers to organize," Ben Vanpeperstraete of the Clean Clothes Campaign, an alliance of trade unions and non-governmental organizations that advocates for workers in the garment industry, said in a statement.
According to a spokesperson for the group, factories supplying foreign brands were among those that had fired workers. It named as an example Metro Knitting and Dyeing Mills—a supplier to brands such as Next and H&M—which confirmed terminating 287 workers. The Daily Star reported that workers were given 45 days of wages and dismissed on the condition that cases filed against them over the protests would be dropped.
In a statement, H&M said it considers "freedom of association to be a non-negotiable human right. It is a key component of our Sustainability Commitment and a fundamental requirement for all our business partners." The company added that is "deeply concerned by the recent events in the Bangaldeshi textile industry."
Next said it is aware of the situation and its "directly employed audit staff on the ground in Bangladesh are currently investigating this matter." It added that it is a member of the Ethical Trading Initiative (ETI), which works to ensure fair supply chains and has a code of labor practices, and that the group is also aware of the claims.
We have reached out to Metro Knitting and Dyeing Mills and the ETI for comment and will update this post with any reply.
Representatives of the garment industry have framed the matter differently. "Some of the workers were involved in vandalism, looting, and other crimes," Siddiqur Rahman, president of the Bangladesh Garment Manufacturers and Exporters Association, told the AP. "They will damage our factories, they will destroy very expensive equipment, they will smash our vehicles and beat our officials. Should not we report it to police? If you are the owner what would you do?"
Union leaders and other workers' advocates have argued that the government has an incentive to keep wages low in the industry, which accounts for about 83.5% of Bangladesh's exports and has made Bangladesh the second-largest garment exporter in the world behind China. Its main competitive advantage has long been how cheap a source of labor it is. But they also say workers want these jobs, as they're vital to many of the 4 million people employed in the industry. They just want better pay for doing them.