The Israeli security firm Black Cube has become infamous for its alleged "dirty ops" campaigns, which involve getting "dirt" on their clients' adversaries.
Past campaigns have reportedly involved tracking Harvey Weinstein's accusers, secretly recording opponents of Hungarian autocrat Viktor Orban, and spying on former Obama administration officials who negotiated the Iran deal.
However, the company makes no reference to any of this in pitch documents for prospective clients seen by Quartz.
In a pitch email, advisory board member Kirill Parinov says the company uses "proven 'battle hard' methods" and "utilizes" its board, which, he notes, has included former Mossad spy chief Efraim Halevy as a member and his late Mossad predecessor Meir Dagan as president. The only two news stories cited in a three-page attachment to the email are from 2013 and 2015—before Black Cube was implicated in a spate of controversial dealings.
The company's operatives—who include former Mossad agents—allegedly use false identities to get close to their targets and create fake companies to provide cover as they seek out evidence of financial or sexual impropriety and other embarrassing information. Black Cube and its clients can then decide how best to use the information, some of which ends up in the press. In the case of Weinstein, Black Cube reportedly also surveilled journalists, in an apparent attempt to stop them from publishing stories about his alleged sexual misconduct.
There is no mention of such methods in Parinov's email or the pitch document. Instead, the document makes vague references to services including "identifying your opponents' vulnerabilities, interests, priorities and strategy," and having a "proactive approach" involving "several unique methods, especially in the social engineering field." One subhead, ominously titled "Identifying Misconduct & Developing Leverage," discusses finding evidence of criminality and using it "to maximum effect" through courts or authorities.
Black Cube declined to comment to Quartz for this story, via a letter from its lawyer. Parinov didn't reply to messages left on his cell phone.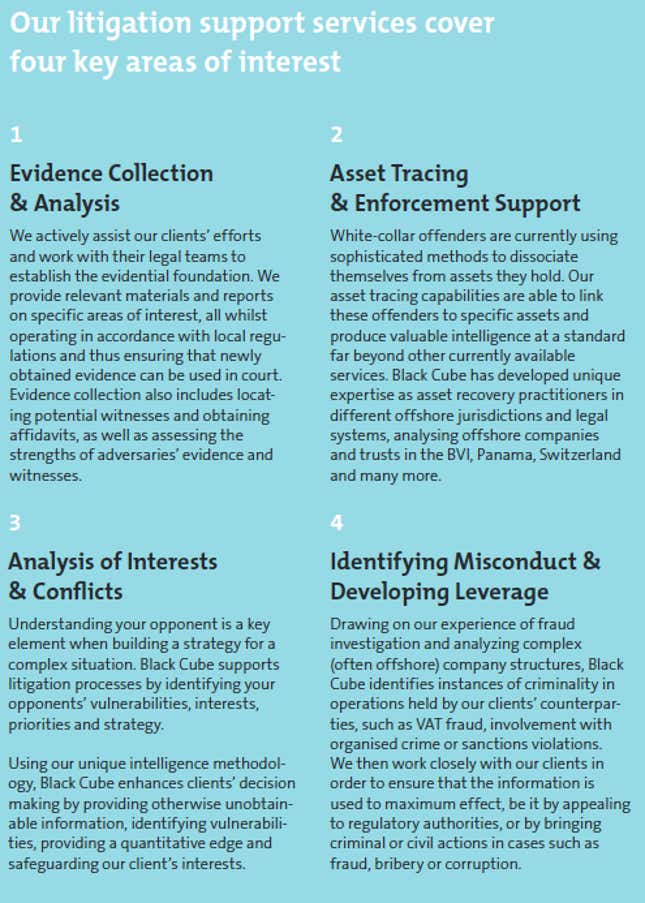 Black Cube's clients
Parinov says white-shoe US law firm Quinn Emanuel is one of "a number of elite law firms" with which Black Cube has "long-standing working relationships." Parinov is a former managing partner of the Moscow office of Los Angeles-headquartered Quinn Emanuel, currently ranked as the 12th most prestigious US law firm by Vault.com.
A spokesman for Quinn Emanuel declined to comment on whether the firm had ever hired Black Cube, saying only, "Parinov left Quinn Emanuel in October 2017, having been 'managing partner' of a one-lawyer office."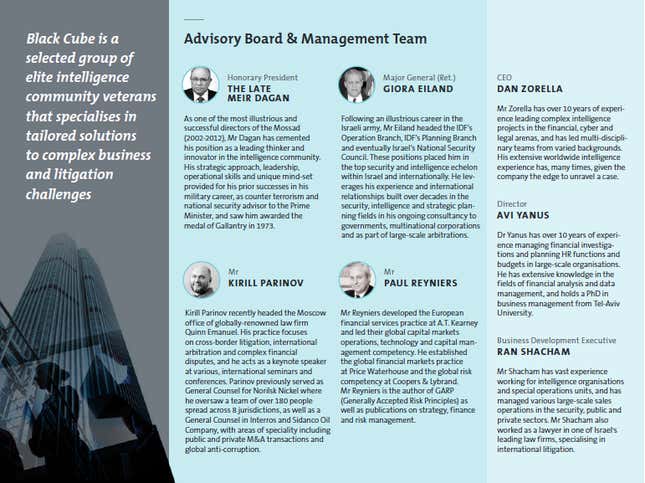 The document also cites two case studies of work it has done for clients. One details how it helped a multibillion-dollar American firm resolve a dispute with an Italian partner by finding evidence the Italian company had bribed the chief arbitrator. The description of the case closely matches one involving US insurance firm AmTrust, which has acknowledged hiring Black Cube for that dispute.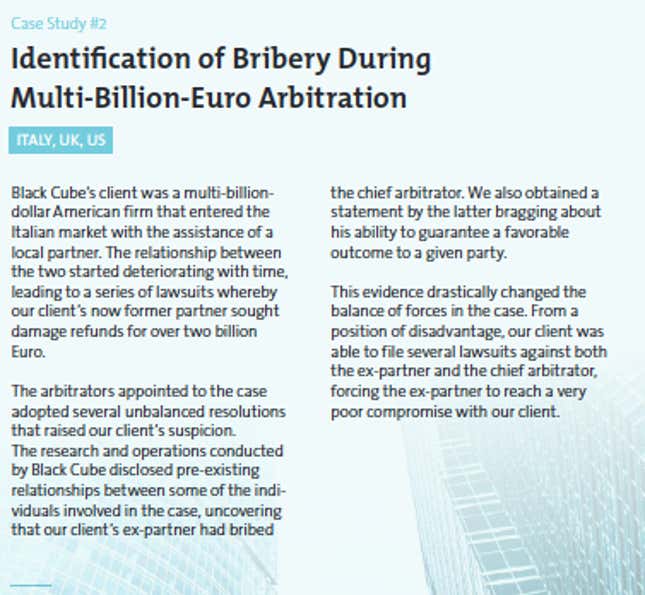 The Wall Street Journal reported that AmTrust later hired intelligence operatives to spy on its critics in the US, apparently causing the firm great embarrassment. AmTrust denied hiring investigators to pursue its critics, but declined to tell the WSJ whether its lawyers or others hired by the firm had done so.
AmTrust didn't reply to an emailed request for comment from Quartz.
The other case study details an asset-recovery case in Brazil, Central America, and the EU.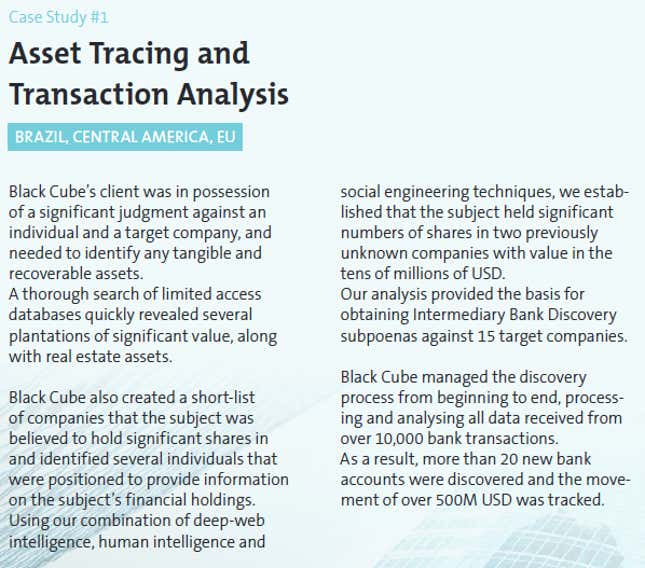 "Elite intelligence community veterans"
The document touts the firm's employees as a "selected group of elite intelligence community veterans" who are "able to work in any environment," and have a "unique mastery of cultures and languages." Parinov's email talks of their "proven 'battle hard' methods." However, this group of intelligence veterans have also shown a propensity to be exposed in embarrassing ways.
Most recently, in what the New York Times dubbed "the case of the bumbling spy," a former Israeli security official previously linked to a case with a Black Cube connection was outed by the Times and an Israeli television show as having pretended to be a wealthy Parisian investor in order to get a meeting with a Canadian cyber watchdog.
When confronted by Associated Press journalists who had been tipped off about the meeting, Aharon Almog-Assoulin "bumped into chairs and circled the room while trying to flee," the Times reported. Black Cube denied any involvement in the incident and, the Times said, "did not directly answer multiple questions on Mr. Almog-Assoulin's role." 
"Legal and admissible" information
"Black Cube is the only company in the world to practice human intelligence gathering on a major scale, which means we believe that the real information exists within people, and we have the methodology and experience to extract it in legal and admissible ways," Parinov claims.
Black Cube operatives have admitted to acting illegally in the past, however. When two of its agents were arrested for hacking and spying on Romania's anti-corruption tsar, the firm initially denied any wrongdoing. Later the agents admitted to the hacking in a deal with authorities that saw them go free, according to The New Yorker.
In response to Quartz's request for comment on this story, a lawyer representing Black Cube strenuously denied that the firm engages in illegal activity.
A British parliamentary committee alleged in a report last year that Cambridge Analytica "engaged" Black Cube to hack Nigeria's now-president Muhammadu Buhari, based on testimony from whistleblower Christopher Wylie and another unnamed source. Wylie seemed to at least partially walk this back in later US Senate testimony, saying, "When I was there we did not have a contract with Black Cube." Asked if he had since learned of Cambridge Analytica hiring Black Cube, he gave a slightly cryptic response: "I've become aware of relationships that the company had with former members of Israeli security services."

Cambridge Analytica CEO Alexander Nix, who had earlier been taped telling an undercover reporter that he hired Black Cube, recanted this in testimony to the UK Parliament, saying: "I was totally mistaken. We have never worked with Black Cube." Black Cube has denied ever working for Cambridge Analytica or its parent company and affiliates, and says it has never had a Nigeria-related project.