An aerosol painting by the anonymous British street artist Banksy was just sold for $209,000 at auction in the largest yet US auction of his work. Called "Flower Girl," it was only on the market because an enterprising (and also anonymous) gas station owner had the section of brick wall it was stenciled on removed entirely.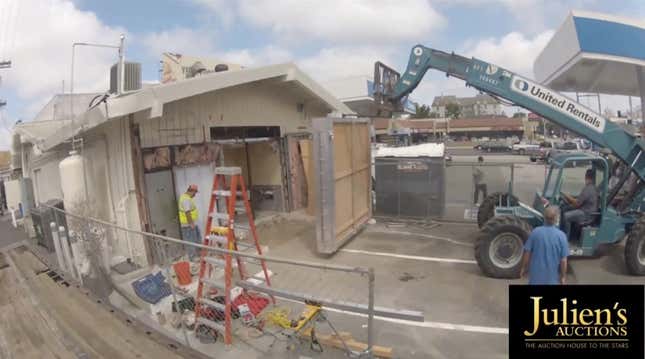 Banksy has made a worldwide name for himself in recent years, through his guerilla street art pieces in the U.K., his appearance in 2010's Academy Award-nominated "Exit Through the Gift Shop," and most recently, just this October, with his much publicized residency in New York City, "Better Out Than In."
Four other works by the artist were also on the block. In total, Banksy's work  brought in $457,250.
In addition to "Flower Girl," Julien's Auctions also sold "Black Bobby" for $37,500, "TV Girl," for $137,000, assorted installation panels for $23,750, and "Umbrella Rat," for $50,000.
Interestingly, none of that money, unless the owners of the works decide otherwise, will make it's way to the anonymous street artist.
Julien's Auction executive director Martin Nolan told Quartz that Banksy used to accept payment for his works up until 2009 when he stopped working with Steve Lazarides' gallery, but that more recently the artist has more actively cultivated the mystery surrounding his anonymity. Instead of taking money for his work, he has become a bold voice against art criticism and monetizing his work. In October, during his stay in New York, he (still anonymously)  offered his art in a Central Park kiosk for just $60.
"It's all part of the mystique and the intrigue," said Nolan. "His stenciling and his artwork itself is one message," he said, but there's also the "whole phenomenon" of Banksy. "People are shelling out big money to own a Banksy, because, you could buy Banksy work in true galleries [in the past] and pay for it and all of that," he said. "But now it seems to be he's evolved, and with social media, that's  really propelling [him] to a whole new level. He's in the news. He's relevant. That's why he's so sought after."
The winning bid, Martin told Quartz, did not come from one of the numerous international bidders the auction house received from interested parties from Germany to Saudi Arabia. The winning bidder was based in Los Angeles.