Booz Allen Hamilton, the Virginia consulting firm and defense contractor that Bloomberg once called "the world's most profitable spy operation," suffered a $20 million hit to revenue in the recent quarter, as a result of the recent US government shutdown.
"It's hard to say…whether we'll completely make it up," chief financial officer Lloyd Howell told analysts on a Feb. 1 earnings call, adding that the company "aspire[s] to get back on track as quickly as possible."
Howell also said Booz Allen is dealing with a $100 million reduction in operating cash flow because of the shutdown—the impact of stalled receivables he is "very confident" the firm will collect, including a $30 million tax refund from the now-reopened IRS.
More than 97% of Booz Allen's revenue comes from government contracts, and 69% of its workforce holds a security clearance. The company's total revenue for the full fiscal 2018 year was $6.2 billion.
Clients and industries
Howell told investors the company would like to see Congress agree on a budget that extends not just through the next fiscal year but "ideally through the next election."
The partial government shutdown, which was touched off in late December by US president Donald Trump when his demand for $5.7 billion to build a wall along the US southern border was not met, left some 800,000 federal workers without pay for more than a month. Just two months before the shutdown, Booz Allen CEO Horacio Rozanski was optimistic about the quarter. "[W]e're seeing good activity in awards," he said on an October 29 conference call. "We're seeing good activity on proposals and we're bullish about the next few months."
Booz Allen, founded in 1914, has 24,600 employees in more than 20 countries. The firm, which helped NASA plan the Apollo moon landing in 1969, has been a key vendor to the Pentagon, the National Security Agency, the CIA, and various other US intelligence agencies. NSA leaker Edward Snowden was a Booz Allen employee, posted at a listening station in Hawaii.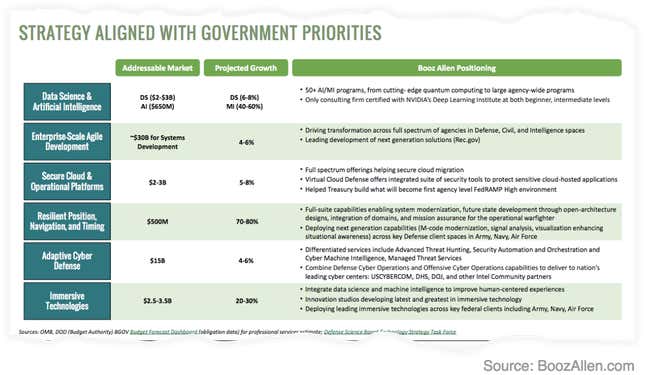 Booz Allen's work has been controversial at times, but always lucrative.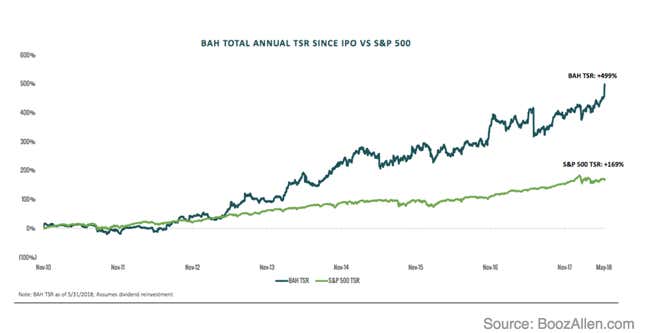 The company has a years-long history of working for Saudi Arabia, and has provided logistical and management support to the Saudi military. In March 2018, Booz Allen took on the Saudi Cyber Security and Programming Federation as a client, to provide training to the kingdom's cybersecurity personnel. Saud al-Qahtani, a close aide to crown prince Mohammad bin Salman, known colloquially as "MBS," oversaw the contract.