On my ride from the airport into Pittsburgh, my Lyft driver, Debra Phillips, tells me stories of change. At 60 years old, she has a lot of them. "I have lived here my whole life," she beams.
Her father was a welder at a steel mill for 43 years, she tells me. Now, many of those mills no longer exist. Apartments and condos rise in their stead, harbingers of the city's new 21st century economy: an upswell of academic research, the arrival of tech companies and tech talent, and a growing number of conferences that bring people in from around the world. "I haven't seen any self-driving cars yet," she says. "Some say we are going to be the next Silicon Valley."
Phillips welcomes these changes. She's proud of how the city has matured from a place once so polluted it earned the descriptor "hell with the lid taken off" to one that now consistently wows her out-of-town passengers' with its beautiful skyline and luscious vegetation. When I hear the affection with which she talks about the city, I can't help but smile.
Her vivid depictions of then and now serve as an apt introduction to the purpose of my trip. I am en route to pay homage to one of Pittsburgh's modern gems: the Center for Sustainable Landscapes, CSL, one of the most environmentally-conscious buildings in the world.
It's not the city's only sustainable architecture, either. Many people don't know that Steel City, with its now-antiquated moniker, is home to more than a half-dozen buildings that have reached some of the highest environmental certifications in the world. Pittsburgh didn't just leave behind its industrial history—it emerged into the 21st century as one of the global leaders in the green building movement. It's an inspiring, rallying narrative for cities around the world. If sooty, smoggy Pittsburgh can do it, well, then so can you.
Which is what brings me here. I want to find out what other cities can learn from its example.
As we drive out of a tunnel onto a bridge, Debra opens the windows to let me soak in the view. "Isn't it beautiful?" she asks. The wind rushes through my hair as I peer down at the scene before me. It really is. Luscious, sun-drenched greenery and modern developments line the river below. It's a picturesque redemption from the city's hellish past.
The Center for Sustainable Landscapes
CSL is the education, research, and administration facility of Phipps Conservatory, Pittsburgh's 125-year-old botanical garden. From the outside, it is unassuming, its unremarkable shoebox-like exterior giving little indication to the spectacular engineering that led the building to earn four of the world's toughest green building certifications.
Only after ascending to the second-floor balcony do I begin to appreciate the masterful precision of its design. To its north side is the conservatory; to its south, a scenic view of the city. To the west is an elegant wind turbine; to the east, an array of solar panels. On the balcony, an aesthetic garden also insulates CSL's interior from Pittsburgh's harsh winters and hot summers. Around the building's perimeter, landscape features double as mechanisms for capturing and funneling rainwater to be treated and reused for toilet-flushing and irrigation. Every element of the building, down to the screws, is carefully designed to minimize electricity and water consumption, and maintain air quality inside the building.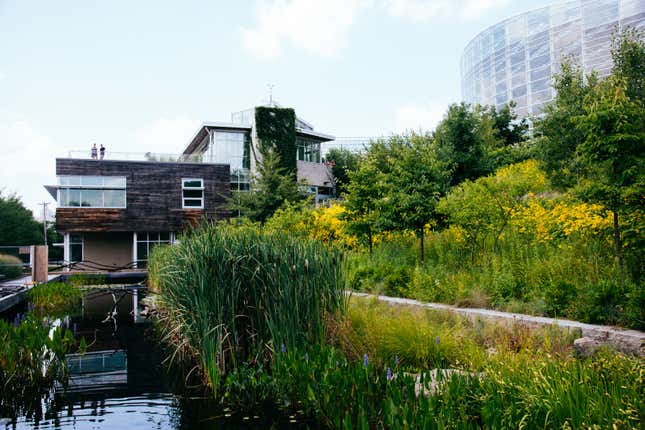 The project to construct CSL began in 2007 under a unique confluence of circumstances: an owner committed to pushing the envelope of building sustainability, a city administration eager to make Pittsburgh a leader in climate action, and a deep bench of local researchers, architects, and engineers ready to offer their expertise.
Three years prior, Phipps Conservatory completed its first green building, a new welcome center and cafe called Café Phipps. It earned a LEED (Leadership in Energy and Environmental Design) Platinum certification, the highest standard at the time, and proved to Phipps' board of directors the feasibility of green building. Because of its strong alignment with the conservatory's broader mission to be stewards of the environment, LEED Platinum became the baseline for every subsequent new building.
But when it came time to build a new office space for the administrative staff, Richard Piacentini, Phipps' executive director, wanted to strive for something even bigger. The Living Building Challenge (LBC), the most stringent environmental building standard yet, had just been developed by a group of influential architects eager to push the green building movement to a new level. No buildings had yet achieved Living Building status; Phipps pledged to take on the challenge without even knowing if it was possible. Truthfully, the creators of the Challenge didn't, either.
"We knew it was possible in terms of each individual requirement," admits Amanda Sturgeon, CEO of the International Living Future Institute, which developed the certification. "But buildings achieving all the requirements together hadn't been done very many times, let's put it that way."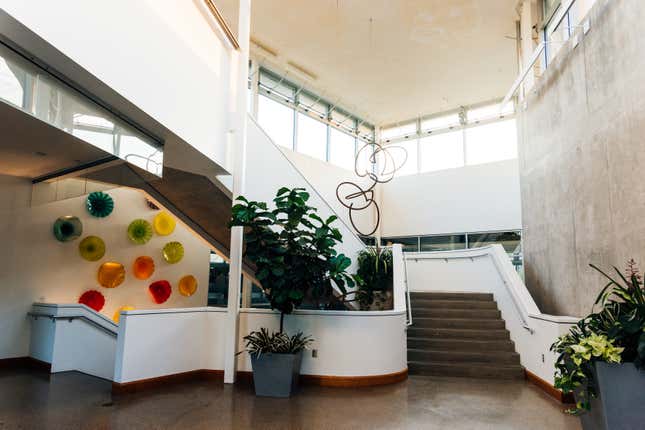 A new way to live
LEED uses a points-based system to assess building projects that have sustainable design elements. If your design optimizes energy performance, you can get up to 18 points. If it has good access to public transit, you can get up to 5. The number of points a building earns corresponds to its certification level; platinum, the highest, requires 80 or more of the maximum 110 points. While LEED has catapulted green building into the global consciousness, it has also faced criticism from architects and sustainability advocates for creating perverse incentives. Building design teams sometimes add unnecessary features to their buildings just to get more points. One clear example: adding a bike rack to a building in the desert. No one might use it, but with LEED, the addition still gets the points.
LBC takes a different approach. It scores buildings in different performance areas that each have non-negotiable requirements, like the fact that any energy used by the building and more must be produced through renewable sources on site. To date there are only 22 certified Living Buildings, primarily concentrated in the US, though dozens more are at different stages of design and construction. They represent a new generation of buildings that strive not just to minimize their negative environmental impact—as was the spirit of LEED—but to maximize to their positive environmental impact and act as a regenerative force for its surroundings and occupants. The symbol for LBC is a flower, which gives more to its habitat than it takes.
"The Living Building Challenge isn't just a rating system for green building," Piacentini says. "It's really a whole way of thinking about the way you live."
In order to meet the LBC requirement, Phipps had to find a way to be net positive water, meaning all water needs from drinking to irrigation must come from rainwater and wastewater on site. In other words, the building should be disconnected from the public utilities, and water should be continuously recycled through a self-contained system.
But in Pittsburgh, every aspect of this was illegal. Drinking water couldn't be treated by anyone other than the utility. At the time, no building, commercial or residential, could be disconnected from the utility, and it was illegal to use water treated on site.
So Phipps doubled down. It organized local advocacy campaigns to change the law. Eventually, the city conceded to allow Phipps to treat its own water and use it for irrigation—but not for drinking (that's still treated by the utility).
Another requirement proved even harder. To qualify as a Living Building, final structure could only use non-toxic construction materials—nothing that included health-damaging chemicals like lead or mercury from the Challenge's infamous "Red List." The vast majority of available construction materials do not meet this bar, and most manufacturers don't know or will not disclose all the chemicals that go into their materials to protect their intellectual property.
"The two biggest things that everybody talks about when they talk about Living Building Challenge is net zero energy and net zero water," says Joe Reed, Phipps' interactive marketing manager. "Knowing that you could do those two things will give you a lot of confidence. It's only then that the Materials Red List really hits you. And it's like, wow, maybe this will be insurmountable."
To accomplish this, Phipps had to be nimble with its design. For example, they could only find one company in the world that made non-toxic carpet. "That was kind of shocking," Piacentini recalls. "One rug. So we went with that one. Luckily for us, it came in a couple of different colors."
In another instance, they wanted to have nice wooden doors for the building, but couldn't find a single manufacturer that didn't include the Red List chemical formaldehyde in the ingredients. They ultimately changed their design to have only glass or metal doors.
"I don't think we ever wondered about whether it was worth it or not," says Reed, "but it really wasn't easy."
A seed of change
CSL opened in 2012. But to receive full Living Building certification, it had to prove that it was as efficient with energy and water in practice as it was in theory.
"For the first year, we were like, 'Maybe don't charge your cell phones here,'" Jason Wirick, the sustainability manager at Phipps, remembers, laughing. "The modeling said it would work, but we didn't know how close we would be."
Finally, in 2015, CSL was named a Living Building. It also received two other certifications after opening: the WELL Building certification for excellence in advancing occupant health and the Sustainable SITES certification for enhancing the surrounding landscape.
Over and over, I asked the folks at Phipps whether all the attention and money they poured into CSL was a good business decision. They said it was the wrong question—they never looked at this exercise through a business lens. The leadership committed first to the idea of making it happen because it aligned with their mission as a conservatory, and then did whatever was needed to carry their commitment through. So they didn't crunch the numbers to determine if CSL made more financial sense as a Living Building compared to a regular building.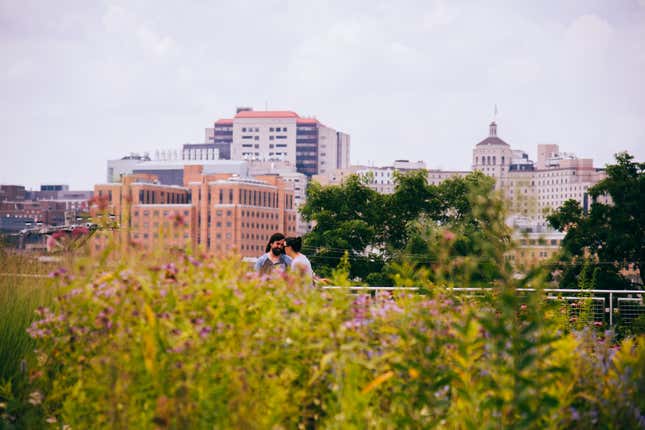 In a way, the challenges that CSL faced beg the question of whether this kind of building can scale. It is rare to have a project owner so firmly committed to building with values first, money second. It is rarer still for such an owner to operate in a city willing to rewrite antiquated laws. CSL has also benefited from an ongoing relationship with Pittsburgh's academic institutions, particularly Carnegie Mellon and the University of Pittsburgh, which volunteer their green building experts to help continuously maintain and improve the building's performance. It takes a village to build and sustain a Living Building, and other communities may not be able to offer the same kind of support for like-minded projects.
But CSL has already helped catalyze a local and global movement for more building projects to strive for a higher green building standard. Phipps is currently working on its fourth Living Building, and its success inspired The Pittsburgh Parks Conservancy to build the Frick Environmental Center, also in Pittsburgh, to Living Building standards. Because Phipps helped change local regulations, it was easier for the designers of Frick to achieve LBC status.
Pittsburgh has become a stronghold for green-building practices. Last year, the International Living Future Institute, which was founded to administer the Living Building Challenge, launched the Pittsburgh Living Product Hub to boost the local manufacturing of non-toxic, environmentally beneficial materials. "Phipps has really helped to create a vision of what a transformed Pittsburgh could look like, of what a green economy could look like," Sturgeon, the Institute's CEO, says. "CSL is also great because it's such a public building, so there's an opportunity to really spread the word among the general public. Not every building has that opportunity."
Other building projects have also followed CSL's example. Right before Georgia Tech began to pursue its first Living Building, the university president came to tour CSL. "Just about every week we have somebody from around the country, from around the world, come here to see the building," says Piacentini. At conferences, sustainability experts also use CSL as a case study for demonstrating LBC's attainability; in universities, architecture students look to it for inspiration.
In fact, Phipps has been contacted so many times for advice on green building that it has begun hosting sustainability training workshops to help other building professionals understand the different green building certifications and shares best practices for starting a new project.
Since CSL's development, the market has also transformed. More and more manufacturers of construction materials are avoiding Red List chemicals. In 2012, around the same time that CSL opened, Sturgeon remembers attending the largest industry conference for green building and being "inundated" by manufacturers asking to learn more about the Red List and the Living Building certification. "There were some pivotal contractors that have an influence in the market, and manufacturers suddenly started paying attention," she says.
It's not just the Red List that has caused manufacturers to change their products. When CSL was being built, Phipps had to buy an air quality monitoring system designed specifically for research facilities and clean rooms because nothing else comprehensively monitored the different air particle levels required by LBC. "Now ten years later, there are all kinds of different systems like that on the market," says Wirick, Phipps' sustainability manager.
"It's much, much easier now to complete Living Buildings on schedule," Piacentini adds. "We're not seeing cost overruns or anything like that."
Past, present, future
Today Phipps sees nearly half a million visitors per year. Half of those come from within Pittsburgh's home county; 75% of them come from Pennsylvania.
Walking through the campus is a rejuvenating experience. The gardens feature flora and fauna from rainforests to deserts that change depending on the season and year. Sculptures and audiovisual art pair with each garden to immerse visitors in a mix of natural and engineered beauty. Laughter and tiny running footsteps echo through the exhibits as children play with interactive installations about green building and healthy eating.
CSL is both an extension and an augmentation of the experience. It's a space for visitors to dig deeper into their sustainability education, for architects to seek inspiration, and for researchers to experiment with and learn from the thousands of data points collected daily by sensors around building. It's become a vital community organ where like-minded people can gather and a way to foster dialogue around sustainable innovation.
"With a stroll through our campus, you can see the Phipps of 125 years ago, the Phipps of today, and hopefully of the future with our green buildings," says Reed, Phipps' interactive marketing manager. So too can you see the past, present, and future of Pittsburgh. And, perhaps, the future of the world.
Be sure to download the Quartz Brief app for iOS to explore our 3D model of CSL in augmented reality.