Generally speaking, you don't want to end up at a place like Hope Gardens. The housing development, located at Meath Court in the west London borough of Ealing, is temporary accommodation for people who have found themselves without secure or long-term housing. It is, for many people, the last resort before sleeping on the street.
In London, more than 56,000 families were living in temporary accommodation in the second quarter of 2018 (roughly 2,100 of those were living in Ealing). London's figure represents nearly 70% of England's total, a testament of the acute housing crisis that London has been facing for years. Half-empty luxury skyscrapers seem to sprout up with increasing regularity, while government-funded public housing has not been built in any large-scale way since the 1980s.
While the residents of Hope Gardens wait for their application for long-term, secure housing to be assessed by the council, the temporary structure they're living in is a novel way to meet the demand in London's housing crisis. It could point to a future strategy for cities that need to tackle crises of housing, migration, and land development.
Ship shape
The idea of inhabitable shipping containers, like the ones the residents at Hope Gardens live in, generally brings a certain demographic to mind: young, gentrifying professionals who view minimalist living as a lifestyle choice rather than a function of circumstance. This is largely thanks to hip developments such as the Boxpark chain of shopping malls in London's gentrifying neighborhoods of Shoreditch and Croydon or the quirky-luxe residential units presented at design shows, like those created by German company Containerwerk.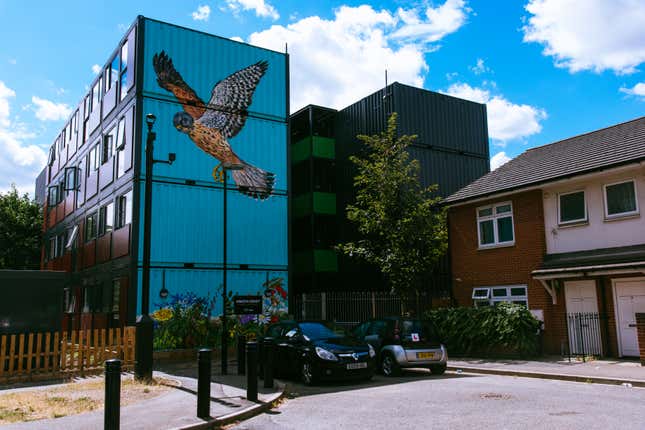 While they are bright, colorful, and modern-looking, compared to the austere style of much of Britain's public housing, the tenant-ready units at Hope Gardens are not what one might call "hip." The containers are built for purpose—meaning they are built to be lived in, not converted from old containers—their fittings are basic and designed to be easily swapped in and out in case of damage or repairs. The focus is on modularity, easy transportability, and speed of both setup and dismantling. The studio, one-bedroom, or two-bedroom units—which range from 12 to 36 square meters—come equipped with simple beds, a couch, a wardrobe table, and basic kitchen appliances as well as standard utilities.
Hope Gardens was developed by QED Properties, a sustainable urban developer, in partnership with ISO Spaces, a company that specializes in converting shipping containers. It can accommodate roughly 216 such tenants, or roughly 60 families.
The Hope Gardens development was built and assembled in 24 weeks; its residents first arrived in December 2017. It was built on what's called a "meanwhile site," or land that's been earmarked for future development, but its ultimate use has not been finalized. The units will be inhabited on their current site for seven years after installation, then moved elsewhere when the land they're situated on is ready to be used for its intended purpose.
In the UK, local government councils are responsible for housing people, in their boroughs, who say they are at risk of homelessness. While their application is assessed, these tenants are generally placed in temporary accommodation and charged rent according to their ability to pay (often with the help of government benefits) until they can be permanently housed.
Like other temporary accommodation setups, people arrive at Hope Gardens from a range of circumstances. Some have been living in private rented accommodation that, for one reason or another (often a rent hike), they can no longer live in. Government statistics (pdf) say that in 2017-2018, 31% of Londoners who were at risk of homelessness said the end of a private tenancy agreement was the cause. In Ealing, the figure in 2018 was 59%. Few can afford to re-enter London's private rental sector.
Others may have been living in other temporary accommodation setups that offer little privacy or security or may have found themselves with nowhere to go after a relationship ended. In a testament to how acute London's housing shortage is, Ealing council says the average stay in temporary accommodation in the borough is four years. Tenants range from single individuals to families or parents with their children. All hope to be placed in a secure, long-term housing option.
While few people would want to be in such a situation, Peter Mason, cabinet member for housing, planning & transformation at Ealing Council, says that the setup at Hope Gardens is better than many alternatives the council can offer, such as placing residents outside of London, far away from their communities or support networks.
"We can't pretend that anyone entering into temporary accommodation is anything but going through a difficult period of their lives," Mason told Quartz. "But what these modular homes allow us to do is to give people some stability in their lives very quickly rather than having to pick a family up from the community that they know."
Housing people at Hope Gardens costs the council slightly less than a typical hostel or B&B accommodation setup. But the council says they don't see this marginal cost saving as the reason for creating them. "Giving tenants more privacy and control over their lives," is the priority, Mason says; residents routinely report that simply having a front door is major perk of the setup, compared to bed-sit style hostels or bed and breakfasts, where bathroom and kitchen facilities are shared.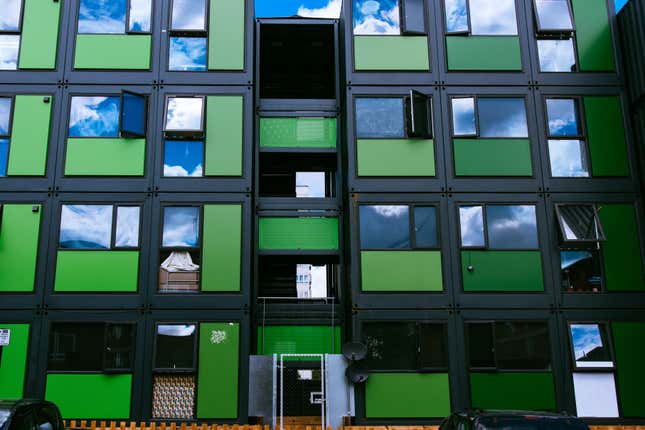 That's not to say that tenants haven't reported downsides. Temperature control seems to be an issue; though the units contain radiators, some residents have complained they are too cold in the winter, and scorching in the summer, both thanks to structures' metal exterior. A rep from the council said since the complaints, "no changes have been made and after investigation, [the units] have not found to be wanting." All in all, though, the bright and clean units are nicer than what many a would-be London tenant has likely come across in their search for affordable housing.
Some critics take issue with building housing on "meanwhile sites." It is a symptom of a broken system, they say, not a solution to be celebrated. Anna Minton, an academic and author whose work is focused on London's housing crisis, notes that meanwhile sites are very much known to be part of the "hipsterization around the corner" transition where "a site which is earmarked for a big development or a luxury apartment block will take on a more temporary use while it's empty which satisfies the area as well." In other words, making use of meanwhile sites for temporary accommodation may seem innovative, but it is really a symptom of a system that prioritizes speculative investment over the needs of current residents. (It should be noted that the slated purpose of the Hope Gardens site is a public park, not luxury flats).
She adds that in a country that already has homes with the smallest average floor area in Europe, according to Cambridge University researchers, she's wary of solutions that are predicated on having people live in ever-smaller units. "While the aims of the people behind it are laudable, it's sort of trying to find ways of sneaking in good social outcomes within existing socio-economic structures which are broken."
The future is modular
That said, councils are not tasked with fixing the housing crisis that everyone agrees the city is mired in—they're supposed to help prevent people from ending up on the streets. There is an argument to be made that modular, responsive structures can help shape a future defined by a less permanent attitude toward housing is the kind we need to meet the needs of the changing city and world.
Ross Gilbert is the managing director of QED Properties, the developer of Hope Gardens, as well as two other similar developments in Ealing and one in Brighton, UK. He describes the built environment in London as "slow and unresponsive," meaning it takes ages to make change and get projects off the ground, adding "it's very inaccessible for small developers and self builders."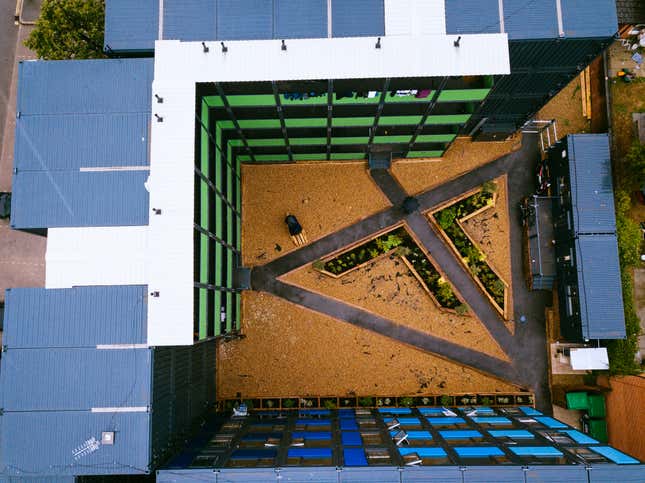 That means the new stability when it comes to housing, he says, may just be adaptability.
"Access over ownership is very much what we're really interested in," Gilbert said. "How you can provide a housing solution that is about access—not just for the most vulnerable, but also for younger professionals, key workers? There are huge number of groups that would benefit from an increase of housing of this kind."
He describes a situation where "a common language or a network of construction" means that shipping container units like those at Hope Gardens can be plugged in to various places around the world and added onto or subtracted from based one's stage of life.
"How far away are we from, rather than moving house, you actually move your house?" Gilbert says. "We have this global infrastructure of transport networks that moves hundreds of millions of these things round every year. Having a much more flexible and dynamic built environment has got to be the future."
Be sure to download the Quartz Brief app for iOS to explore our 3D model of Hope Gardens in augmented reality.